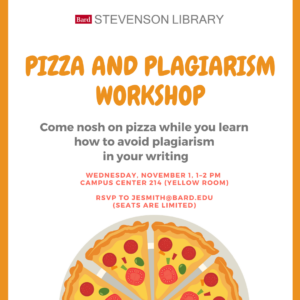 The definition of plagiarism in Bard's 
Student Handbook
—to "steal and pass off as one's own the ideas, words, or writings of another"—sounds simple, right? But for many of us, the boundary between ethical and unethical source use is often quite fuzzy.
So come nosh on pizza while you learn how to avoid plagiarism in your writing.
When: Wednesday, November 1, 1–2 pm
Where: Campus Center 214 (Yellow Room)
Because seating is limited, RSVP to [email protected] to reserve a spot. Sponsored by your friends at Stevenson Library.