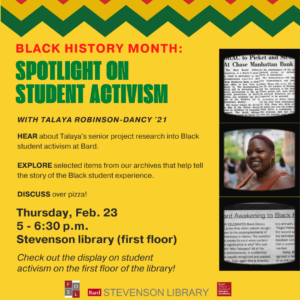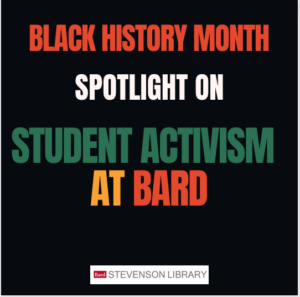 February is Black History Month! In celebration, this month the library is putting a spotlight on the history of Black student organizations and activism at Bard.
On Thursday, February 23 at 5 pm, we welcome Talaya Robinson-Dancy '21 to the library to give a talk about her senior project research on the history of Black student activism at Bard. After Talaya's talk, we'll have a hands-on exhibit of items from the archives that help tell the story of the Black student experience at Bard over time. Refreshments will be provided. (This event is cosponsored by the Office of the Dean of Inclusive Excellence and Friends of Stevenson Library.)
On the main bulletin board near the library entrance, we have a display of selected items from the Bard Student Newspaper archive that tell the story of past activities of the Bard Black Student Organization (BBSO) and its predecessor, the Bard Racial Action Committee.
In addition, our Black History Research Guide and Antiracism Guide are always available on our website.