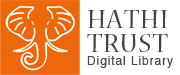 Bard is now a member of HathiTrust, a not-for-profit collaborative of over 200 academic libraries.
HathiTrust preserves and provides access to a collection of 17 million digitized items that includes over 8 million digitized books, and over 400,000 serial titles (book series, journals, magazines, etc.). It "offers reading access to the fullest extent allowable by U.S. copyright law, computational access to the entire corpus for scholarly research, and other emerging services based on the combined collection."
Access to this rich resource is through the library's Databases list [link]. All users on campus and off must login with their Bard credentials to gain access.