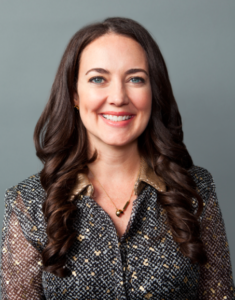 Sarah Kauss launched S'well in 2010 with the belief that a crave-worthy bottle that combined fashion with function would make people stop buying disposable water bottles, thus reducing single-use plastic consumption. Eight years after launching, S'well is the fastest growing woman-owned business in the United States.
Olivia Gossett Cooper, Bard MBA alum and founder of "Today We Will" and Silvr Inc., spoke with Kauss this past Spring about her inspiration for starting the company, how she got to scale, and how style matters in converting users to a sustainable lifestyle.
The following Q&A is an edited excerpt from the Bard MBA's September 7th The Impact Report podcast. The Impact Report brings together students and faculty in Bard's MBA in Sustainability program with leaders in business, sustainability and social entrepreneurship.
Republished from GreenBiz.
Gossett Cooper: WHAT'S YOUR PROFESSIONAL BACKGROUND?
Before starting S'well, I had a bit of a nontraditional background. My first job out of university was actually as a CPA—I was an accountant for Ernst & Young for two years in audit in Denver and then for two years in tax in Los Angeles. I went back to school and got an MBA, and then I did consulting and then commercial real estate development. I actually helped build laboratories for scientists.
All the while I was trying to think of a business idea, but I worked in other people's businesses before I was an entrepreneur myself. My parents were both entrepreneurs, so I think I sort of had it in me. Plus, because I went to business school at the time that I did, the entrepreneurs were the rockstars of my world. It really got inside of me, but it took the better part of my career to come up with the idea and the gumption to get out there and do my own thing.
Gossett Cooper: CAN YOU TAKE US BACK TO THAT EUREKA MOMENT FOR THE S'WELL BOTTLE DESIGN?
If I had to pinpoint the exact moment, I was hiking with my mom on a very hot summer day in Arizona with a single-walled water bottle that kept things cold for about two minutes. I thought, "Wouldn't it be great if there was a bottle that first of all looked better, but also worked better at the same time?"
In that moment, I think I realized that maybe it didn't have to be such a huge idea. Instead it could be something that appealed to me as a customer that I could put my ideas and passion into.
There were other moments leading up to this one. I had learned about the Great Pacific Garbage Patch and understood the amount of plastics that were being thrown away. I had also gone to a presentation about the water crisis and really started to think about how many people on the planet don't have access to clean drinking water. So I had these underlying themes of sustainability and the importance of water as a resource that I was carrying with me that day on the hike.
More than anything, though, just being thirsty and hot was that eureka that made me realize that maybe this is actually the business I had been searching for.
Gossett Cooper: S'WELL BOTTLES REALLY STAND OUT IN THEIR SHAPE AND STYLE. HOW DID YOU COME UP WITH THE S'WELL AESTHETIC?
With S'well, part of making the company successful was converting people who weren't using reusable water bottles. So I wanted it to stand on its own as a fashion accessory or as a high design item that not only worked but also really looked good.
Personally, I didn't mind carrying a water bottle that looked like a camping accessory into my career. I might not have been proud enough to leave it on the boardroom table while I was making a presentation, but I'd drink out of it and then put it back in my bag. It didn't bother me that it looked like I was still living in Boulder even if I was in a big metro area like Los Angeles or New York.
But I knew that design was almost as important as functionality to get non-users to adopt the product for the first time. I thought that if I could create a product that looked like it belonged in the lifestyle of more people than just environmentalists or people who're sporty—one that was just an everyday fashion accessory—people would grab it in the morning with their cell phone and car keys and briefcase or bag.
We think of S'well as a lifestyle product. Once you have it, it's hard to go a day without it. We hear time and time again from customers who feel a common bond when they see others with a S'well bottle.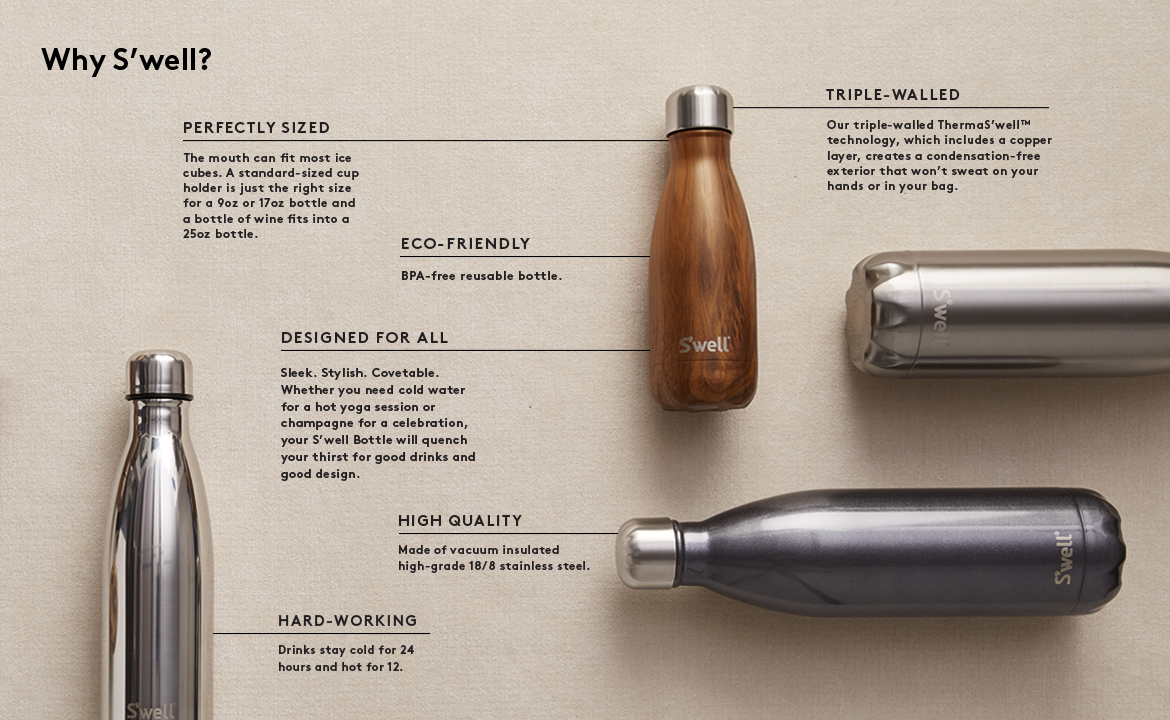 Gossett Cooper: WHAT DID MARKET RESEARCH TEACH YOU IN THE BEGINNING, AND WHAT ROLE DOES IT PLAY IN YOUR PRODUCT DESIGN NOW?
What I learned in that early market research is that people aren't really buying bottled water out of concerns about water quality, they're buying bottled water because of convenience and thirst. It's a hot summer day, they're at the park, and they didn't pack water from home.
That was a turning point for me, because in the early days of the product I thought it needed a filter and needed to be a bit more technical. I quickly made a pivot to where the product needed to be beautiful, and also needed to be insulated to keep things cold or hot or the temperature you want to enjoy your beverage at. That's why people are buying a drink on the go.
So being close to the customer in those early days, and being nimble enough to change course when I was receiving information from that research that didn't fit my first assumption was key.
Fast forward eight years, and we still do market research when we're thinking about new products, and even about new colors and patterns. We want to make sure that the trends we're seeing are going to be are validated by our customers, that they see themselves in the products and patterns we're coming out with.
Gossett Cooper: WHAT WAS YOUR ORIGINAL STOCKIST STRATEGY, AND WHAT IS IT NOW?
From the beginning of the company, when I was the only employee for the first two years, I wanted to make sure the product was sold in places I would be proud of. I wanted to use product placement as part of the branding—the premium uplift of the branding of the bottles. I didn't have a background in marketing or luxury goods, and I didn't have a budget to tell the S'well story. But I thought that if S'well was on the best store shelves and also had a shop owner helping to tell the story of the brand—a sustainable company on a mission to give back to organizations like UNICEF—you would think about the product differently, and hopefully buy and use it, as opposed to if you saw the product crammed onto a mass market shelf.
It took a couple of years to convince Bloomingdales, Nordstorm and Sacks Fifth Avenue that we belonged on their shelves. But in that time, I was able to work with the smaller stockists to learn lessons about how to sell and what packaging should look like. It allowed us to make some easy mistakes when we were only selling one or two bottles, before we got into a big nationwide luxury key account. Now Bloomingdales is a great partner—we just did their Ramadan holiday window in the Middle East, and we have a whole department here in New York.
Gossett Cooper: IT'S HARD TO WALK THE LINE BETWEEN TALKING ABOUT SUSTAINABILITY AND SPEAKING TO PEOPLE FOR WHOM THE VALUE OF THE PRODUCT ISN'T TOTALLY ABOUT THE SUSTAINABILITY ASPECT OF IT.  HOW DO YOU MANAGE THAT IN TERMS OF THE STORYTELLING, MARKETING AND BRANDING?
This is something I've had to learn over time. At S'well, I like to say that we're light green, not dark green. We're green all the way through, but we really had to think about starting with something that's designed very well, something that's beautiful and appeals to a broad swath of a consumer base. It has the goal of getting more people to use it because of the look, and what it does for you, and how you feel about it. Because of that, more and more customers are using the product, and the outcome is that it's better for the planet.