Listen to the live interview on the SUSTAINABLE BUSINESS FRIDAYS PODCAST: Apple or Android
Danielle Vogel of Glen's Garden Market on Combatting Climate Change at the Local Level
By Emily Robichaux '18 and Katie Ellman '17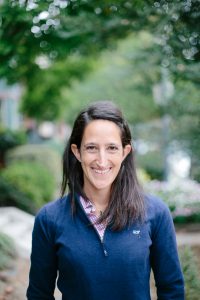 All politics is local—none more than climate policy in the US after January 20, 2017. In the absence of the prospect of wider national action, local businesses have a significant opportunity to enhance the local economy and combat climate change through their operations. Glen's Garden Market, based in Washington, DC, has been doing just this. From sourcing products within the Chesapeake Bay watershed to powering its stores with clean energy to providing living wages, Glen's has been quietly pushing the environmental and social sustainability envelope while also incubating other small businesses as suppliers.
Emily Robichaux, a student in Bard College's MBA in Sustainability program, sat down with Danielle Vogel, the creator of Glen's Garden Market, a local grocery store sourcing "good food from close by," to discuss the role of mission-oriented small business in sustainable food systems and local economies.
Vogel earned a law degree and worked for ten years in federal policy, serving as domestic policy adviser to Congressman Christopher Shays and as a Department of Justice environmental litigator enforcing the Clean Air Act. From December 2008 to March 2011, she was environmental counsel in the office of Senator Joseph Lieberman, where she helped draft the American Power Act. When the bill died, Vogel made the shift from policy to practice, becoming the fourth generation of grocers in her family while bringing a sustainable and local twist to the business. Vogel has been profiled in the Washington Post and Bloomberg for her approach to "making progress one bite at a time."
The following Q&A is an edited excerpt from the Bard MBA's January 6th Sustainable Business Fridays podcast. Sustainable Business Fridays brings together students in Bard's MBA in Sustainability program with leaders in business, sustainability and social entrepreneurship. Subscribe to the podcast on iTunes or Podbean.
BARD MBA: YOUR DECISION TO ESTABLISH GLEN'S GARDEN MARKET BLENDED YOUR FAMILY HISTORY AND YOUR PROFESSIONAL EXPERTISE. CAN YOU SHARE MORE ABOUT WHAT LED YOU DOWN THIS PATH?
Grocery is a tradition that stretches back a hundred years on both sides of my family. That said, it was never my interest. I always intended to go to law school and work for my congressman in Washington. And that's exactly what I did. I spent ten years working on the Hill. Most recently, I was involved in writing the last major Senate climate change bill, the American Power Act. We worked on it with Senator Lieberman, Senator Graham, and at the time Senator Kerry. And when that bill failed and it became clear that there was no path forward for legislative progress, I had to find a way to continue making climate change progress.
So, I founded a business intentionally to make incremental climate change progress, or, as we call it in the store, "progress one bite at a time." Every single decision we make for the business keeps the environment in mind, from ways that are really large, like our sourcing methodology—we only sell foods from the states of the Chesapeake Bay watershed—to things that seem really insignificant to most people. We don't have any paper or plastic bags at Glen's; we only use reusables. Of course, all of our equipment is the most energy efficient available on the market, and we retrofit most of it to make it even more energy efficient. We built our bar tops out of post-consumer recycled paper; we built our walls out of reclaimed cattle fencing. We built our freezers, our industrial walk-in freezers, inside our refrigerators so that we don't lose as much energy when we open the door.
Even though the experience, when you walk into the place, is of a really fun, hip neighborhood grocery store, in every contour it is very much a climate change agent.
BARD MBA: GLEN'S OFTEN HOSTS EVENTS THAT BRING TOGETHER THE COMMUNITY. WHAT IS YOUR VISION FOR SMALL BUSINESSES AS COMMUNITY BUILDING CENTERS?
All of the folks who surround our stores are perceived by us as part of the Glen's family, so we throw parties for them once a season. The biggest party of the year is our birthday party. We opened Glen's Garden Market on Earth Day of 2013, so every Earth Day we throw ourselves an "Earth Day Birthday" party. And each year it has been centered around businesses that we've launched.
One year it was called "We Grow Small Businesses Along with Our Own"—we had launched twenty-five businesses at that point. And the next year it was called "Women of the Watershed," and we invited twenty-five women entrepreneurs who had launched businesses at Glen's. This year it's going to be called "Made in D.C.," and we'll have fifty D.C. producers by April.
The idea is that we've created a symbiotic relationship with small businesses that share our values. We bring them into the stores, we spend money and effort on marketing, and we get the whole community to come out, because the idea is that we want to connect them with the people who make their food.
We also turn the grocery paradigm on its head in the store itself. In a regular store, there's a developed science to product placement; they put products where they want the consumers of those products to look. In our store, we find products with a compelling value proposition, and we give them prime shelf space. We actively take a hit on the margin to almost create a false cost competitiveness so that people don't choose the more ubiquitous brand over the more values-driven brand because of price alone.
The result is that we're able to help scale these businesses quickly. They're able to hire extra staff because of the volume that we're doing. We also provide mentorship when they want it, which is often, on everything from package design to flavor profile, to what the price should be. It's probably pretty rare for somebody trying to sell a product to a grocer to have the grocer say, "You know, your pricing methodology isn't right, and I want you to be able to get into Whole Foods so let me teach you how to do this properly."
We have these unique, mutually beneficial relationships with all of these little guys. Which simultaneously makes our stores a microcosm for what's happening in the food scene regionally.
BARD MBA: WHAT HAS YOUR EXPERIENCE BEEN AS A WOMAN BUSINESS OWNER? HAS GENDER BEEN A FACTOR AS YOU BUILT UP YOUR BUSINESS?
I'm one of those women who doesn't allow it to be a factor. Honestly, it's extremely helpful to me that I have a law degree. It allows me a sense of confidence in every negotiation, of which here are thousands every year as a small business owner. Admittedly, the grocery world is a man's world, for the most part. And the landlords that I deal with are mostly men, and I'm like a little girl with a crazy idea nobody's ever tried before. But I'm also a total ballbuster, and a good negotiator. So I haven't let it derail me in any aspect of this experience.
BARD MBA: WHAT DO YOU SEE AS THE ROLE OF SUSTAINABLE BUSINESSES IN SHAPING LOCAL, STATE AND FEDERAL POLICIES? WHAT IS ITS POTENTIAL IMPACT AND WHAT ARE SOME ROADBLOCKS?
The biggest roadblock to doing things properly is that it's usually more expensive. So, conversely, the way to incentivize sustainable decisions is by making them either cost competitive or less expensive. It's that simple.
In the world of small business, we negotiate a nearly impossible math problem every single day. So when we have an opportunity to control our costs and instead choose a higher cost alternative, that doesn't make a lot of sense for the bottom line. Glen's Garden Market does it anyway, but we exist for the purpose of making this change. But for somebody who's trying to balance payroll against inventory costs—who needs to buy new uniforms, or a new oven, or some other big expenditure—it's near impossible to realize the wisdom of also paying nearly three times as much for energy. Or buying a piece of equipment that's considerably more expensive upfront, because of its long-term energy benefits.
The way to make those choices easier is to remove the cost-competitive piece of the analysis. It's what I was describing with our pricing methodology. I'll take a jam that comes in the door at a much higher price relative to the competition, and I'll sell it for the same price because I want somebody to choose the jam that we believe in. The same analogy holds for energy or equipment investments. I worked long enough in Congress to know how hard this is to do, but the more you can create almost a false market signal to undermine the disadvantage of the more expensive choice, the easier it is for folks to make that choice.