By Jennifer Shelbo and Katie Ellman
Listen to this interview and others on the BardMBA Sustainable Business Fridays  podcast on an Apple or Android device.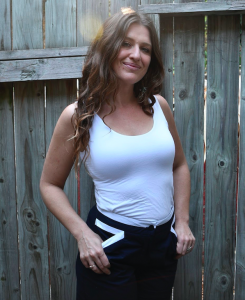 Over half the US population now lives in states with some form of medical or adult use cannabis laws on the books. As the nascent cannabis industry grows, some business owners are leading the charge to establish sustainable operations from the beginning. Maya Elisabeth of Whoopi & Maya and Om Edibles is one of those smart business owners.
In this episode of Sustainable Business Fridays, Bard MBA student Jennifer Shelbo explores how Elisabeth's choices, from cultivating sun-grown cannabis using organic methods to sourcing fair trade and organic ingredients for her product lines, demonstrates that incorporating sustainability into business operations is a recipe for success.
Maya Elisabeth began working in the cannabis industry in California after graduating from San Francisco State. She formed Om Edibles, an all-female run collective, in 2008, focusing on high-quality ingredients, including sun-grown cannabis. Om Edibles products have won seven High Times Cannabis Cup awards, and Maya enjoys a reputation as one of the best creators of medical cannabis products in California. In 2015, Maya partnered with Whoopi Goldberg to create the Whoopi & Maya line of medical cannabis products, focused on relief from menstrual pain.
The following Q&A is an edited excerpt from the Bard MBA's January 20th Sustainable Business Fridays podcast. Sustainable Business Fridays brings together students in Bard's MBA in Sustainability program with leaders in business, sustainability and social entrepreneurship. Subscribe to the podcast on iTunes or Podbean.
BARD MBA: WHAT MEDIAL CANNABIS PRODUCT LINES HAVE YOU CREATED FOR WHOOPI & MAYA AND OM EDIBLES? HOW ARE THEY SIMILAR OR DIFFERENT?
ELISABETH: I would say they are more similar than different because we share a philosophy for both companies, which is that we view cannabis as a super food and a healing herb. We believe that when we combine cannabis with other nutrient-dense ingredients, a superior medicine can be made. That said, I make about twenty different products for Om, and the Whoopi & Maya line consists of four products. They range from THC edibles, which are edibles that are psychoactive, to CBD edibles, which are not psychoactive, as well as a whole array of tinctures that are liquid medicinals or sublinguals and topicals. We have something for everyone and understand that there are many different patient needs.
BARD MBA: WHAT LED YOU TO THE PARTNERSHIP WITH WHOOPI GOLDBERG?
ELISABETH: OM Edibles is a female collective, which was unintentional. We just happened to be a group of friends who were passionate about cannabis, and who just happened to be women. We competed in the High Times Cup, and when Whoopi had the idea for the line she reached out to Rick Cusick of High Times, and he reached out to us and we started formulating from there. It's four different products—everything a lady wants on her moon cycle: a bath, a rub, a tincture and two types of chocolate.
BARD MBA: ONE THING THAT REALLY STICKS OUT TO ME ON YOUR INGREDIENT LIST IS "SUN-GROWN CANNABIS". WHAT ARE THE ADVANTAGES OF USING THE SUN-GROWN FLOWER OR EXTRACT, AND HOW DOES THIS DIFFERENTIATE YOUR PRODUCT FROM A COMPETITOR'S?
ELISABETH: I believe that there is truly a time and place for everything. I love indoor cannabis, especially when it is grown organically. I also love sun-grown cannabis—there is something so natural and whole about it. For example, for the taproot systems that we develop indoors, there is a certain amount of the sun's lumens that you can never recreate, no matter how extensive your indoor lights are. Other elements are the type of soil, your geographical location, topography, orientation to the sun, and what is growing around you. So many of the variables that come into play when you grow outside can be compared to wine—where you grow the grapes, the soil, the water table—and they make these beautiful flavors come forward. As you develop your palette, you can experience these, and notice and differentiate.
We use whole plant medicine. One of our products has an extract in it, but for the most part we use a whole plant, and I believe that does make a superior medicine. The receptors in your body are like little keyholes, and all of the cannabinoids that develop in the plant, depending upon the strain and how it's grown, are like keys, so I believe in keeping the plant whole, which makes a full-spectrum medicine.
BARD MBA: AS A FEDERAL AGENCY, THE USDA DOES NOT ALLOW CANNABIS GROWERS TO USE THE ORGANIC LABEL, BUT I WONDER IF YOU ENVISION A PLACE FOR BEST PRACTICES WORKING GROUPS MADE UP OF CANNABIS GROWERS AND OTHER PRACTITIONERS WITHIN THE INDUSTRY—OR EVEN STATE ORGANIC CERTIFICATIONS FOR CANNABIS?
ELISABETH: Because cannabis is considered a Schedule I drug in America, we are not allowed to put the word organic on the front of our packaging. If we do, we are fined $11,000 for every product we have on the shelf—so, if I have fifty candies labeled organic on the shelf, it is fifty $11,000 fines. We are allowed to say which ingredients are organic on the back of the label, but not to label the cannabis.
If I were to think of any one important regulation, it would be this one. It's essential to understand who you are serving, and that a lot of the people consuming your products may have compromised immune systems or be dealing with debilitating conditions where they need to pay attention to what they are putting in their bodies. There is already one type of certification called Clean Green that comes to your garden or facility and tests your soil to see what you are using. It gives you a certification for your cannabis that allows you to label your batch Clean Green.
BARD MBA: THAT IS VERY TRANSPARENT AND A GREAT WAY TO TRACK THE PRODUCT'S SUPPLY CHAIN.
ELISABETH: With the pressure that they are starting to put on our industry for testing, it would be helpful for the labs to be standardized, for the machines to be calibrated properly, and for everyone to be using the same units and measurements so that we can all actually understand what's going on.
BARD MBA: IN REGARDS TO DIFFERENTIATING YOUR PRODUCT FROM COMPETITORS', HOW CRITICAL IS RESPONSIBLE SOURCING TO YOUR FINAL PRODUCT?
ELISABETH: Whoopi & Maya's packaging is from America and sourced in a fair way. We went out of our way to do that.  The chocolate that we use is organic and fair trade, and it is also raw—which makes it more of a super food. We try our very best to make sure that the herbs we use are harvested in an ecologically sound way. Our Epsom salts are pharmacological grade, which means they are produced indoors. But having something organic doesn't always mean a patient is going to buy it. They are voting with their dollars and often find the cheapest way to medicate.
BARD MBA: IN NOVEMBER 2016, VOTERS IN FOUR STATES—CALIFORNIA, NEVADA, MASSACHUSETTS, AND MAINE—VOTED TO LEGALIZE CANNABIS. THIS WILL OPEN UP OPPORTUNITIES FOR WHOOPI & MAYA AND OM EDIBLES TO SELL PRODUCTS TO RECREATIONAL USERS AND EXPAND BEYOND CALIFORNIA. ARE YOU INTERESTED?
ELISABETH: Absolutely. Ultimately, I do think it is a positive thing. I just hope it is going to be fair for everybody. I am excited to get our products to as many people as possible. That has always been my goal.