Bard College is redefining business education on the East Coast with its MBA in Sustainability program. In addition to fully integrating the teaching of sustainability into conventional business school curriculum, first year students in the Bard MBA program have the opportunity to add to their sustainable business skills with a course called NYCLab, where they enhance their technical expertise, industry knowledge, and professional experience. NYCLab is a two-semester course in which MBA students work with various corporate, governmental, and non-profit organizations to solve sustainability-related business problems. Students work in small teams under the guidance of MBA faculty and are assigned to organizations selected by the MBA program based on their interests and abilities. The Class of 2014 had the opportunity to choose from a number of innovative organizations with something to offer students demonstrating a wide variety of interests and professional goals.
Among the many cutting-edge organizations Bard's MBA students will have a chance to work with is Fortune 500 consumer goods firm and sustainability leader, Unilever. Unilever produces consumer goods for over 400 brands including Ben & Jerry's, Lipton, Dove, and St Ives'. As part of Unilever's Sustainable Living Plan, they have asked for collaboration to identify cost-effective and regional renewable energy storage solutions, and Bard students will help meet this challenge. Tasks include research for sustainable energy technology, performing cost analyses, and the development of business and supply chain models related to its energy objectives.
Students will also have the opportunity to provide sustainability consulting for Terrapin Bright Green. Terrapin Bright Green provides environmental consulting services to leading firms like CookFox Architects, and also serves as a think-tank focused on the built environment. NYCLab students will be tasked with helping the company evaluate their own sustainability. Sample activities include cost-benefit analysis, developing a timeline and strategy for improving sustainability, and creating a system to track and report the office's progress.
The MBA program is also proud to announce the participation of transportation non-profit, TransitCenter, in this year's NYCLab. TransitCenter is devoted to promoting the use of public transportation and other sustainable transportation alternatives in an effort to reduce traffic congestion, preserve the environment, and to promote more livable communities. TransitCenter aims to engage in new activities pursuant to its mission in ways that set it apart from other non-profits in its sector. Students will research other sustainable transportation non-profits in the industry and create proposed strategies for TransitCenter to maximize its outreach efforts.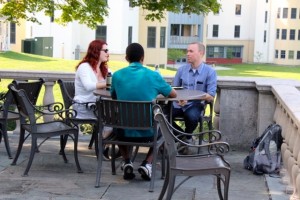 As the public becomes increasingly aware of sustainability initiatives, non-profits like the Metropolitan Waterfront Alliance, have gained prominence. Metropolitan Water Alliance (MWA) brings business and civic groups together to help transform New York and New Jersey's waterways into accessible spaces for the public to enjoy, transportation, commerce, and environmental protection. MWA knits together interest with sometimes competing agendas to promote educational, developmental, and political policy initiatives focused on cleaning up and preserving New York's waterways. Bard MBA students will work with MWA to develop sustainable policy platforms, waterfront sustainability benchmarking reports, and sustainability financing strategies for the organization.
Organizations interested in joining NYCLab in the future should email NYCLab Program Director Andrea Spender ([email protected]) with any questions.