(Reposted from TriplePundit)
Creating change is one of the most adrenaline producing thrill rides available.  It's scary, exhilarating, stomach churning and makes you feel alive. It is exciting for me to be at such a point in history.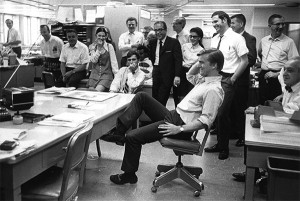 As a scientist and engineer, challenge is invigorating. I watched the Moon Landing on Discovery channel with my daughter. The footage of the control room, with engineers, physicists and computer nerds of the time rallying around their achievement inspired us both.  The recent Mars rover landing replicated the experience.
Imagine if that assemblage of talent and dedication was unleashed on climate change and poverty.
There is an argument that it would be over-engineered and waste resources, but not if that was part of the problem statement,  like in Apollo 13, "You have to make this square filter fit into this round hole with only the materials on this table,"  and, "failure is not an option."
One of the important things for pioneers to remember is the long stream of pioneers that have come before us in the sustainability journey. They sometimes disagreed amongst themselves or with society as a whole, but they pushed through and paved the way.  Part of me feels like they are cheering us on, which is fantastic because it's not easy.
Sustainability, for me, has always been about people.  It's about community and connectedness.  It's about breathing and eating healthily.  It's about eliminating poverty and realizing that throwing money at poverty isn't the only solution; emotional poverty can affect those who have plenty of financial assets.  A strong example of a poverty solution is what Van Jones did with solar cell installations in the poorest neighborhoods in Oakland; he empowered people with employment in an industry that gives them a sense that they are making the world better.
I feel strongly that you need to meet people where they are on their sustainability journey.  And it is a journey.  There are many who have moments that are mind changing but for most it's a slow process of realization; of being hit with too many facts to ignore or giving grudging respect for the persistent.
One of the better tools for this, is The Way Out: Kickstarting Capitalism To Save Our Economic Ass. Its discussion on efficiency presents a reasonable and affordable step that everyone can take and all can profit from.  We've lost the art of frugality; the desire and ability to be good stewards of what we have; an appreciation of the precious.
For me, though, the problems facing us are the sorts that make engineers giddy. Doing the impossible? Where do I sign up? My goal as a sustainability professional is to make sure that more people feel this way.  It's about the problem statement. The correct problem statement should engage the audience – we need to make change happen.  For economists and politicians, it's a way out of the mess.  For scientists and engineers, it's this century's greatest technical challenge.  For humanity, it's the creation of a life giving community.
Christine Kennedy is a current student in the Bard MBA in Sustainability, Class of 2015, and is currently Sustainability Manager at Unilever. She is a Chemical Engineer by training and has more than 15 years experience in Product Development. The opinions in this piece are entirely her own.
[Image credit: NASA]