(Reposted from TriplePundit)
President Barack Obama's reelection has shifted the formal and informal U.S. Congressional debate from the election to the most immediate issue concerning the 112th Congress: the Budget Control Act of 2011 and "the fiscal cliff." While TriplePundit readers have a number of reasons to pay attention to the debate, perhaps the most interesting is the resurrection of a "carbon tax" as a potential tool to reduce the country's budget deficit.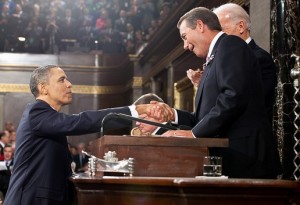 A carbon tax, if implemented by Congress, would levy a fee on the production, distribution, or use of fossil fuels based on the carbon content of their combustion emissions. The fee would require producers, distributors, and users of carbon-rich fuels to account more fully for the cost of their pollution to society.
Not included in the 111th Congress's American Clean Energy and Security Act of 2009 that passed the House before stalling in the Senate, a carbon tax has been viewed as a non-starter by many Republican and Democratic Congressional leaders. However, some form of a carbon tax may be the budget and climate policy tool most ready for implementation as Congress begins fiscal cliff negotiations.
Somewhat surprisingly, the carbon tax seems to have found more supporters in the fossil fuel industry than in Congress. For example, in a speech given to the Economic Club of Washington, D.C., Exxon Chairman and CEO Rex Tillerson stated, "As a businessman, I have to take a deep breath every time I speak about this, because it's hard for me to speak favorably about any new tax. I hope you see it shows how serious we are about this issue. A revenue-neutral carbon tax has the advantage of being well focused for achieving our society's shared goal of reducing emissions over the long term." Royal Dutch Shell, Unilever, Swiss Re and more than 100 other corporations have echoed this sentiment, calling for "a clear, transparent and unambiguous price on carbon emissions" in "The Carbon Price Communiqué" recently released by the Prince of Wales's Corporate Leaders Group on Climate Change.
It remains to be seen whether fossil fuel companies and other Fortune 500 companies will use their influence on Capitol Hill to advocate for a carbon tax in a potential fiscal cliff agreement, or if some of these companies simply see their support of a non-starter idea as a useful public relations tool. At the very least, though, Congressional negotiators on both sides of the aisle can no longer invoke unanimous industry opposition as a reason for inaction now that companies like Exxon have publicly voiced support for a carbon tax. Perhaps, the overshadowed actor in this exchange is the growing natural gas industry, which may push Congress to enact a carbon tax rather than a greenhouse gas emissions tax that might tax methane emissions and, thus, methane-rich natural gas. And, it cannot be forgotten that both Exxon and Royal Dutch Shell have become major players in the natural gas industry.
Regardless, it is interesting to see how quickly the policy environment adjusted as new constituencies for a carbon tax developed and climate circumstances changed after Hurricane Sandy. Exxon, Royal Dutch Shell, and the American Enterprise Institute's dialogues with the International Monetary Fund, Resources for the Future, and others certainly present the possibility that new alliances may be forged.  Perhaps, the resurrection of a carbon tax means there is even a chance for the hybrid carbon tax/cap-and-trade policy developed by the Brooking Institution's Warwick McKibbin and Peter Wilcoxen.
Only time will tell whether a carbon tax will become law, but Congress must deal with the fiscal cliff before the year is out.  Necessity may remain the mother of invention.
***
The author, Brady McCartney, is currently a dual MBA/MS degree candidate at Bard College's MBA Program in Sustainability and Center for Environmental Policy. Brady has worked as an eco-districts researcher atSPUR, energy efficiency consultant at Bard College, and sustainable housing client manager for homeless men and women at North Beach Citizens. Follow Brady on Twitter.
[Image credit: White House, Flickr]