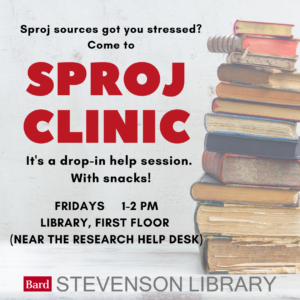 With senior projects due in just a few weeks, we are resuming weekly Sproj Clinics in the library beginning this Friday, April 8 from 1-2 p.m. You'll find us behind the research help desk on the first floor, laptops and citations manuals (and snacks!) at the ready for any of your questions about citations, formatting, even finding sources. Can't make it? Don't worry! You can request an appointment with a librarian anytime. Here are some other resources and events you need to know about:
Writing your introduction & conclusion panel — Tuesday, April 12 at 7 pm in Olin LC 115.
Shut up & Sproj — Mondays (Stevenson 402) and Fridays (Zoom) from 3:30-5:00
How to find and use the Google Docs Sproj Template

We're here to support you!