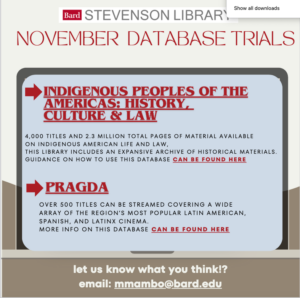 Stevenson Library is running a few database trials this month. Trials give us a chance to preview new resources to learn if they may be beneficial to our collections.
Please explore these resources and reach out to Melanie Mambo or your Library Liaison with any questions, comments and feedback.
Indigenous Peoples of the Americas: History, Culture & Law (trial ends December 1)
HeinOnline's Indigenous Peoples of the Americas: History, Culture & Law was created from a desire to consolidate the wealth of material available on indigenous American life and law, and to share the tremendous influence that these peoples and their cultures have had on the development of the United States. With more than 4,000 titles and 2.3 million total pages, this library includes an expansive archive of historical materials. Guidance on how to use this database can be found here
PRAGDA Streaming films (trial ends December 1)
Pradga is the leading educational film distributor for the newest Latin American, Spanish, and Latinx cinema. Over 500 titles can be streamed covering a wide array of the region's most relevant topics, including the global economy, immigration and exile, feminism, education, international politics, indigenous peoples, the arts, history, and more. More info on this database can be found here
British Illustrated Periodicals, 1869-1970  (trial ends November 18)
British Illustrated Periodicals, 1869-1970 includes material from nine of these 'sister' titles: The Graphic (1869-1932); Sporting and Dramatic News (1874-1970); The Sketch (1893-1959); The Sphere (1900-1964); The Tatler (1901-1965); The Bystander (1903-1940); Illustrated War News (1914-1918, and 1939); Britannia and Eve (1929-1957); and London Life (1965-1966).
Zimbabwe Under Colonial Rule, in Government Reports, 1897-1980  (trial ends  November 18)
This collection contains annual reports by successive colonial administrations in Rhodesia. It ranges from the period of corporate colonization in the late 19th century right through to the creation of an independent Zimbabwean republic in 1980. The documents provide an overview of the evolution of colonial rule from the perspective of colonial administrators. They highlight their response to early anti-colonial resistance such as the Shona and Ndeble Risings of 1896-1897. The records also highlight the difficulties caused by the Smith government's Unilateral Declaration of Independence in 1965 and ensuing decades of white minority rule.