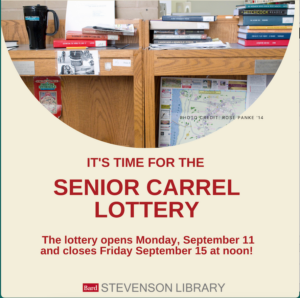 UPDATE 9/11/2023 12:00 p.m.
The senior carrel lottery is officially OPEN! The lottery will close next Friday, September 15th at noon. To enter:
Check your library account to make sure you don't have any outstanding fines or overdue books.
Fill out this form. The Senior Carrel Lottery is now closed.
IMPORTANT: To be eligible for a carrel, you should be working on a text and/or research-based senior project, and your library record should have no overdue books or fines.  If you have questions about outstanding books on your account, please contact Hannah Cremo ([email protected]) asap. It's your responsibility to make sure your library account is clear before the lottery closes. 
If your name is drawn in the lottery, you'll be notified by 5 pm on Monday, September 18 with further information about the carrel selection process.