Current Bard students, staff and faculty now have remote access to all senior projects on Bard Digital Commons. You can browse and search our collections at https://digitalcommons.bard.edu/undergrad/. Please note that this is a temporary measure to provide access to authorized users who would under normal circumstances have access. All copyrights and license agreements still apply.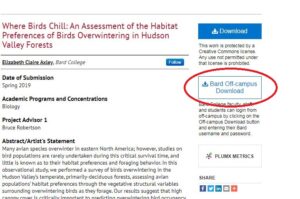 To access a campus-only project remotely, click on the "Bard Off Campus Download" button and you will be prompted to enter your Bard username and password. Then you will be taken directly to the PDF of the senior project.
If you do NOT see the Off Campus Download button, that project is available open access.