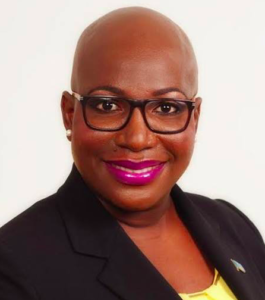 Dr. Gale TC Rigobert made history in 2014 by becoming the youngest and first female Leader of the Opposition in St. Lucia. Then in 2016, when her United Workers Party won the federal election, she was appointed Minister of Education, Innovation, Gender Relations and Sustainable Development for the Eastern Caribbean island nation.
Passionate about the ways in which policy, education and innovation intersect in sustainable development, Rigobert works to leverage business to protect the wellbeing of St. Lucians. As she remarks, for St. Lucia, sustainable development is about "the urgent need for survival."
Bard MBA student Jesse Gerstin spoke with Rigobert about the role of the private sector in sustainable development and her approach to "people-centered" engagement.
The following Q&A is an edited excerpt from the Bard MBA's August 30th The Impact Report podcast. The Impact Report brings together students and faculty in Bard's MBA in Sustainability program with leaders in business, sustainability and social entrepreneurship.
GERSTIN: HOW DID YOUR PORTFOLIO EVOLVE?
Sustainable development is not new in the structure of ministerial portfolios in St. Lucia. When the Prime Minister asked me to assume responsibility for the education portfolio, I asked whether we could marry gender relations with education. In the months leading up to the last election, our news reports were littered with incidents of gender-based violence that warranted some kind of policy intervention and, to my mind, a cultural recalibration.
I felt that, by combining gender relations with education, we could impact the young people, how they think. Next, we added innovation to the portfolio to capture the creative industries and empower our artists, entrepreneurs and innovators. And then I said to the Prime Minister, "If you think of our development as a mathematical equation, all of these variables would be on the left-hand side of the equal sign, and they would equal sustainable development."
GERSTIN: WHAT DOES SUSTAINABLE DEVELOPMENT MEAN FOR ST. LUCIA?
Historically, the term sustainable development has had an environmental overtone: this generation should utilize existing physical resources responsibly to insure that future generations have access to those resources. But for us in St. Lucia, it's much more than just that. It's really about survival in the present tense—the urgent need for survival.
Apart from our participation in international forums and signing onto declarations and conventions and treaties, one of the things I hope will become the hallmark of my leadership is what I call people-centered engagement. It's all well and good to participate in international meetings, but I need to help our citizens understand why we participate and how the country can benefit from that participation—that it's not simply a cerebral activity or an exercise of diplomacy.
We need to marry these considerations with emerging opportunities in the blue economy and the green economy, and, precisely because I have the innovation portfolio as well, in the orange economy in terms of the creative industries and entrepreneurship.
GERSTIN: HOW DO YOU WORK WITH BUSINESS TO PROMOTE A SUSTAINABLE DEVELOPMENT AGENDA?
There's a significant difference in the role of the private sector in a large developed economy versus the role of the private sector in a small island developing state. It's important to begin there because in our jurisdiction, as a small open economy, the government assumes a lead role in conjunction with its legislative role with respect to creating an environment in which the private sector can prosper.
For us, government plays a very active role in terms of economic relations, attracting direct foreign investments, not only for foreign investors but also for local entrepreneurs. And in a sense, the private sector takes a lead from government.
I must say, however, with respect to greening our economy, I'm increasingly encouraged by the level of buy in I see coming from the private sector. As an example, in the last couple of months, our lead supermarket chain has initiated the change from disposable single use plastic bags to reusable shopping bags. From the government's perspective, this is very much in line with our own policy trajectory.
GERSTIN: TACKLING WASTE AND PROMOTING THE CIRCULAR ECONOMY ARE KEY POLICY ISSUES FOR YOU. WHAT POLICIES HAVE YOU BEEN ENACTING TO FURTHER THEM?
Certainly our plans are very advanced in terms of phasing out the use of styrofoam and single use plastics. We're in the final stages of developing the relevant legislation to support that.
We've also made significant progress in terms of censuring the use of mercury products by agreeing to sign the Minamata Convention. That's why I emphasize people-centric participation and conversation around human health and wellbeing.