A world where conflict-affected children thrive. The vision of the Blossom Hill Foundation drives its mission to invest in solution-driven initiatives for refugees and internally displaced communities.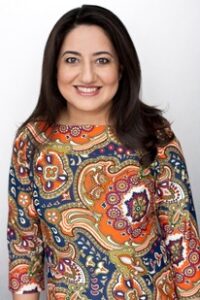 Over the last nine years, the Foundation has supported almost 56,000 war-affected children in 10 countries by funding breakthrough ideas through its Fellowship program. It invests in products like apps that teach literacy, projects such as STEM education centers near refugee camps, and programs like art, music and sports therapy that help refugee children develop critical life skills.
Fellowships offer up to $50,000 per year to fund innovative projects. Fellows must demonstrate their commitment to social change, as well as the need for and potential impact of their idea.
Bard MBA student Esra Elshafey spoke with Blossom Hill founder Shiva Sarram about the work of some of its current fellows and how the Foundation measures impact. Sarram was born and raised in Tehran during the devastating Iran-Irag war and has resided in the US since the early 1980s. Her passion for war-affected children as well as her education in economic development led her to the Blossom Hill vision.
The following Q&A is an edited excerpt from the Bard MBA's May 17th The Impact Report podcast. The Impact Report brings together students and faculty in Bard's MBA in Sustainability program with leaders in business, sustainability and social entrepreneurship.
Reprinted from GreenBiz.
ELSHAFEY: WHO ARE SOME OF THE BLOSSOM HILL FELLOWS, AND WHAT HAS THEIR WORK FOCUSED ON?
We have about a dozen fellows in the portfolio doing wonderful work around the world. Lexi, for instance, has started a Montessori-inspired early education center in Azraq, Jordan, where the refugee population continues to double. We're thrilled because Montessori is about the whole child. It mixes ages and teaches collaboration, and it's really education for peace.
We're also funding Arris, who's started a STEM center for early learners in Lesbos, Greece. Children there are now getting access to all sorts of coding, technology and science classes, and it's a wonderful way to bring refugee populations together. What's particularly great about Arris's center is that he's able to reach unaccompanied children. There are so many 14 and 15 year-old boys and girls who are unaccompanied because their parents have died—they didn't make it through war or through the resettlement. This is a wonderful way to engage them to be apprentices and mentors in the program, and future teachers of the program.
Finally, Fereshteh started the first coding school for girls in Afghanistan. So, with Blossom Hill funding, we have girls who are developing literacy apps and games and even getting paid by online companies that are outsourcing their work. This has been a lifesaving alternative to what might otherwise be early marriage in Afghanistan, where 35% of the girls get married before the age of 18.
ELSHAFEY: HOW DOES BLOSSOM HILL CHOOSE THE PROJECTS IT FUNDS?
We have a rigorous process by which we measure fellows. First and foremost, we need fellows who have good character, good leadership and the ability to implement their ideas. We look at the person even before we look at the idea. We want to invest in people who are committed, dedicated and really have a plan instead of just a dream. Then we look at the quality of the idea. Is it sustainable? Is it replicable? Is it something that is truly a need or just nice to have? We're very rigorous both qualitatively and quantitatively before making an investment.
ELSHAFEY: HOW ARE THE METRICS FOR A FELLOW'S IMPACT EVALUATED?
We have three month and nine month reports, and each month our deputy director is in touch with the fellows about their work. Qualitatively, fellows will share stories: "We had a child come into this art therapy class completely unable to speak from seeing so much war, trauma and violence but after six months of art therapy, dance therapy, music therapy and all of the innovative ways you can reach and start to heal a child, that child is starting to blossom." And then there is quantitative data in which our fellows are meticulous about assessing reading skills, math skills and figuring out the before and after. We have a fellow who developed a literacy app. She can easily track how they were reading before they got onto the app, and then she's able to assess a year later.
It's really important when you look to invest quite frankly, and it's no different from the for-profit world. If you're making an investment in a company, you want to believe in its leadership and its board of directors. You want to look at its qualitative and quantitative outcomes and impacts.