In 10 years of business, Elytus has aided its clients in saving 175,000 admin hours, 20 million trees, and over $11 million dollars—all through its innovative technology and passion for the environment.
Elytus partners with clients such as Red Robin, Omnicare and Bob Evans to "waste nothing" by managing their waste streams through recycling, diversion or reduced generation. The company's proprietary software system provides transparency into the waste management process.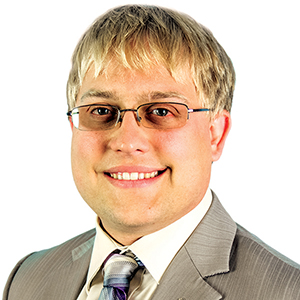 Matthew Hollis, cofounder and president, is a mechanical engineer by training, and the company was born out of an incubator experience when he was a college sophomore. He currently manages daily operations, directs corporate strategy, and oversees the continued development of the firm's software platform.
Bard MBA Alum Heather Bowden spoke with Hollis in May 2018 about Elytus' journey, its own zero-waste practices, and driving the cultural shift to reuse.
The following Q&A is an edited excerpt from the Bard MBA's November 16th The Impact Report podcast. The Impact Report brings together students and faculty in Bard's MBA in Sustainability program with leaders in business, sustainability and social entrepreneurship.
Reprinted from GreenBiz.
BOWDEN: ELYTUS JUST CELEBRATED ITS TENTH ANNIVERSARY. CAN YOU TELL US MORE ABOUT THE COMPANY AND ITS HISTORY?
I started the company in 2007 with my current business partner while I was a sophomore in college. What we initially set out to do was help large waste hauling companies reduce the amount of paper they were producing as they communicated with their subcontractors or their divisions.
If you think back to 2007, the internet was around, but it wasn't as widely adopted as it is today. Instead, there were a lot of spreadsheets, a lot of fax machines, a lot of paper communications being sent. As a result, there were both time delays and a lot of waste. We thought we could put everybody on the same page—from the customer to the waste hauler—by developing a web-based software platform that would manage that communication, manage the data, manage the infrastructure.
We spent our first four years selling that product to large waste hauling companies. Then, in 2011, we were at a trade show and a really large chain retailer came up to us and said they were struggling to manage all of their vendors across a large, geographically dispersed area. They wanted to be able to track their goals from a sustainability perspective, and they said it looked like our software could help them with that.
We had kind of this aha moment where we thought, "Well, how many large solid waste companies do we know?" but "How many large chain stores can we think of?" We realized that there was just a humongous opportunity on that side of the fence. We pivoted to business, phased out all of our solid waste company operations, and retooled our software to meet the needs of the chain retailers. We started selling to them directly in 2012.
Today, we sell that platform to end users so that they can manage their waste from procurement to payment.
BOWDEN: IN AN EXAMPLE OF PRACTICING WHAT YOU PREACH, ELYTUS' HEADQUARTERS WERE RENOVATED TO BE A ZERO WASTE FACILITY. HOW WAS THAT PROCESS?
I want to break that down into two buckets. The renovation itself was not a zero-waste renovation. We did take a building and renovate it using a lot of repurposed materials. We saved and reused a number of things from the renovation—for example, we used bricks from one area in an office and we salvaged and reused windows from a restaurant that was being torn down.
It was very important to us that we design the building in a way that we'd eventually get to zero waste, and we're working on certification as a zero waste facility.
We were able to move to being significantly paperless. Everything in the new building happens digitally. We set up for composting and single-stream recycling, and made sure that our kitchen is stocked with reusables—silverware, cups, plates—so that any time we have a company event we're not using anything disposable. Moving into the new space, everyone also got a coffee mug, water bottle and coaster as another way to say we don't need the disposable items.
BOWDEN: IT'S A REAL CULTURAL SHIFT TO THINK ABOUT THE PRODUCTS THAT WE USE EVERY SINGLE DAY. IN ONE OF YOUR ARTICLES, YOU STATE THAT IT'S IMPORTANT TO MEET PEOPLE WHERE THEY ARE WHEN IT COMES TO WASTE REDUCTION. DO YOU HAVE EXAMPLES FROM YOUR PRACTICE?
A couple of our customers have implemented initiatives around food donations that are great examples. They put up signs of actual people who were food insecure and were able to overcome that as a result of donation programs. Things like that can help people figure out what to do, for instance, when they have that loaf of bread that's still edible but unsellable.
It really needs to be a cultural shift because, at the end of the day in all of our customers' operations, they're moving in a significantly fast-paced environment, and labor is one of their biggest costs, so they're very sensitive to, "What extra workload are we putting on the staff?" The goal is to find the right programs and the right motivation so that people can make that quick decision.
In the past, that quick decision has been the landfill. It's really easy to open up the door, throw the bread into the compactor and never think about it again. But through education, and by having signage available, we've seen a lot of success. It's all about linking cultural change to human impact.