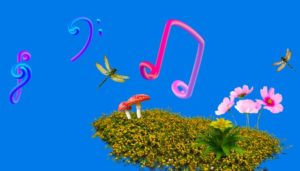 Source: Kickstarter
Early-stage entrepreneurs, such as those who use Kickstarter, should consider not only how to fund their venture, but also how to reduce their impact on the environment. Making sustainable decisions can cut their costs, as well improve human health and attract investors and customers.
Music creation is one category with a lot of potential.
This summer I sat down with Kickstarter's Director of music, Meredith Graves, to discuss the environmental impact of fulfilling music projects. We found that, while there is discussion about sustainability in the music space, there's not a one-stop convenient resource outlining the environmental impact of various music formats–specifically vinyl, cassette, CD, and digital.
"While in a long-term sense, we may find our most sustainable option is something akin to the infamous Soviet X-Ray records (at least that's what I'm hoping for) or cassette casings 3D-printed with recyclable material, those solutions are unlikely to come about so long as we avoid discussing the pros and cons of existing formats," Graves says. "If we're looking to music as an avenue to make a better world, we should always start with the planet itself!"
Together, we collaborated on an illustrated resource for music creators, for those who use Kickstarter, and beyond (click here to download the PDF):

Source: Kickstarter
While these are not comprehensive guidelines, they are an introduction to learning about and discussing the environmental impact of music fulfillment.
Here are few other sustainable music resources Meredith and I recommend:
A Greener Festival is a place to share some of the best green initiatives used at festivals around the world.
The Sustainable Music Festival: Strategic Guide is a guidebook for festival organizers, artists, fans, and public authorities.
Fly Ranch is Burning Man's 3,800 acre parcel in northern Nevada. Home to hot and cold pools, geysers, wetlands, and dozens of animal species, the land is used by Burning Man as an opportunity to experiment with clean technologies like composting toilets, renewable power generation, and techniques for sustainability tapping local water sources.
Reprinted from the Kickstarter blog.