"I wish to illuminate the damage, the breakage, the fragmentation. Somehow, if I can make it beautiful, I can make it one again."
Anne de Carbuccia is a French-American environmental artist working to document the effects of climate change. She first became interested in the era of human beings as a geological force, the Anthropocene, while studying Art History and Anthropology at Columbia University.
De Carbuccia has spent the past five years traveling to the most extreme places on earth, creating photographs that capture human-caused threats to the environment, including water scarcity, pollution, and species extinction. In 2014, she established the Time Shrine Foundation to raise awareness and protect vulnerable species, environments and cultures. Her permanent One Planet One Future exhibitions in New York and Milan serve as centers for education, collaboration and community and are free and open to the public.
Sustainability strategist, media expert and Bard MBA alum Amy Kalafa, spoke with Anne de Carbuccia in January about her work for the Impact Report.
The following Q&A is an edited excerpt from the Bard MBA's March 2nd The Impact Report podcast. The Impact Report brings together students and faculty in Bard's MBA in Sustainability program with leaders in business, sustainability and social entrepreneurship.
BARD MBA: You create installations from elements found in landscapes, and some of your works even contain live animals. What's your motivation for making this type of art?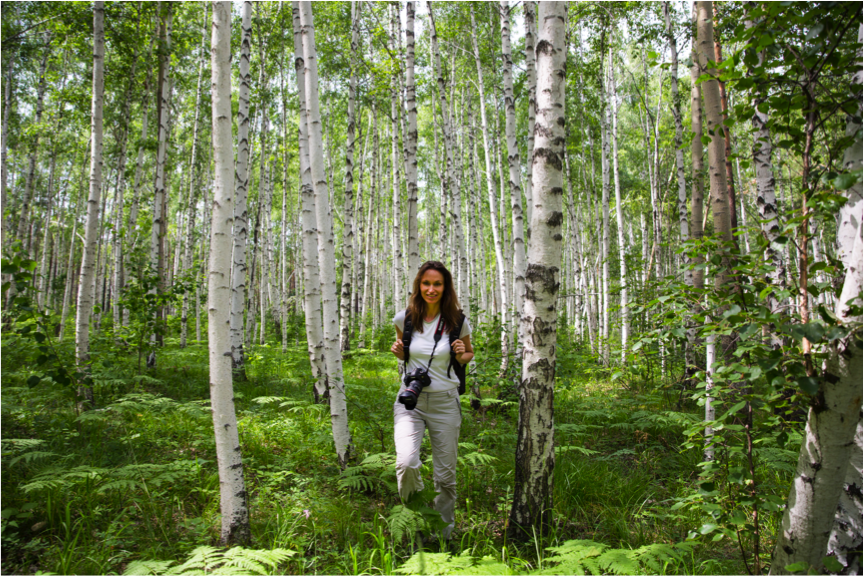 de Carbuccia: Time Shrines and One Planet One Future are about raising awareness about our current issues, and certainly in my own way I'm channeling my anxieties for the future. There's also the aspect of me being a mother and therefore my worries for the next generation and how the planet's going to evolve.
I'm addressing the main issues we're going to face, from water shortages to refugees, to the extinction of endangered species, to trash. There's a documentary aspect to my work. I actually go to these locations, and I show you the beauty of our planet and of these animals, and the horror of trash in these beautiful sanctuaries.
These are momentary installations. They're a human mark in the moment, but they're basically made to remind the viewer that we're in transition. At least that's how I see it as an artist: I'm documenting what we have, what we're about to lose, and sometimes what we've already lost.
BARD MBA: How do you support yourself as you create the change you're looking for?
de Carbuccia: As an artist with a message, it was very important for me to be the example. That's why I founded this foundation. The art, which is fine art photography, is for sale, and sales from these works go directly to the foundation. So, I'm a foundation with a product, and that permits us to finance both of our educational projects.
We have two permanent exhibitions, one in New York City and one in Milan, where we have a lot of school projects. Students can come and experience the art and hear more about the message. Most of our exhibits are in collaboration with institutions, from museums to art foundations. The goal is always that the exhibitions be free. Today, I'm in a position where I'm an artist who can work and do this project for free.
BARD MBA: There are many layers to your work. What does your process look like?
de Carbuccia: At the beginning I didn't even think about filming. But when I came back from Antarctica and created all of these surreal installations, people started doubting my work. Antarctica is otherworldly in so many ways, and people started to say, "This is all photoshopped, this can't be true," so I realized I needed to start filming to validate the process.
In the beginning, most of it was filmed by non-professionals, whether it was my friend, my daughter, a Sherpa—it was pretty hands-on. Since then, I've evolved and I'm trying to bring a one-person crew with me because content is important. Although the project has grown so much, that's my maximum crew size because what I do is so intimate and personal and in places that are really hard to get to. Usually, I work with someone local.
BARD MBA: some of your art features iguanas, elephants, a bear cub—where do these animals come from?
de Carbuccia: Sometimes I work with wild animals. The elephants you mention were completely wild. That was an extraordinary shoot—we knew that they were going to come to that location because it was a watering hole, and all the male elephants come and drink there. For security reasons, I wasn't allowed to have anyone on the ground besides myself, and it was just an incredible experience.
In general, though, I work with species survival centers. The biggest problem we have today with endangered species is that most of them are interbred. That, in a way, is the end of the species. But there are some visionary humans who started, over 20 years ago, species survival centers. What they're trying to do is create secure populations of endangered species that will hopefully be released back into nature when the world is ready for them.
The animals I work with from the centers are wild and live in large sanctuaries, and they have the advantage of being used to human presence and smell. I connect with their keepers. The bond between animal and keeper is fundamental to my work, and it's allowed me to capture these incredible images.
BARD MBA: How has your international perspective influenced your ability to see the world in a way that most of us don't get to?
de Carbuccia: The consequences of our actions, our daily gestures, can really affect somebody on the other side of the planet. We all need to be in this together, and we need to realize the consequences of our actions going forward. I think that's fundamental. Perhaps my being a little bit international and traveling around the world has been helpful in creating those connections.
BARD MBA: Where are you going next?
de Carbuccia: I'm going to West Papua in Indonesia. I'm working a lot with oceans now; my show that's opening in Naples this summer will very much be linked to the ocean subject. West Papua is extremely beautiful, and they say the coral reefs there are still pristine. I don't know what I'll find—it's always a surprise.