Bard MBA Fall Newsletter
We've been busy here at the Bard MBA in Sustainability this past summer and fall, and we're excited to share the news of recent and upcoming happenings with the Bard MBA community.
Bard's MBA program, in the heart of NYC, is one of a select few programs globally that fully integrates sustainability into a core business curriculum. Please let qualified applicants know about the following upcoming admissions-related events:
and about these admissions deadlines:
January 15

: Early Admissions Deadline

March 15

: Regular Admissions Deadline

May 15

: Final Admissions Deadline
---
Bard MBA Features Impact Investing in the Classroom and Beyond:
MBA Director Eban Goodstein and Finance Professor Kathy Hipple have spent the last six months exploring the idea of a launching a new academic center at the MBA: ImpactLab. Here's the core idea:
Why? Despite today's extraordinary challenges, we have good roadmaps towards a prosperous future on a healthy planet. To get there we need, above all, new approaches to finance, moving trillions of dollars from destructive channels to profitable and regenerative solutions, soon. The Bard MBA in Sustainability's ImpactLab will help change finance for good.
How? Across the country and the world, students are eager to learn emerging tools that are already effectively moving dollars into productive solutions. Yet today, only a handful of courses are being taught on finance for impact each year. By creating a global learning community of faculty and students focused on the practice of impact finance, ImpactLab will spark hundreds of new courses and course modules, engage tens of thousands of students, and change the practice of finance from the bottom up.
As a first step, the MBA will be offering a new course called "ImpactLab" next semester. Building on NYCLab, ImpactLab will be an experientially-based course in finance for sustainability. Students will now be able to pursue a concentration in Impact Finance as part of their MBA by combining our year-long introductory sequence, the nine-credit capstone, and the new ImpactLab course. The "lab" portion of the course this spring will involve the design of student-managed fund, to be incorporated into the course in subsequent iterations.
Expanding the Curriculum: Sustainable Business in a Developing Country Context
In addition to the ImpactLab class, the Bard MBA is pleased to announce the addition of a second new elective. Second- and third-year students will now be able to enroll in "Business and Sustainable Development." The students will join our first-year Environmental Policy students in Oaxaca, Mexico for a ten-day immersion in policy formation and sustainable business opportunities in a developing country context.
Businesses Stepping Up in the Age of Trump
This fall, Hunter Lovins launched "Business Stepping Up," a monthly series in which she interviews MBA professors about the role of business in the Trump era. She also publishes a Huffington Post piece co-authored by the MBA professors about their discussion. Check out the latest article with Laura Gitman, NYCLab professor and Senior Vice President at BSR.
Up next, join Hunter and Leading Change professor Aurora Winslade as they discuss "Intrapreneuring for Progress" on Thursday, December 14. Get your tickets to the event here.
Bard MBA Students Disrupt to Sustain
Bard MBA is gearing up for our
second annual Disrupt to Sustain Pitch Competition. This year, five teams from our second-year Entrepreneurship class and seven from our first-year POSM and Accounting classes will compete for the Disrupt to Sustain grand prize. Come witness the students pitch their projects on Sunday, December 17th at LMHQ!

Read on to find out what our students, alumni, and faculty have been up to.
Bard MBAs On Stage and In Print
Chelsea Mozen '15 spoke at September's VERGE 17 in California. She led an interactive session on "What Does it Mean to Really to "Procure" Renewable Energy?"
Miles Knowles '15 has been working on Rockstar Diplomat, a project that "promotes music, travel, and other cultural activities as tools for Cultural Diplomacy." He's recorded video interviews and jams with musicians from over 20 different countries in 2016. He also worked with Contrabanned, a SXSW showcase dedicated to bringing musicians from t
he 7 banned countries to play in Austin.
Jorge Fontanez hosted the first annual alumni careers panel, "Building Value with a Bard MBA," during residency in November where students learned about career paths our graduates took to get to their positions. Special thanks to Nour Shaikh '16,Tori Marino '16, Whitney Files '15, and Rochelle March '15 for speaking to the students!
Cory Skuldt '18 presented at State of Texas Alliance for Recyclers (STAR)'s Reuse Council. Her presentation was on " innovative business models in textile reuse."
Robert Ransick '14 authored Enough with Problem Solving, Let's Start Creating for Creativz.us, a companion website for a National Endowment for the Arts research paper, Creativity Connects.
Curtis Columbare '17 co-wrote a paper while interning at UNDP. Be on the lookout for a link to "What drives change on biodiversity investment decisions?: Lessons about what works and what does not in using economic valuation of ecosystem services initiatives to drive change" in the next newsletter.
Olivia Cooper '18 celebrated her year anniversary of her e-newsletter Today We Will. Sign up for daily or weekly tips for simple ways to live more sustainably.
Bard MBAs Step Up
Congrats to the new Bard MBA Alumni Board at large members, Stephen Williams '17, Ariel Kalishman Walsh '14, Reagan Richmond '17, and Curtis Columbare '17! The Board will be convening its first Annual Meeting in December 2017.
One of our new MBA students, Melisa Baez '20, is already making waves in her hometown of Lancaster, PA. She was awarded the Young Influencer Award and was also featured in Central Penn Business Journal for the #SheOwnsIt Forum.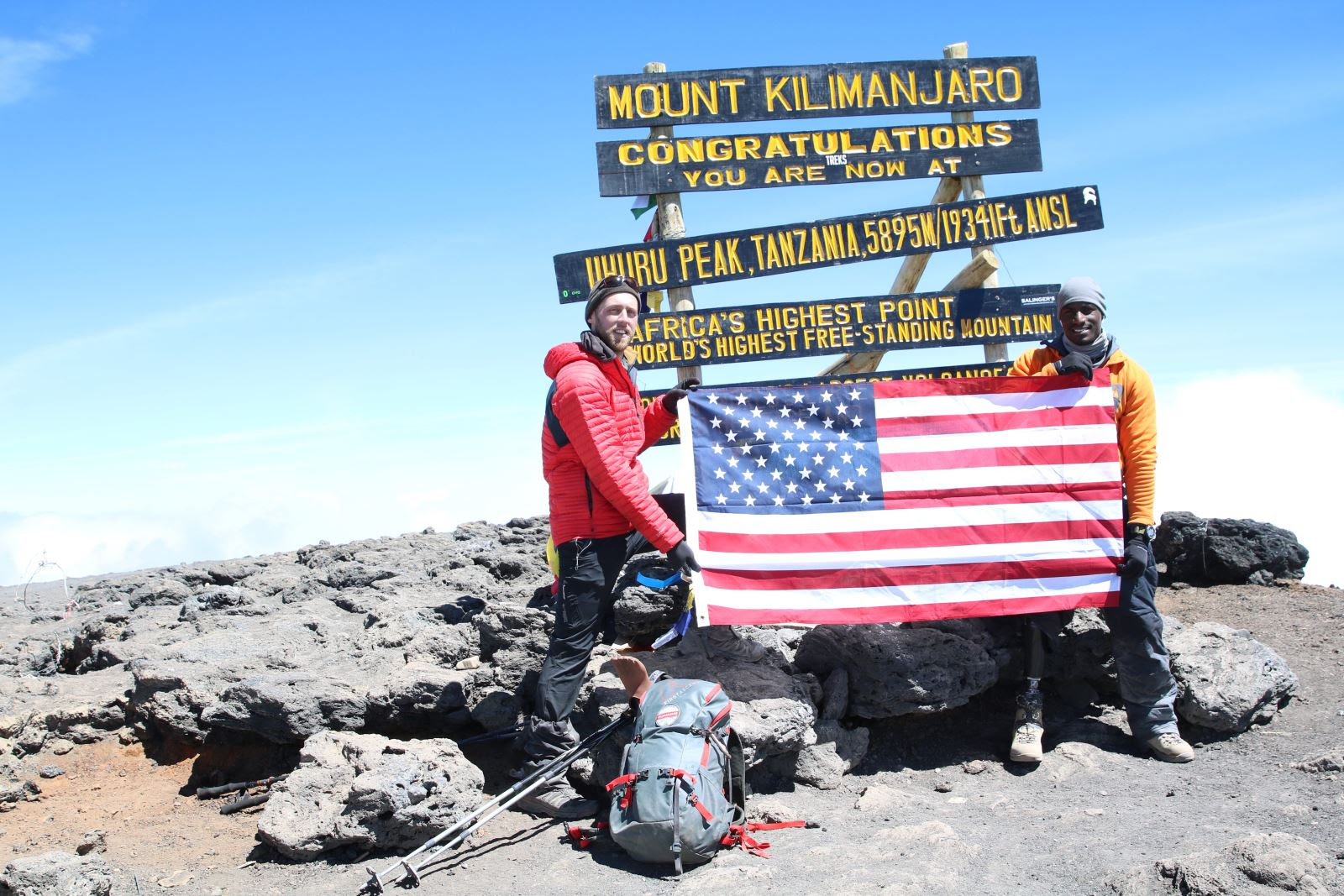 This August, Jake Rath '19 was joined by Marine Cpl. Kionte Storey, who lost his leg in Afghanistan in 2010, on a climb to the summit of Mount Kilimanjaro for the #Give2Veterans campaign. Kionte and Jake made it to the summit of Uhuru Peak at 19,341 feet and successfully raised over $500k.
Jessica King '15 is taking what she learned in the Bard MBA program and applying it to a run for Congress in Pennsylvania's 16th district.
Savannah Parsons '20 became the president of her alumni association in NYC, where she helps to engage local Oklahoma State alumni and fundraise for scholarships.  She was also awarded the "Star Performer" award for 2017 for the Operations Department at her company, High Life LLC.
Bard MBA Student and Alumnae Professional Updates–Congratulations!
Meghan Altman '18 recently became the Engagement Manager at Simple Energy.
Martin Freeman '18 has accepted a Senior Associate position at The Democracy Collaborative, within the Engaged Practice Division supporting the Healthcare Engagement Team.
Rochelle March '15 accepted a position at S&P Global – Trucost. She became a Senior Analyst and specializes in quantifying ESG and natural capital impacts.
Hannah Savage '15 has become Pratt & Whitney's Global Sustainability Lead.
Victoria Marino '16 became the Assistant Director for NADAP's CareerCompass program in Manhattan in March. Because NADAP has never worked on this contract before, Tori is helping to build it from the ground up.
Sarah Bodley '15 spent the past year facilitating a merger between Empowered Women International and the Latino Economic Development Center (LEDC). She also has a new role at LEDC as the Associate Director of Women's Empowerment Programs and is a part of the Leadership Fairfax class of 2018.
Justine Porter '16 became the Manager of Advisory Services at The Democracy Collaborative (TDC). She now manages TDC's portfolio of consulting work with cities across the country working to implement equitable economic development strategies.
Cory Skuldt '18 started an internship with the Austin Independent School District's Sustainability Manager in which she is focusing on developing sustainable transportation solutions.
Lauren Hill '18 is the new Finance and Strategy Manager for her family's company, Bella Notte Linens, a luxury bed linens company based in the San Francisco Bay Area that cuts and sews individual pieces locally and then custom dyes them to order.
Amy Campbell Bogie '17 has been named the founding Executive Director of the National Coalition for Community Capital (NC3), a new nonprofit with a mission of moving a significant portion of the estimated $40+ trillion Americans have in long-term savings from Wall Street to local and social entrepreneurs, and to inspire similar shifts worldwide. Bard MBA professor Michael Shuman serves as the Vice-Chair of NC3's Board of Directors.
Kerry Sinclair '15 is a Business Teaching fellow at Meltwater Entrepreneurial School of Technology (MEST), a training program that works with tech entrepreneurs from across Africa. She is working in a business development capacity for the fashion and lifestyle brand, Afrodesiac Worldwide.
Nick Hvozda '17 recently took on the role of Deputy Coordinator for the Ulster County Department of Environment where he'll be doing energy tracking, management and reporting for the Ulster County government operations, including building benchmarking, the green fleet program and GHG inventory.
Bard MBA Faculty in Action
Laura Gitman, our NYC Lab and Strategy professor, published the 2017 State of Sustainable Business Report. She's also lent her expertise through several speaking engagements, including Business Fights Poverty NYC (video credit @FightPoverty @beinspiredfims) and the Bloomberg Sustainable Business Summit. Lastly, she headed two panels, "We Are Our Own Worst Enemy" and "Engaging Boards, Making a Case," and did a plenary interview with Cecile Richards, President of Planned Parenthood Federation of America, at BSR 2017 Conference.
POSM professor Hunter Lovins has been writing a monthly post for the Regenerative Development Blog at Regis University. A few of her many talks in the recent months have included speaking at AREDay in Aspen, CO; an interview with Rob Katz, CEO of Vail Resorts, as part of the Vail Leadership Summit and their new Epic Promise; and a speaking engagement at the Lawrence Berkeley National Laboratory on the "Mother of All Disruptions."
Our new Leading Change Professor, Aurora Winslade co-organized and led a retreat for sustainability professionals in higher ed over the summer. Aurora is the Sustainability Director for Swarthmore College where she is the primary facilitator/leader on work the college does on carbon pricing. As a result of her and her team's work, the institution won the Excellence in Innovative Collaboration Award over the summer.
MBA Director Eban Goodstein's eighth edition of his college textbook, Economics and the Environment has just been released by Wiley. His article,"Climate Change at Thirty," is due out in A New Global Agenda: Priorities, Practices, and Pathways of the International Community, available for pre-order.
JD Capuano, our Data and Analytics professor, has participated on several panels on cutting edge technologies, including one on the Internet of Things in Buildings and Cities and another on Energy + Cyber Security. He's also authored an article about the upside potential of the Internet of Things in Smart Buildings and Cities.
Entrepreneurship professor Alejandro Crawford presented a TEDx talk, The Lost Entrepreneurs, at NYU about expanding access to the knowledge space. He's also written a paper, An Ecosystem Model for Credentialing Entrepreneurs, and had a poem, "Wrinkles," published in the Synesthesia Anthology.
Michael Shuman, who teaches our Sustaining Mission-Driven Organizations course, has been busy completing several studies and a book manuscript in the past few months. The book, tentatively entitled Invest Local Now, is on how to use self-directed IRAs and solo 401ks to invest locally. He also gave talks on local economies in Paris, Lille (France), Drayton Valley (Alberta), Winnipeg (Manitoba), Boston, and Boulder, and participated in a "Thinkers Summit" on climate action in Pugwash, Nova Scotia.
Marketing professor Jorge Fontanez was the recipient of the Ricardo Salinas Foundation Scholarship as a result of a nomination submitted to the Aspen Institute Latino & Society program. He has also recently taken over the Career Course sequence for our MBA students.
Former Marketing professor George Perlov has joined the global communications marketing firm, Edelman's Brussels office as a Director.
Finance professor Kathy Hipple's article "Shareholders' Rights Under Attack: Resolutions Could be Limited to Millionaires" was published recently in the Huffington Post.
---
Help Us Find Future Leaders:
As we recruit our next group of students to rewire the world with clean energy, reimagine the global food system and reinvent finance, we invite you to be part of the process. Please let folks who want to be part of this work know how to apply to join us.
---
Working Together + Staying in Touch:
Don't hesitate to reach out to us if you want to learn more about our MBA program, partner on a project, or hire our students. We would love to hear from you.