Republished from GreenBiz
Currently, fewer than 2% of shoes worn in the United States are made here. Most are manufactured overseas by a labor force that works in conditions that would not be acceptable for American workers.
This is why Okabashi, a family-owned and operated footwear manufacturer, makes all of its shoes in America, employing more than 200 people at its factory and headquarters in Buford, GA. As a result, its flip flops, sandals and clogs travel almost 10,000 fewer miles than the average imported shoe, substantially reducing their carbon footprint.
The Bard MBA's Cory Skuldt recently spoke with Kim Falkenhayn, the company's President, about the challenges and opportunities presented by Okabashi's commitment both to local manufacturing and to closed-loop recycling.
The following Q&A is an edited excerpt from the Bard MBA's Nov 17th Sustainable Business Fridays podcast. Sustainable Business Fridays brings together students and faculty in Bard's MBA in Sustainability program with leaders in business, sustainability and social entrepreneurship.
BARD MBA: What is Okabashi's history, and how did local manufacturing and sustainability become important strategies for the brand?
The company was originally a joint venture, which is actually how we ended up with the name Okabashi. Our designs are based on reflexology principles, so lot of comfort is engineered into the footbeds of our shoes. We've always been American owned and American made in Georgia.
We had to become very lean in our manufacturing because we're competing against overseas footwear manufacturers that have a lot lower labor rates. We needed to make an excellent, long-lasting product and be very careful so that we're not wasting anything. Recycling is not only the right thing to do for the environment, it's also a way for us to keep our costs under control. We don't throw any material away. If it's scrapped, we reclaim it, re-grind it and use it back in the process again. This helps us keep costs down and offer the best prices to our customers.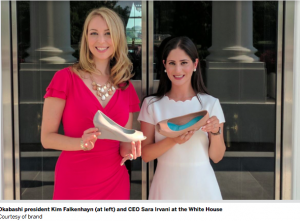 BARD MBA: To what do you attribute your recent growth?
Target has been one of our new customers this year. We're selling our new Shoreline style flip flops in two limited Target stores, and we're very excited about that. We're also expanding into new styles on the Oka-B line to reach out to additional customers. We want to get beyond the resort and spa industry and develop more styles that are fashion forward to get our shoes into boutiques and onto the feet of fashion-conscious customers.
BARD MBA: What sets Okabashi apart in the crowded footwear market?
Our product is extremely durable, heat resistant, and waterproof. From a sustainability perspective, that's really important because people have become accustomed to thinking of the traditional, basic foam flip flop as a one-season product. You use them and then throw them away. Because they're not recycleable, at the end of every season all that plastic is going into a garbage can.
Not only are our shoes recyclable, they last a long time. We have people calling and telling us that they've had them for five to 15 years, which is fantastic.
BARD MBA: Wholesale is a large part of your business. How has e-commerce changed your direct-to-customer business in terms of sales and distribution?
The e-commerce platform has definitely changed the face of the company in the past ten years. I love it because it really gives us that direct connection to our end consumer. Even though wholesale is still the bulk of where our volume goes as a company, there's just nothing like the direct-to-consumer business for being able to have a pulse on what our customers like, who they are, what they're loving, and what they're not loving.
It does present its own unique challenges as the volume has ramped up on the e-commerce side. The seasonality is also a little bit different—with large volume selling, chains are taking product to distribution centers an entire season earlier than most people are going to go out and buy those things. Our biggest ship dates are between Christmas and New Years Day. That's often surprising to people because it's months before you see summer items in stores. The e-commerce, though, picks up in April, May, June and July. While we've had to change some things around, it's fit well into our processes.
We've also been trying really hard to reduce the footprint of our direct-to-consumer packaging by experimenting with bags and boxes and keeping freight costs down.
BARD MBA: Your local manufacturing strategies have proven to be cost-effective and profitable for Okabashi. What do you think is needed for practices like yours to become more widespread in the U.S.?
It's difficult to operate manufacturing in the U.S. because a lot of industries that used to be very prevalent here, and footwear is one of them, have lost the infrastructure that made it easy to manufacture here. By that I really mean the suppliers.
There used to be so many suppliers that made shoe soles, shoe laces or glue—the many different components that go into making shoes. As the manufacturers left this country, the supplier base dried up, too. It's not as easy as just starting your own company. In a lot of cases you have to be vertically integrated because the supplier base just isn't here like it was 50 to 100 years ago. Another piece we have to compete on are labor rates, which are higher here—which is a good thing for our employees.
We also have a lot of environmental standards that we operate by here, so that's something to consider when you are looking at two different products, one of them made in the U.S. That Made in the USA stamp tells you a lot about what conditions employees are working in.
We've had some struggles. When we wanted to come out with a new product line, it required new processes that are being practiced widely around the world. But when we looked at bringing those processes in house for the new product line, we realized that the way they're being done overseas is not something we can do safely here. We couldn't have that under our doors, so we had to come up with entirely new processes, and engineer new ways to do things that are safe and clean here in the U.S.