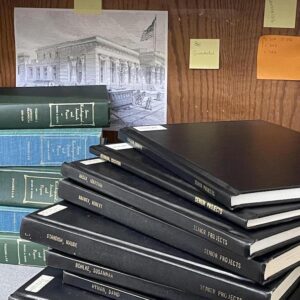 Submit your Spring 2023 Senior Project
digitalcommons.bard.edu/senproj_s2023/
Instructions for submitting libguides.bard.edu/seniorprojectguidelines
Request a 1:1 appointment for writing support or citation help: www.bard.edu/library/ask-a-librarian.php
Formatting guidelines
libguides.bard.edu/seniorprojectguidelines/preparationpresentation
Example senior projects by division
libguides.bard.edu/sprojexamples
Quick citation help
owl.purdue.edu/owl/research_and_citation/resources.html
Accessing the Sproj Template in Google Docs
The Sproj Template has the title page and other front matter for your sproj set up with the correct pagination.
Log into Google Docs with your bard.edu account.
Choose Bard Senior Project from the Template Gallery
OR
From any document, click File > New > from template and choose Bard Senior Project. A new document will open in your drive using the template.
Simply paste your senior project text in starting on the page marked "1" in the header.