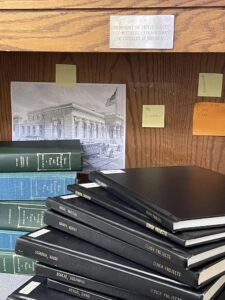 Submit your Spring 2022 Senior Project here: digitalcommons.bard.edu/senproj_s2022/
Instructions for submitting: libguides.bard.edu/seniorprojectguidelines
Sproj Clinics (Drop in help):
Friday (4/29), 1-2 pm library first floor
Sunday (5/1), 2-4pm library first floor
Library Extended Hours:
Sunday 10am to 3am
Monday 8am to 3am
Tuesday 8am to 3am
Request a 1:1 appointment for writing support or citation help: www.bard.edu/library/ask-a-librarian.php
Shut up & Sproj (Quiet work sessions) Mondays (Stevenson 402) and Fridays (on Zoom) from 3:30-5:00 p.m.
Formatting Guidelines: libguides.bard.edu/seniorprojectguidelines/preparationpresentation
Example Senior Projects from Each Division: libguides.bard.edu/sprojexamples
Citation help: owl.purdue.edu/owl/research_and_citation/resources.html
Accessing the Sproj Template in Google Docs
The Sproj Template has the title page and other front matter for your sproj set up with the correct pagination.
Log into Google Docs with your bard.edu account.
Choose Bard Senior Project from the Template Gallery
OR
From any document, click File > New > from template and choose Bard Senior Project. A new document will open in your drive using the template.
Simply paste your senior project text in starting on the page marked "1" in the header.