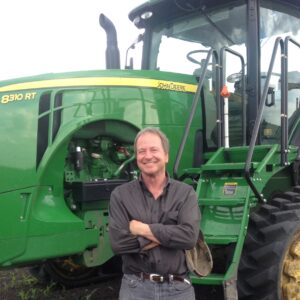 Across the planet, our food system has become focused on producing quantity over quality. The way we've been farming since the Green Revolution has depleted over 30% of our planet's topsoil. However, agriculture does not need to be exclusively an extraction process. Regenerative agriculture offers an opportunity to replenish the health of our soils.
Bard MBA student Lucien Harlow-Dion recently had a chance to sit down with Don Wiviott to discuss the evolution of agriculture and how regenerative soil health practices can play a key role in sustainable farming and land management. Harlow-Dion and Wiviott see agriculture and soil science as a viable path to end climate change.
Wiviott is the Director of Tomorrow's Farms, an LLP that works with investors to acquire Midwestern farmland and identify effective financial strategies for sustainable agriculture that utilize organics, regenerative soil transition and measuring carbon capture. In partnership with Vilicus Capital, the business works with over 200 farmers on 80,000+ acres.
The following Q&A is an edited excerpt from the Bard MBA's May 15th The Impact Report podcast. The Impact Report brings together students and faculty in Bard's MBA in Sustainability program with leaders in business, sustainability and social entrepreneurship.  Reprinted from GreenBiz.
BARD MBA: HOW WOULD YOU DESCRIBE OUR CURRENT AGRICULTURAL SYSTEM, AND WHERE DO YOU THINK IT'S HEADED?
I grew up as a kid in the Philippines, where the Green Revolution and the hybridization of rice helped to create the Asian economic miracle we've seen the last couple of generations. The current state of agriculture relates to the way we're using our food today. The United States and many other nations have systems that are focused on quantity rather than quality.
There needs to be a focus on nutritional value. We're in danger of having food that looks really good locally and has less of an environmental impact but doesn't have nutrition. The nutrition value and quality of food is important because when you eat better food you don't have to eat as much.
To think about quality you need to look at the true cost of what you're buying—are there subsidies behind it? Are there other attributes in the food that cause health problems and if so, how much does that cost us?
That's all very complex so you have to break it down into simple parts. It's driven by capitalism and capital motives, but I don't think that's bad. We have to show people how to make money and then, as a byproduct, that there can be better food and a better impact on the plant.
BARD MBA: CAN YOU DESCRIBE REGENERATIVE AGRICULTURE?
People often view farming as an extractive process, meaning that we're taking nutrients from the soil to grow the plants we need in ever increasing quantities. The way we've been farming, we've depleted over thirty percent of our topsoil since the Green Revolution. We have maybe 40 to 50 years left of topsoil.
Regenerative agriculture is a process that contributes to the soil, making it possible to rebuild topsoil.
BARD MBA: THAT'S EXCITING FOR ANYBODY WHO LIKES TO EAT, BUT CAN YOU ALSO DESCRIBE WHY IT MIGHT BE EXCITING FOR INVESTORS?
If you owned a building, and I told you that during the next 50 years a third of the building would go away, how would you feel about that investment?
That's essentially what landowners have bought into. You have to look at the value of the underlying investment. When you own farmland, you own the value to grow plants and grow nutrition. So I would look at it first and foremost from an investment perspective.
The vast majority of land farmed in America is owned by third party landowners. In the case of a typical farmer in Iowa, about sixty percent of land they farm is owned by somebody else. That landowner typically gives the farmer a year-to-year contract, plus the bank may only look at things one crop cycle to the next. What happens is the financial models drive a year-to-year perspective but biodynamics and sound agronomic practices should at a minimum be in five to seven year cycles—even better would be ten year cycles.
So, there's a current penalty, which means it could be an opportunity in the world of finance to create access structures similar to other industries where you have a loan where farmers are given something for two to three years. It looks like what you might see in a construction loan.
The same approach should be taken towards the land for shareholders and banks. There's an opportunity for the world of finance to have it line up with what makes sense on a five, seven and ten year horizon instead of year to year.