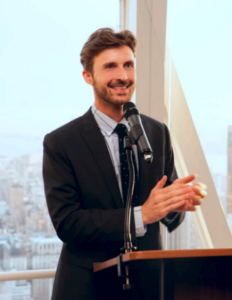 This Sunday, April 19th, Earth Week kicks off with a virtual stage of speakers, activists, scientists and performers. To celebrate the event's 50th anniversary, the Earth Day Initiative has gathered a lineup of high profile guests, including Elizabeth Warren, Katharine Hayhoe, Gina McCarthy, Karen Washington, and Lyna Hinkel.
Bard MBA student Kristin Hanczor spoke with Earth Day Initiative Executive Director John Oppermann about how the organization pivoted from an in-person celebration to the virtual kick-off in response to the COVID-19 pandemic. They discussed the creative ways the Initiative is connecting participants to experts, sustainable causes, and each other.
Oppermann also discussed his organization's campaign for climate action. The Together We Can campaign challenges everyone to make at least one commitment to reduce their climate impact for Earth Day 50. He noted that the campaign is resonating now in ways they hadn't anticipated: "People want the sense that we're in this as one larger community, and that we can get through this together."
The following Q&A is an edited excerpt from the Bard MBA's April 17th The Impact Report podcast. The Impact Report brings together students and faculty in Bard's MBA in Sustainability program with leaders in business, sustainability and social entrepreneurship.
Reprinted from GreenBiz.
BARD MBA: WHAT ADVICE DO YOU HAVE FOR PEOPLE WHO WANT TO DO SOMETHING FOR THE PLANET BUT DON'T KNOW WHERE TO START?
Even the list of solutions can be overwhelming. The problem with human behavior is that if you give someone a list of a hundred things to do, they're not even going to do one. So, with our Together We Can: Climate Action Campaign we've simplified it: here's the one thing that you can do to start.
The campaign is oriented around the idea that together we can generate climate solutions. If we all do things like switch over to renewable energy, or reduce our food waste, or demand change from those in power—whether that's companies or governments—we can tackle this.
The campaign is resonating now with COVID-19 in a way that we didn't really anticipate when we launched. People want the sense that we're in this as one larger community, and that we can get through this together.
BARD MBA: PREVIOUS EARTH DAY CELEBRATIONS HAVE CENTERED AROUND LARGE, IN-PERSON EVENTS. WHAT ARE YOUR PIVOT PLANS FOR THIS ANNIVERSARY?
We had planned large-scale events in New York City, specifically, with our partner March for Science NYC. Obviously, all that has had to change. We're using this as an opportunity to demonstrate how we can deal with the kind of uncertain situation that unfortunately, because of the effects of climate change, we may have to deal with increasingly.
Climate change isn't going away, even when there are other pressing concerns like COVID-19, so we're demonstrating how we can still bring people together. We'll have a virtual stage with a whole live team of different speakers, including activists, talking about how you can get involved. There'll be climate scientists explaining their work, experts explaining the connections between climate change and different fields that seem unrelated.
We'll be interspersing talks with performances from various artists—we're working with some Broadway folks who'll break up the live stream with entertainment, recreating on a virtual stage what would have happened at the physical event.
BARD MBA: HOW ARE YOU HELPING TO ENCOURAGE DIALOGUE EVEN THOUGH THE CELEBRATION'S VIRTUAL?
We've also developed an app that includes a virtual exhibitor booth where different environmental organizations can table. People can attend through the app, learn about ways they can get involved with the organizations, and chat with exhibitors. Participants will also be able to connect with each other via the conversation threads on the app.
This forum can provide a framework for how we connect in the future. We plan to use the app beyond the event so that anyone who has it can continue to learn more about environmental causes.
BARD MBA: WHAT ARE YOU LEARNING FROM THIS PROCESS THAT YOU CAN APPLY TO FUTURE EARTH DAY EVENTS?
We're honing our tools, honing our skills and becoming more comfortable with the virtual. I don't think it's necessarily a positive development to move away from the in-person events—there's something really valuable that comes from being with people. But we'll be better prepared for engaging online. There may be an even bigger emphasis on media and internet channels than in the past—they may become more of a mainstay for activist organizations like ours.
It's really interesting to think about, and it'll be interesting next year when we start to see what the plans are, and maybe how they've been improved by both the in-person and the online components.