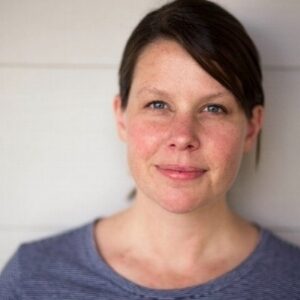 215 of the world's largest companies value the climate risks to their businesses at $1 trillion, and almost all of them report that they integrate climate risk into their business strategies.
Sarah Tuneberg co-founded Geospiza to transform the way such businesses make decisions in the face of climate risk. A national emergency management expert, Tuneberg is passionate about harnessing data and technology to solve the complex challenge of climate and hazard risk assessment.
The Bard MBA's Emma Elbaum spoke recently with Tuneberg about how Geospiza's innovative risk assessment platform offers companies an alternative to traditional climate risk mitigation planning. They also spoke about Tuneberg's entrepreneurial path, and about Geospiza's commitment to driving resilience for communities, for enterprises, and for the globe.
The following Q&A is an edited excerpt from the Bard MBA's February 21st The Impact Report podcast. The Impact Report brings together students and faculty in Bard's MBA in Sustainability program with leaders in business, sustainability and social entrepreneurship.
Reprinted from GreenBiz.
BARD MBA: WHAT LED YOU TO CO-FOUND A STARTUP THAT UTILIZES DATA TO MITIGATE RISK?
I'm an emergency manager by training and practice. I spent most of my pre-startup career helping cities, states, governments, international organizations, and very large companies understand and take action on their natural hazard risk. I've responded myself to more than fifty presidentially declared disasters in United States.
In my emergency management practice, I was a modeling and simulation person. I'm invested in how we make better decisions in time pressured or resource poor environments. I believe very strongly in the power of data and the power of evidence.
With climate change, we've seen an increase natural hazards, in the severity and unpredictability of natural phenomena. As the worlds of climate change and emergency management merged for me, I asked myself, "How we can bring data to bear to help us make better decisions?" "How can we leverage the huge amounts of data available to us now because of advances in cloud computing and technology to work on this incredible challenge?"
My technical co-founder has deep experience in building software applications that use huge amounts of data. We feel that bringing data to bear on the climate challenge and making it really simple for non-technical people—public safety officials or policymakers or risk managers for large companies—to understand is key.
BARD MBA: WHAT DOES THE GEOSPIZA PLATFORM OFFER CLIENTS?
Geospiza's web-based platform has two key parts that are linked. First, it has a very robust data integration architecture on the back end where we feed in huge amounts of data. We're at about fifteen hundred disparate data sets. Most of them have some connection to natural hazard or climate and its cascading effects.
Second, it has a really simple-to-engage-with user experience where non-technical people, using a map-based interface, can click on and off layers related to data or hazards. They can then visualize assets or communities or projects on a map in the context of all of this hazard and risk information.
BARD MBA: WHAT'S NEXT FOR THE PLATFORM?
The next step is putting all of that risk information into action. That's actually what I'm most passionate about. We have tons of information about what could happen, but taking action is where we really have the impact to make change.
The platform facilitates action taking through a decision making process called decision pathway modeling. It essentially looks like a subway map. Imagine that you're looking at where you currently are on the left hand side, and then on the right hand side you have your end goal. That goal could be greenhouse gas emissions targets, or revenue targets, or population health targets. The platform will use technology mapping to facilitate the various strategies that could be deployed to get you to that end target.
It'll combine machine learning and AI-informed information to make recommendations. So, for example, on sea level rise problems, you could have a bunch of resilience strategies—retention ponds, sea walls, elevated buildings—but each of them has unique costs and benefits, time horizons, and other cascading consequences. We're in the early days yet, but the goal is to capture how how a sequence of strategies could yield the best outcome.
BARD MBA: HOW DID YOU COME TO ADAPTATION PATHWAYS AS A STRATEGY?
The idea of adaptation pathways, or dynamic decision pathways, comes from the Netherlands. It was developed to help government entities there make plans for infrastructure projects, primarily water projects, in the face of uncertainty.
There are really three approaches to risk mitigation planning. There's science-based targets and achieving those targets. Then, there's scenario-based planning, where you say, "In a 2.5 degree warming environment, here's what we anticipate," and move forward from there.
We at Geospiza take a third approach that assumes all possible outcomes. The decision pathways approach assumes that any and all of the bad things could and will happen, and that we don't know when, or what it's going to look like when they do happen. It tells clients what they need to do to insure that they still meet their objectives and what data they need to underlie their path. It gives them a map to get there so that they know when they need to move to a different strategy.
It's all about facilitating resilience in the face of deep uncertainty.