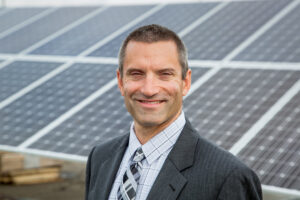 Rob Threlkeld, Global Manager of Sustainable Energy, Supply and Reliability for General Motors, began his career at the automaker as manager of the powerhouse and wastewater treatment plant operations at GM's Lordstown, Ohio assembly complex.
In the almost 20 years since, his sustainability career has grown alongside the company's sustainability commitment. From an initial focus on energy efficiency, both his role and the company's efforts have expanded to encompass renewable energy procurement and EV integration. General Motors is now on track to meet the electricity needs of its global operations with 100% renewable energy by 2050.
Bard MBA student Sahara James spoke with Threlkeld about how GM has responded to changes in the renewables landscape, how company leadership reacted to his team's pitch to join RE100, and why there's still power in numbers.
The following Q&A is an edited excerpt from the Bard MBA's October 18th The Impact Report podcast. The Impact Report brings together students and faculty in Bard's MBA in Sustainability program with leaders in business, sustainability and social entrepreneurship.
Reprinted from GreenBiz.
JAMES: YOU'VE BEEN WITH GENERAL MOTORS FOR THE BETTER PART OF TWO DECADES. HOW HAS THE COMPANY AND YOUR ROLE EVOLVED OVER TIME?
A lot of the initial focus of my early part of my career was on operations and energy efficiency efforts. If we fast forward, my role is still significantly focused on energy efficiency, but it's now also focused on procuring more sustainable energy from renewable sources.
GM has spearheaded renewable energy efforts going back decades. Starting in 2005, we used solar panels on our rooftops, and we now procure renewables off site. For instance, a sizable wind portfolio supports our production facilities in Texas, Ohio and Indiana, with the wind energy coming from virtual power purchase agreements. The landscape has changed dramatically as the price of renewables has come down significantly in the past decade—the amount of renewables coming online is increasing significantly.
JAMES: TELL US ABOUT GM'S FOUR-PRONGED ENERGY STRATEGY.
As we march down our path to ultimately zero emissions, we joined RE100 in 2016 and have a four-pronged strategy towards that.
The first pillar is energy efficiency—reducing energy use is ultimately what you want to do, but you're never going to reduce to zero because you're always having to use energy in the business. The second pillar is using renewable energy and other resources that are zero carbon.
The third pillar is, as a car company, transitioning to an all-electric future and how we think about energy differently. It used to be about what a barrel of oil cost and a gallon of gasoline. Now it's about how a kilowatt hour of electricity is generated and how it's being consumed. So the third pillar is around energy storage, whether it's fuel cells, batteries or electric vehicles. How do we think about rates and the designs that ultimately support our electrification efforts?
The fourth pillar is around policy and how we leverage the size and scale of General Motors to drive change, whether it's support for energy efficiency efforts or renewable energy designs, or policy around tariffs or transmission or how we integrate energy storage.
JAMES: HOW DID THE STRATEGY COME TOGETHER AT THE COMPANY?
In 2011, GM set a target to procure 125 megawatts of renewables by 2020. We were one of the first corporations to establish a renewables target at that time, which was actually before renewables became mainstream and prices came down to the levels they are today. Fast forward to 2016, and with the addition of our off-site wind projects, we surpassed that 125 megawatts target four years ahead of schedule.
So the question was, what is our next goal going to look like? That's when the team here proposed joining RE100. In response to our initial pitch to leadership, there were a lot of questions about whether we were putting all of our eggs into the renewables basket. Leadership wanted to know whether there was more to it. We developed the four pillars strategy in response to those questions—it's everything we're doing as a company to drive this space forward.
With it, we were able to go back to leadership and say, "Hey, we're going to explain it to you in a much clearer way. It's not just renewables, it's energy efficiency, it's energy storage, it's electrification and our policy." Ultimately, we got leadership to see that this was something we could actually do as a company and there really was a means to get there.
JAMES: HOW MUCH DOES GM COLLABORATE WITH OTHER COMPANIES VERSUS TAKING THE LEAD?
Sustainability is core to the business, and many companies are looking at how best to implement it, both externally and internally. Companies that want to lead have to be out there supporting these types of efforts, as General Motors has been. For example, we're one of the founding members of the Renewable Energy Buyers Alliance, which is leading the charge to bring more renewables online.
I think there's still a lot to be said for the power in numbers. When you think about a company the size of General Motors with a massive supply chain, we can leverage our leadership position to really make change occur. But we also think about it in a way that supports the smaller companies that aren't just suppliers of General Motors but of other companies, which helps support that change into the future.