In 1988, a handful of Midwest family farmers fed up with the state of American agriculture gathered at the Viroqua, WI courthouse to talk about doing farming differently. Thirty years later, the farmer-owned cooperative they started, Organic Valley, represents more than 2,000 farmers in 34 US states and achieved $1.1 billion in 2018 sales.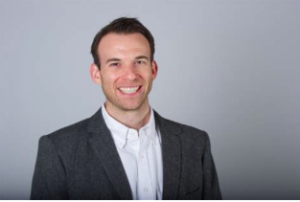 Building on its founding mission of saving family farms through organic farming, Organic Valley has embraced a wide range of sustainability initiatives. It has committed to switching all of its remaining fossil fuel-based electricity to renewables by this year. It keeps the distance its milk travels as short as possible via a regional distribution model that includes a biofuel-powered fleet. And its Grassmilk products use dairy from 100% grass-fed cows, promoting animal and soil health, and sequestering C02.
Bard MBA alum Ben Volk spoke with Organic Valley's then Senior Manager of Sustainability Jonathan Reinbold in the fall of 2018. They talked about the company's cooperative business model, its new community solar initiative, and the future of the industry as a whole.
The following Q&A is an edited excerpt from the Bard MBA's June 28th The Impact Report podcast. The Impact Report brings together students and faculty in Bard's MBA in Sustainability program with leaders in business, sustainability and social entrepreneurship.
Reprinted from GreenBiz.
VOLK: AS A SUCCESSFUL COMPANY THAT'S BEEN AROUND FRO THREE DECADES, TELL US ABOUT YOUR BUSINESS MODEL.
We're a marketing cooperative, so the farmers who milk the cows, grow the vegetables, tend to the chickens—those folks own the business. Instead of selling their farm products to another company to manufacture and market, they essentially sell them to themselves. They have governance oversight and an active role in how the business is managed.
Our board of directors consists of farmers, and some of our founding farmers are still active executives in the business. We have that culture of farmers all the way through the organization. A lot of our younger employees also have family who are members of the cooperative.
VOLK: WHAT ARE SOME OF ORGANIC VALLEY'S KEY SUSTAINABILITY ACHIEVEMENTS?
Our board of directors has committed to a carbon neutrality goal by the end of 2022. A big part of that is achieving 100% renewable power, which we aim to do by mid-2019. We've spent the last 18 months trying to understand the community solar model and how it will work for us and other folks throughout our communities.
That's on top of the other renewable energy investments we've made. We're co-owners of a wind farm based at our distribution center in Cashton, WI that went live in 2012. We have several other renewable energy installations: solar electric, solar heating with geothermal. We actually have the first grid-connected building integrating solar windows at our headquarters in La Farge, WI.
Our farms exceed the USDA's organic requirements for pasture for their animals by nearly two times. Our animals are out whenever the weather allows them to be—they're getting fresh air and fresh grass, and they're part of their farm's ecosystem. The farmers themselves, by virtue of being organic, have kept over 350 million pounds of synthetic pesticides and fertilizers off the ground and out of the water over thirty years.
VOLK: WHAT DO YOU THINK HAS CONTRIBUTED TO THE QUICK SUCCESS OF THE COMMUNITY SOLAR PROJECT?
After the wind farm and a couple of the other solar projects came online, we decided we'd do something different. We were approached by a community group about being an anchor partner in a community solar project at our headquarters, and we pursued it for nine months or so. Ultimately that project didn't go forward, but we were excited enough about the opportunity that we wanted to look at going forward with community solar.
We found a third-party partner who brought forward an approach that would allow us to offset 100% of our non-renewable energy. It's ultimately going to be ten solar installations throughout the upper Midwest region. We're in a different utility scenario than others because of where our business is located: very rural farming communities that are served by municipal utility companies rather than investor-owned utilities. There's a lot of autonomy at the municipal level, and the different utilities work together.
When we approached them about working on this, there was overwhelming interest. In fact, the utilities' interest far exceeded our needs in order to offset our non-renewable energy balance. All told, organic valley is purchasing the environmental attributes for about 13 megawatts, and other partners are coming in for 19 megawatts more.
VOLK: DO YOU THINK THE INDUSTRY AS A WHOLE IS MOVING MORE TOWARD YOUR MODEL OF DOING GOOD FOR FARMERS, CONSUMERS AND THE PLANET?
There are increasing numbers of examples of businesses that are farmer-focused and community-minded, like benefit corporations and LPCs. At the same time, consolidation in the industry continues, and as purpose-driven companies are bought up and absorbed into the parent company, maintaining that original mission can be challenging.
You have to look closer and harder to see whether or not the multinational corporations are changing to be authentically sustainable. There are certainly individuals and teams within those companies who are committed to farmers and the environment—their challenge is getting their organization to truly align with that way of doing business. That's a challenging job, and I'm glad people are doing it.