"There is nothing more beautiful and healthy than leaving your comfort zone and opening yourself to new and unpredictable experiences."
– Gabriela Shel, Medium
Steady growth in consumers traveling independently since 2013 has pinned solo travel to be the #1 travel trend to watch out for in 2019, according to Klook. Organizations like Adventure Travel Trade Association, Intrepid Travel, Booking.com, Hostelworld, and the like are echoing this sentiment as they continue to see the numbers climb.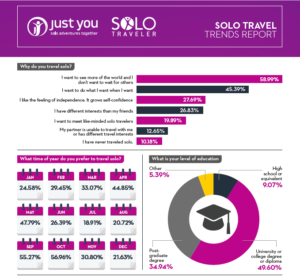 But travelers are taking their travel discussions into their own hands and choosing to forgo traditional methods of planning. Google searches for all things related to solo travel went up 600% in the last year alone, with 2.5 million searches exclusively associated with female solo travel (Astrid Solo Travel Advisor).
Women are not just looking, they are embracing their inner Alexandra*supertramps. A 2014 Booking.com survey discovered that 72% of American women are taking solo journeys.
All of the trends are showing an upward trajectory of independence, and dare I say equality, yet our historically patriarchal global society has long stood as an obstacle for women to act on adventure. In an expression of the risks that females experience traveling in comparison to our male counterparts, Phumzile Mlambo-Ngcuka, executive director of UN Women, explained that, "The root cause of this kind of violence against women in communities and in public and private spaces has a lot of do with the underlying gender stereotypes, social norms, entitlement and patriarchy."
The ever present threats of being a target for crime, the fear of isolationism, and countless stigmas continue to serve as barriers for women around the world, but it is crucial for all women to feel empowered to utilize the remarkable opportunities that travel can have for the individual.
And why am I writing about this? As a female, gen z, solo traveler myself, my personal and professional mission centers around the transformative power that travel holds. I have dedicated my academic experience, as both and undergraduate and an MBA in Sustainability candidate, to exploring the opportunity for sustainability in the travel and tourism industry. To fully harness this potential, a sense of equity must be upheld for all walks of life. With the increase in spending power giving the means to travel more, women are a huge portion of this potential.  
The Building Momentum of Female Empowerment
For the U.S. specifically, it wasn't until the summer of 1848 that two strong willed women, Elizabeth Cady Stanton and Lucretia Mott, gave birth to the women's rights movement by organizing a forum for the female voice to become a force to be reckoned with. This first wave of feminism was rooted in the legal inequalities that forced female oppression, such as the right to vote, educational opportunities, and the larger scale basic economic freedoms; utterly steering clear of the more complex social circumstances that prove difficult to navigate.
Fast forward more than one and a half centuries and no topic is off limits; the female figure is commanding reverence.
Industries and society are revolutionizing from what we once knew them to be. This extraordinary upheaval is going far beyond equal pay and solitary rights, and towards demanding justice and embracing the transformative power of women.
Both single pioneers and giant movements have made enormous strides towards female empowerment, but this movement has by no means reached its conclusion. While some nations are more progressive than others, gender inequality remains a global phenomenon on multiple fronts.
To name just a few statistics:
Still fewer than a 3

rd

of executive and middle management positions are held by females.

Women, on average, do 3x as much unpaid care and domestic work as our male counterparts.

Today, there are still 49 countries that do not have laws protecting women from domestic violence.
Gender equality is a fundamental human right regardless of geographic context, and combating this everlasting crisis can take on various forms. Empowering women to take charge of their destiny and act on adventure is just one approach.
"Unleash Your Inner Explorer", sponsored by ITA
Impact Travel Alliance (ITA) is a global nonprofit that makes up a community of change-makers. The main goal of the organization is to help solve issues like poverty and

inequality through something so universally appealing as travel. One of the ways that this gets done is through the events that get put together, and these events are focused on education and advocacy around sustainable tourism.
With the 5th Sustainable Development Goal focused on gender equality, the priority to carve out time to discuss how to promote gender equality in travel and tourism, empower women to travel solo, and do all of it more sustainably rings loud and true.
It is because of this that Impact Travel Alliance took the lead in hosting an event on Women Empowerment this past International Women's Day, March 8th.  As a coordinator for the NYC chapter, I had the honor of both coordinating and moderating this event.
Addressing the countless stigmas, safety issues and responsibilities constantly pulling women away from adventure can be extremely complex and overwhelming when doing so in solitude. In order to ensure that the attendees left with the empowerment that is essential for them to move forward and unleash their inner explorer, we rallied up five incredible women in the travel industry to share their diverse perspectives on all things travel and tourism. Depicted from left to right in the image below, with myself holding the microphone, the panel comprised of: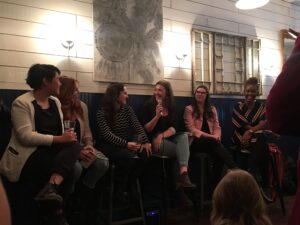 The International Women's Day celebration was a multi-chapter event, hosted in Washington, D.C, Kathmandu and New York City. To set the tone in New York, the event was co-hosted with Harlem Brewing. Founded by Celeste Beatty, Harlem Brewing is female owned craft beer company that keeps the pillars of sustainability and cultural integrity at the heart of its products.
Fast forward to the night of the event and the room was overflowing with people filling every chair, sitting on the floor, and some peeking in through the door, with roughly 70 attendees (both male and female) in Harlem Brewing's intimate venue. Our informal panel of five extraordinary, female professionals in the travel industry spurred a lively conversation on everything from combating isolationism, the best tips & tricks for traveling sustainably, and simply the motive for wanting to travel solo.
Key Takeaways
A Facebook live video captured the entirety of our discussion that Friday night on International Women's Day, but when all is distilled down, there are four key takeaways for females traveling solo that are worth notable mention.
There is no "one-size-fits-all"

Regardless of your ethnicity, religion, or general background, travel is such a powerful medium to come into one's self. From finding your courage, to stumbling into unknown opportunities, to gleaning insight into the different challenges that exist globally, it is an experience that would be of benefit to anyone.

Localization as a rule of thumb

When traveling, do your part in supporting the destination economy. Looking for locally owned and staffed accommodations and travel, and locally sourced crafts and restaurants, enables tourism to be a more holistic interaction. Localization is key to ensuring that sustainability is embedded in tourism and that both sides of the equation, both the traveler and the destination communities, genuinely benefit from the exchange.

Do your research, be aware, be adaptable

Societal barriers are absolutely in existence and serving as obstacles for women to embrace adventure, but the solution can be boiled down to doing your research on the specific destination, building awareness around the dynamics at play and being able to be adaptable to those dynamics as a visitor in foreign location.

Utilize YOUR value as a form of giving back

Bring what you have to offer to the place that you are traveling to. Being mindful of the culture and dynamics of the destination is a necessary component to responsible tourism, but everyone has a special skill that can be beneficial to offer to wherever you are traveling to. To highlight Justa Lujwangana's testimonial that night, "

One of the most important things that you can do, especially when traveling to developing countries, is to bring with you the special skills, passion or knowledge that you have. So as a solo traveler, I would dedicate at least one day to giving back to that community by sharing that special skill/knowledge in a way that is useful to them."