To date, Dow Olympic & Sports Solutions has delivered 3.64 million tons of CO2e reductions, and it's on track to exceed 6 million tons by 2026. This unique partnership between Dow and the International Olympic Committee uses sport and the Olympic brand as platforms to demonstrate how science and technology can help the transition to a lower-carbon future.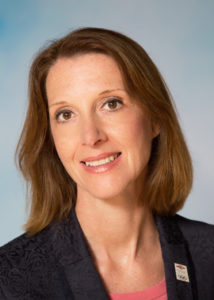 The collaboration leverages Dow's materials science expertise, technologies, and science-based solutions to deliver climate benefits—and, in the process, to provide actionable lessons learned to organizations across sectors.
As Global Technology & Sustainability Director for Dow Olympic & Sports Solutions, improving the world through sport is more than an Olympic Movement philosophy, it's a way of life for Nicoletta Piccolrovazzi. Piccolrovazzi helps organizing committees, bid cities, large-scale events, business partners and other key stakeholders address technology and sustainability-related needs with Dow solutions.
Bard MBA's Stephanie Erwin spoke with Piccolrovazzi about how sports and the Olympics fit into Dow's larger structure, business and strategy.
The following Q&A is an edited excerpt from the Bard MBA's December 7th The Impact Report podcast. The Impact Report brings together students and faculty in Bard's MBA in Sustainability program with leaders in business, sustainability and social entrepreneurship.
Reprinted from GreenBiz.
ERWIN: MOST PEOPLE DON'T THINK OF SUSTAINABILITY OR SPORTS WHEN THEY THINK OF DOW CHEMICAL. YOUR MISSION STATEMENT TALKS ABOUT CREATING INNOVATION AT THE INTERSECTION OF CHEMISTRY, BIOLOGY AND PHYSICS. HOW DO SPORTS AND THE OLYMPICS FIT INTO THE ORGANIZATION'S STRATEGY?
Dow is a world-leading materials science company. We often talk in very technical terms, and people sometimes struggle to understand what we do. This is really why we've embarked on a sports partnership—to help us communicate about our science and technologies, and to help them become more visible for consumers.
Our chemistry touches consumers in many ways throughout their daily lives, from the mattresses they wake up on, to the insulation material that makes their homes more comfortable, to packaging solutions that keep their food fresh. Our chemistry also enables many industries. For instance, in the automotive industry, we're helping achieve the light-weighting of transportation by binding different materials together. We use our sports partnerships to make this chemistry more visible.
Sustainability is really part of what we do at Dow. It's become part of our business strategy, our Corporate Sustainability Goals, and our corporate values, which are integrity for people and protecting the planet. It's a theme that's really embedded in how we do work.
ERWIN: HOW DO BOTH SPORTS AND DOW'S INTERNATIONAL OLYMPIC COMMITTEE CARBON PARTNERSHIP INSPIRE CHANGE TOWARD A MORE SUSTAINABLE FUTURE?
Dow has actually been delivering technology solutions since the 1980s to different sports venues. These have included solutions like insulation materials or heat processes that went into the venues. So, in many different applications, our technologies were already present.
Then, in 2010 we became the official chemistry company of the Olympic movement, and that gave us continuous opportunities to participate with our technologies in different projects. We also began to talk about the contributions of our science, and we very quickly realized that we could bring more than just our technologies to the plate.
So, we started to expand our focus to our sustainability expertise and other capabilities. With the Sochi Games, we became the official carbon partner of the Games, and since 2017 we have been the official carbon partner of the International Olympic Committee.
ERWIN: HOW DOES THIS PARTNERSHIP TRANSLATE TO DOW'S LONG-TERM SUSTAINABILITY GOALS?
It's great to see that the business case behind sustainability is better understood today than it was in the past. For instance, the Business Commission report Better Business, Better World estimates a twelve trillion dollar opportunity from the implementation of programs related to the Sustainable Development Goals, so there's good knowledge about the business case.
However, while technologies exist and the business case is understood, adoption of technologies is still lacking. We're looking at the partnership with the IOC to see how we can use sport to drive engagement and drive the adoption of differentiated technologies that need, on the one hand, to reduce CO2 emissions, and on the other hand to better understand the next generation of solutions. This is how our partnership with the IOC connects the sustainability focus with the power of sports to engage people and deliver a project that leads to lower CO2 emissions.
ERWIN: WHAT HAVE BEEN SOME OF THE BIGGEST BARRIERS TO THE SUCCESS OF THIS WORK?
We sometimes think that the barriers are financial, but quite often they're really around the adoption of technologies. Through our programs, we're trying to drive technologies that are beyond current business solutions, beyond current business practices. This doesn't mean that they're completely new technologies, but they need to be better than the incumbent.
When it comes to people adopting these technologies, we often see that there's an activation barrier that we need to overcome. So, we're using the Olympic brand to help us engage people to overcome these activation barriers.
Similarly, I think that climate change is a very difficult problem for people to grasp. It's a global problem and carbon emissions aren't visible, which adds up to a challenge to implementing programs. Plus, sometimes the narrative isn't very positive, so that's another of the reasons why we use sport. It helps us make this narrative more positive and engage both our customers and the partners that we need to implement projects.