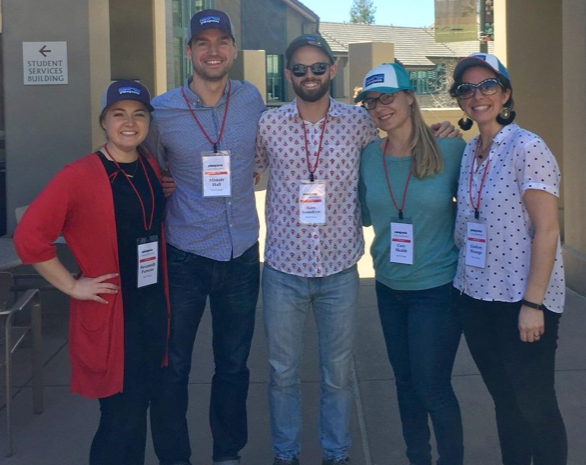 We've been busy here at the Bard MBA in Sustainability this past fall and winter, and we're excited to share the news of recent and upcoming happenings with the Bard MBA community.
Spread the Word!
Bard's MBA program, in the heart of NYC, is one of a select few programs globally that fully integrates sustainability into a core business curriculum.
Please let qualified applicants know about our upcoming admissions events and deadlines:
---
Bard MBAs Beat Yale, MIT, Wharton in Case Competition Success!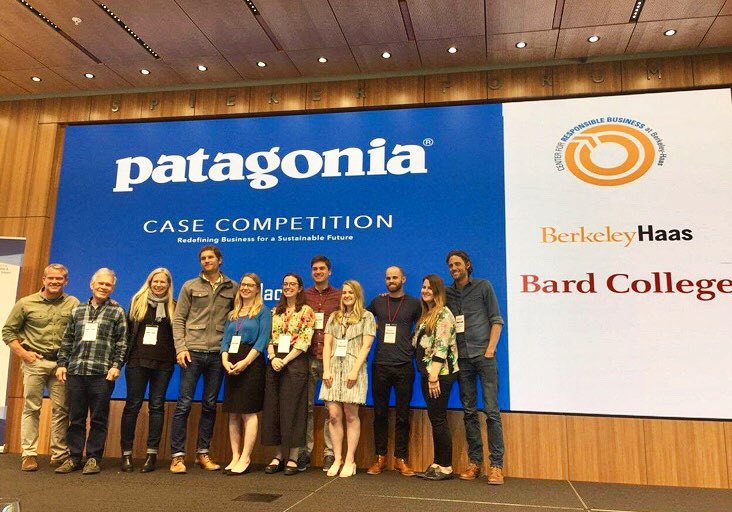 Bard MBA students made productive use of this spring, reaching the finals in three different international sustainable business competitions.
This year, two Bard MBA teams were among 100 teams that participated in the 2018 Patagonia Case Competition.
Both The Optimizers (Alexandra Criscuolo, Alexander Lykins, Kendra Martz, Samuel Monkarsh, and Benjamin Volk, all '19) and Team Lead the Change (Sam Brundrett '18, Alistair Hall '18, Savannah Parsons '20, Cory Skuldt '18, and Lindsey Strange '19) submitted pitches on how Patagonia can become carbon neutral by 2025. Team Lead the Change defeated MIT, Yale, NYU, Michigan, Wharton, and more to place second and earned a trip to Patagonia's Ventura headquarters plus $5,000. Congrats to Team Lead the Change!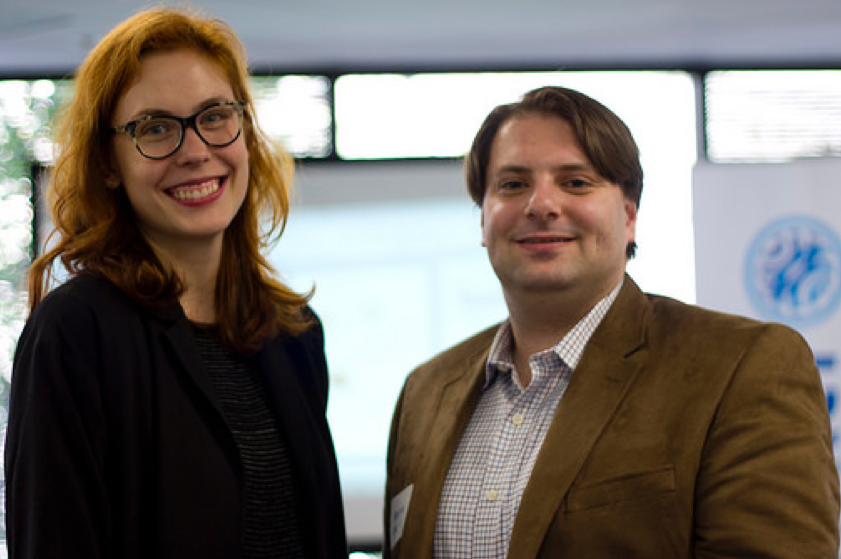 Disrupt to Sustain's Spent Grain team of Lindsey Strange, Sam Levitt, and Sarah Hutcherson (all '19) represented Bard MBA at the Food Solutions Challenge as a Finalist at the 2018 Net Impact Accelerator in Oakland in early April.
They will submit their final pitches and learn the results in early May.
Two Aim2Flourish stories written by 2017's Employees and Organizations class were chosen to be among the top 17 finalists. Congrats to Jesse Cutaia '18, Martin Freeman '18, Sam Levine '17, and Luke Olson 18 for their APDS is Changing Corrections for Good story and to Alistair Hall '18, Amy Campbell Bogie '17, and Sven Thiessen '18 on their story, Helping the People of Yonkers Thrive. A third Aim2Flourish team of Reagan Richmond '17, Cindy Wasser '18, and Stephen Williams '17 and their story The Burger That Could Change the World was named one of the top 63 finalists.
Impact Report Podcast is Seeking Sponsors!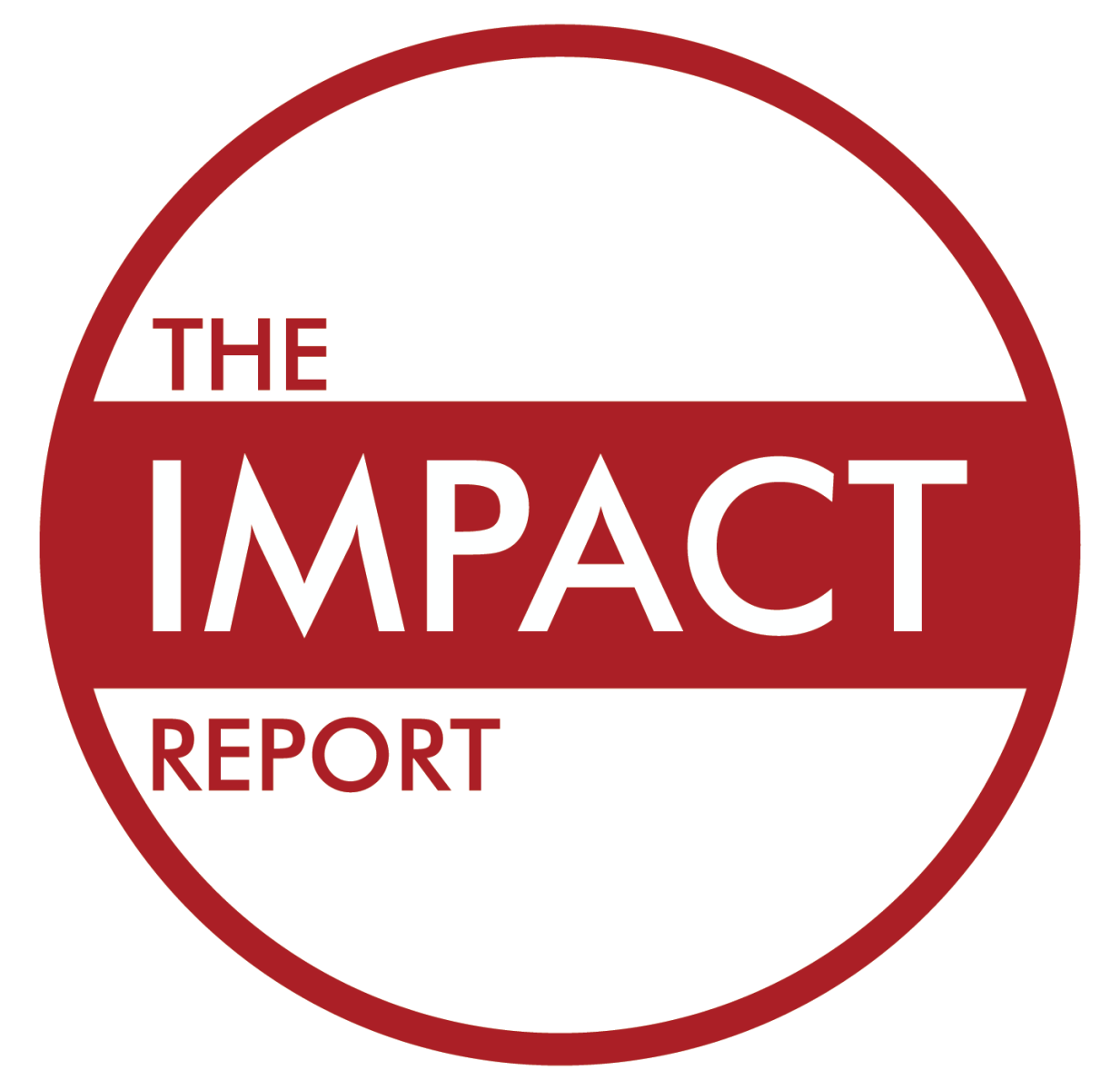 The Impact Report podcast features conversations with sustainability leaders from around the world, from the C-suite in New York City to social enterprises in rural Africa.  It's the first podcast of its kind, bringing together students, alumni and faculty in Bard College's MBA in Sustainability Program with leaders in business, sustainability, and social entrepreneurship.
This is a unique sponsorship opportunity for an impact-driven company trying to reach likeminded listeners across multiple platforms.  The Impact Report has a growing audience of business and sustainability professionals, as well as academics, students and future leaders.
Please send questions and expressions of interest to producer Katie Ellman.
Visit the Impact Report website to hear full episodes and learn more: The Impact Report: Stories From The Front Lines Of Business And Sustainability Innovation.
NYCLab Teams Finishing Up Their Consultancies
Our NYCLab student consulting teams have been working throughout the fall and winter to solve sustainability-related business problems for this year's clients: Clif Bar, Moody's Foundation, Food Scraps 360, National Wildlife Federation and Queens Community House. The teams will present final deliverables to their clients during the May residency. If you know of anyone interested in being an NYCLab client please click here for details. RFPs will go out in early July for the 2018-2019 academic year.
Join Us May 20 for Capstone Presentations + End-of-Year Party
We'll be celebrating our graduating students' Capstone Presentations on Sunday, May 20th from 1:00-6:00pm—we'd love to see you then. The presentations will be followed by our end-of-year party from 6:30-8:30pm. Do join us at LHMQ.
Bard MBAs Speak Out
Cory Skuldt '18 has two upcoming speaking engagements. She'll be the keynote speaker at Austin's Fashion Revolution on April 28th and will guest lecture for a Texas State University's International Business class about global apparel supply.
Bernell Grier '15 recently appeared on INFOCUS with Cheryl Willis along with Congresswoman Yvette Clark to discuss affordable housing in New York City.
Amy Campbell '17 will be speaking in May at the CDFA NC Development Finance Roundtable in Charlotte, NC on Investment Crowdfunding & Impact Investing.
Chelsea Mozen '15 spoke with Apple at Business Renewables Center's annual meeting in Jersey City.
Bard MBAs' Awards, Recognitions, and Projects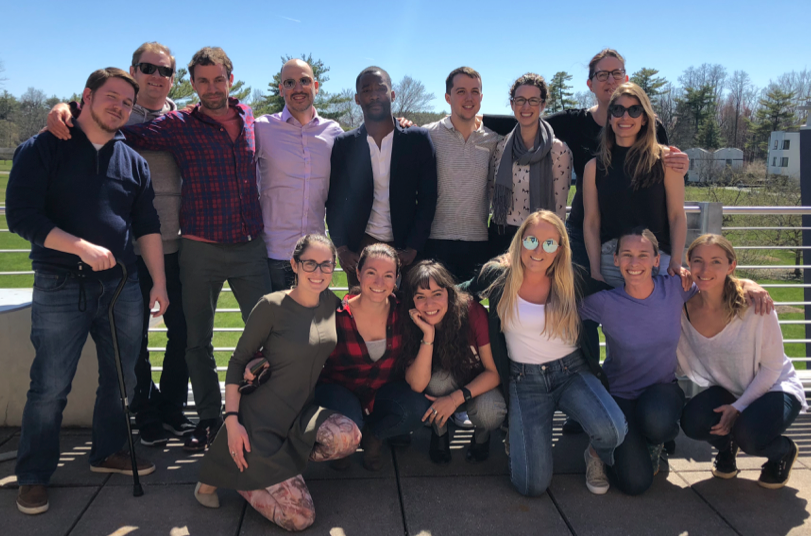 Sarah Hicks '19 and Alexandra Criscoulo '19 have  been accepted as EDF Climate Corps Fellows for Summer 2018. They'll be working at Citizens Bank and Kickstarter, respectively.
Cory Skuldt '18 is a "Wear It Wise" campaign leader for Net Impact. Her social media campaign goes through the end of April, and she'll have a live event in Austin, TX on May 4th at Sustainable Fashion ATX. Cory will be hosting a "fireside chat" on circular fashion with representatives from Eileen Fisher and Miranda Bennett Studios, followed by 10 'lightning talks' by local industry leaders.
The Bard MBA loves it when students collaborate both in and out of the classroom. This year three current and one future MBA students started a sustainable brewing consultancy, SustainaBrew Consultancy. Congrats to Alex Lykins '19 (CEO), Sarah Hutcherson '19 (COO), Sam Leavitt '19 (CFO), and Brett Landau '20 (CPO) on your new endeavor and first client!
Ian Edwards '15 is launching two projects in Massachusetts this year. His first, Broto: Art, Science & Collaboration, is a new annual event and online community that's creating a functional framework for artists and scientists to collaborate more effectively on climate change. Broto will take place May 4-6, 2018 in Provincetown, MA. Alumni and current students interested in the main program on May 6th should contact Ian about a Bard discount. Ian's second project is helping to organize 20/20: Perfect [IN]sight on June 30th at TEDxProvincetown.
Bernell Grier '15 was named to the Robert Sterling Clark Foundation's network of cross-sector leaders. The network's goal is to advance economic mobility in New York City, and Bernell joins 48 NYC change-makers selected for their dedication to addressing and resolving the root causes of the city's most challenging economic issues.
Alex Lykins '19 has been busy making a difference in the Capital Region. He joined the Board of Directors for the Environmental Clearinghouse of Schenectady (ECOS), the Schenectady County Environmental Advisory Council (SCEAC) as the Communications Chair, and became the Capital Region Representative for New York Coalition for Sustainability in Higher Education.
Olivia Gossett Cooper's '18 daily newsletter, Today We Will, was featured on Ethica Collective.
Amy Campbell '17 is organizing a track on Community Capital at CommonBound 2018 in St. Louis with the National Coalition for Community Capital. She also just bought a house in Durham, NC and welcomes Bardian visitors!
Curtis Columbare '17 initiated an office "Green Team" at AECOM, looking at workplace sustainability.
Check out Amy Kalafa's '16 recent writing: Babcock Ranch, Florida – Model Sustainable Community Or Chimera?, and the story she published in the book Bekindr, edited by Eva Ritvo, MD.
Alyeriz Arauz '20 was awarded a grant to work on a reforestation project in Nicaragua.
Jake Rath '19 was featured on the cover of April's VFW magazine talking about his Kilimanjaro climb. Check the article out on page 16.
Bard MBA Student and Alumnae Professional Updates — Congratulations!
Amy Kalafa '16 co-founded Sustainne, a platform that connects consumers with Fairfield County businesses that follow sustainability principles.
Jennifer Shelbo '17 became the Head of Topicals at Coda Signature, where her responsibilities include project management for all new product releases in 2018.
Esra Elshafey '19 started a new position in January as a Food Sourcing Analyst with Food Bank in New York City.
In addition to working at National Coalition for Community Capital (NC3) and other organizations, Amy Campbell Bogie '17 was named at an Associate at Croatan Institute.
Jacqi Rose Anderson '15 has launched a new company, Lizards 'n Lace, that upcycles used clothing into new baby clothing and accessories.
Kristin Hanczor '20 accepted a new position, Head of Corporate Member Engagement, North America, at The Climate Group.
Bard MBA Faculty in Action
Both Bard MBA in Sustainability Director Eban Goodstein and professor Hunter Lovins contributed to A New Global Agenda: Priorities, Practices, and Pathways of the International Community, edited by Diana Ayton-Shenker. Dr. Goodstein wrote "Climate Change at Thirty" and Hunter authored "An Economy in Service to Life."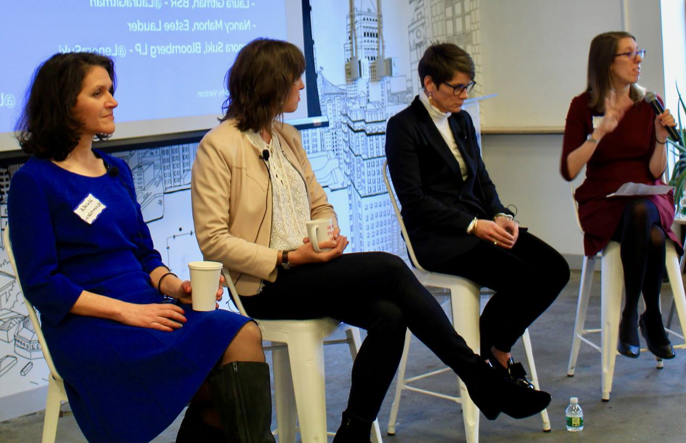 Laura Gitman moderated March's LMHQ Women's Breakfast on "Making Meaning with Corporate Social Responsibility." She also facilitated a workshop at Harvard's Advanced Leadership Initiative on "Health and the Role of Business." Laura also published
a BSR blog post on Corporations as Citizens.
Kathy Hipple wrote two pieces recently on Exxon: Exxon's Defect Climate Risk Report and Exxon's Shareholders Should Worry. She moderated a panel discussion on divestment from fossil fuels at the IEEFA conference in March, with Adam Zurofsky of Governor Cuomo's office, Dan Zarrilli of Mayor de Blasio's office, and Denise Patel of 350.org. Kathy also moderated Bard MBA's second annual discussion "To Divest or To Engage: A Discussion on Fossil Fuel Divestment" with panelists Hunter Lovins, Pete Grannis, Tom Sanzillo, and Leah Fuhlbrugge.
Entrepreneurship professor Alejandro Crawford was recently the keynote speaker ISYEC—check out this video of his speech (it starts at 1:25:52). In February, Alejandro spoke on a panel at Dartmouth Entrepreneurial Network of DC, and he recently spoke on at Frontier Roundtable on "Youth Entrepreneurship: Democratizing the Path to Building a Better World." In May, he and Alistair Hall '18 will be presenting at case study they developed at Fordham's International Conference on Sustainable Cities.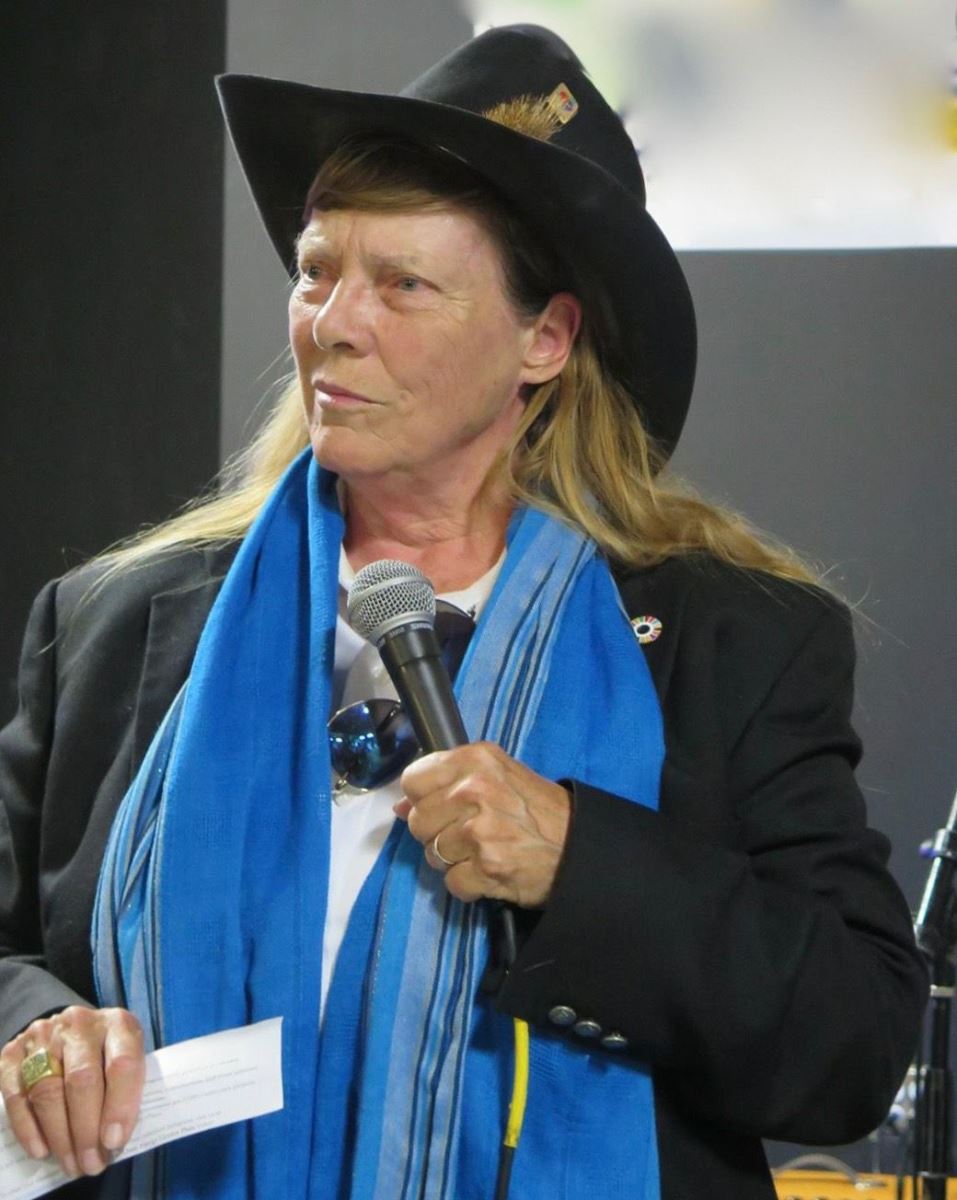 Big congrats to Hunter Lovins who has sent her book, A Finer Future, to the publisher. It's due out in early September. As always, Hunter's been busy!  She was the keynote speaker at the Green Accord conference in Florence, Italy, the Community Economies conference in Kelowna British Columbia, and the National Capital Symposium on behalf of The Savory Network. Hunter co-chaired the international new economy organization, WE-All (The Wellbeing Economy Alliance) where she helped fundraise, write and develop a compelling narrative and organize international groupings that will partner with WE-All to help disseminate its principles.
At Natural Capitalism Solutions, she has helped launch Free Sustainability Consulting//Sustainability for All, which offers free sustainability consulting to small business.
Kris Kohl, Bard's Employees and Organizations professor, presented a webinar to project management professionals for ITMPI entitled "Creating Project Teams to Deliver Sustainable Outcomes" and spoke to the Wharton Club of New Jersey about gender equality with a presentation entitled "Female Empowerment Drives Organizational Success." She is a member of the Chamber of Commerce for Greater Philadelphia Education and Talent Action Team and helped issue a report "10 Ways to Retain Young Talent". Kris has also been honored as one of SJBiz Magazine's 2018 Outstanding Entrepreneurs.
---
Help Us Find Future Leaders:
As we recruit our next group of students to rewire the world with clean energy, reimagine the global food system and reinvent finance, we invite you to be part of the process. Please let folks who want to be part of this work know how to apply to join us.
---
Working Together + Staying in Touch:
Don't hesitate to reach out to us if you want to learn more about our MBA program, partner on a project, or hire our students. We would love to hear from you.