Republished from GreenBiz
The grain is just one way it's closing the loop. Portland's Allagash Brewing Company has committed to purchasing a million pounds of Maine-grown and -processed grain by 2021. And three days a week a local farmer stops by the brewery to pick up spent grain, which he uses as feed for his cows.
Allagash demonstrates that same commitment to sustainability throughout its operations. From the cold Maine air that it uses to cool its largest refridgerated space, to the waste CO2 it captures from the brewing process and repurposes to keep head pressure on its tanks, the company sees the sustainability potential in every aspect of its processes.
The Bard MBA's Carolyn Pincus spoke recently with Allagash's Sustainability Lead, Luke Truman, about the brewery's many initiatives—and about how the company manages its relationship with industry regulators. Born and raised in Wyoming, Truman's been doing sustainability work at Allagash for over 5 years, and running the program for 2 and a half.
The following Q&A is an edited excerpt from the Bard MBA's March 16th The Impact Report podcast. The Impact Report brings together students and faculty in Bard's MBA in Sustainability program with leaders in business, sustainability and social entrepreneurship.
Bard MBA: What led Allagash Brewing into the sustainability space?
Luke Truman: Allagash was founded in 1995 by Rob Todd, who still independently owns the company. We're located in Portland, Maine, and all of our beer is produced there. We're a Belgian-inspired brewery—we're best known for our Allagash White Beer, which is a Belgian Vitt and is about 80% of what we do. We have about 130 employees now and we're looking at approximately 100,000 barrels of beer this year.
I've been with the company for about six years now—I was actually employee thirty. Since then, we've tripled in volume, tripled in employees, and seen a lot of growth and exciting stuff come from that.
Sustainability's been part of the company's business plan from the beginning. I'm not sure if Rob Tod used the word sustainability at the beginning, but it's in our core values and employee engagement. Everything's led us to be proactive on sustainability issues.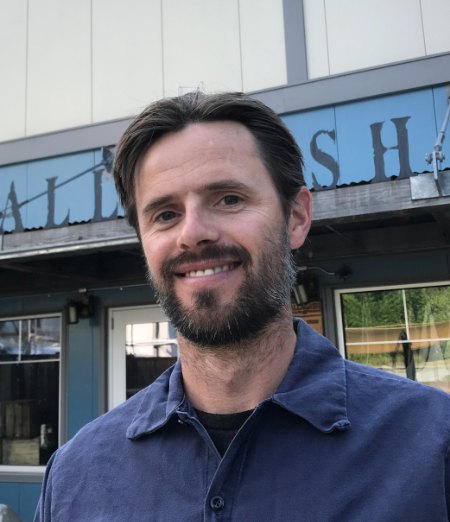 Bard MBA: How has the landscape changed since the mid-1990s?
Truman: With the rise of the craft industry, there are now about 5,300 craft breweries. Brewing went from an industry that was expected to die to getting more and more attention. As environmental issues have become more prevalent, the craft industry has brought attention to those issues, and those issues have brought attention to the craft industry. They've each played off the other.
Bard MBA: Are there any recent accomplishments in sustainability you can share?
Truman: We've been able to enact some pretty cool projects. We've transitioned to using bulk chemicals instead of drum chemicals, and we've put a solar array on our roof. We've been doing lighting upgrades and air system upgrades. We've also used trials to eliminate the need for media filtration, and we've been able to replace other filtration with UV light.
More recently, we're using more local grains. By 2021, we've committed to purchasing a million pounds of Maine grown and processed grain, and we're stepping up our use of local grains between now and then. We've also gotten involved in the Glass Recycling Coalition, a national group that's handling the issue of waste glass in the U.S. We've done some interesting mechanical cooling projects. In one in particular, we've been able to use outside air to cool our largest refrigerated space, and because it's a free air system it's much more efficient.
A new initiative we've also been active in is a waste materials project. We work with other manufacturers and local groups to find better uses for usable manufacturing waste rather than just recycling or landfilling it. We've been able to use waste CO2 from beer processing to keep head pressure on tanks. Historically, that waste CO2 would have been released, so we're essentially closing the loop.
Bard MBA: A recent proposal in NYC would require new breweries to have a wastewater treatment program in place to operate in the City. From a sustainability standpoint this is beneficial, but it may also be cost prohibitive for fledgling breweries. what are your thoughts on regulations like this and their potential impacts on the industry?
Truman: Wastewater is one of the big ones. It can definitely be cost prohibitive to require every brewery to have a treatment system. But, as more breweries come online—and we're seeing it in our water district as well—they're having a big impact on the system as a whole. I think it's important for brewers, before they start a brewery, to take the time and understand the impact of what they're doing. It's also important for regulators to talk with breweries and ask them about their practices—to approach them not as a regulator but in more of a guidance role, as someone who wants to see the industry thrive.
There's a ton of potential for regulators to be more involved with brewers and for brewers to also be involved with regulators. We're an open book with our regulators because we want to know our impact and what we're doing down the line. We want to help them and help other brewers as well to make sure that they're in compliance and to understand what their wastewater is doing.