At the corner of Timberline and Blackbird Drive in Fort Collins, Colorado sits the Jessup Farm Artisan Village. Once home to the Jessup family's farm equipment, the idyllic, century-old buildings now intermix with the new storefronts of the Jessup Farm Artisan Village, which hold businesses ranging from breweries to barbershops. Aromas of coffee beans and rising bread coalesce in the air, reminding visitors to pause and breathe in their surroundings.
And not only does the Jessup Farm Artisan Village satisfy the bucolic yearnings of Fort Collins shoppers and foodies alike, it also welcomes them to a local agrihood called Bucking Horse.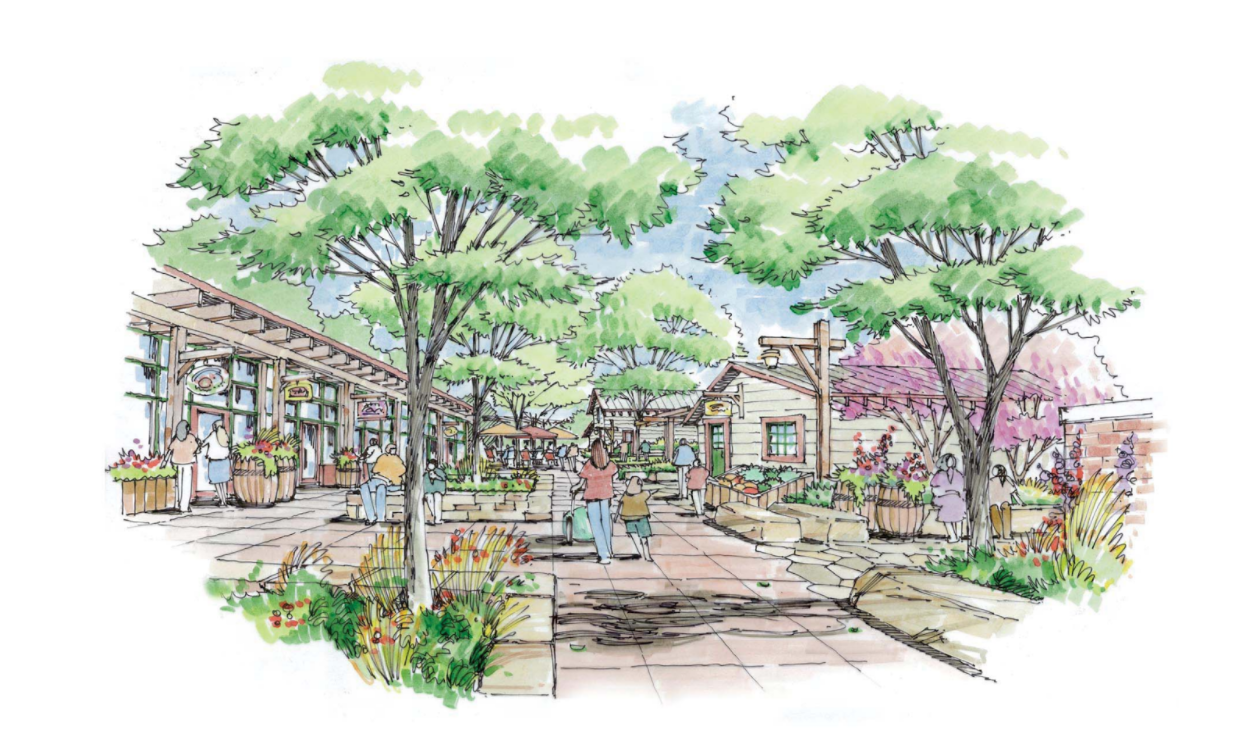 "Agrihood?" You Ask
Bucking Horse, similar to the other 150 (and counting) agrihoods in the United States, is a development built around a working farm that prides itself on cultivating a conservation-minded community. Think walking trails, intentional community spaces and, of course, a farm or community gardens. The common thread among these developments is that residents support community gardens or a working farm, either through hours of volunteer labor or housing association fees.
Different agrihoods focus on achieving a wide range of goals. Agritopia in Arizona works to enable residents to reduce their carbon footprints. It builds basement houses to reduce cooling costs during the summer months. Prairie Crossing in Illinois requires each resident to compost and cultivate native landscaping.
Centered on the Land
The heritage of the land where an agrihood resides motivates developers to build a community that encourages residents to lead a more intentional lifestyle by the land's history.  
"[The land that houses] Bucking Horse used to have a sheep and cattle farm," explains Steven Sorensen, Special Projects Coordinator at Bellisimo Inc., the construction company that created the Fort Collins agrihood. "This is why we are exploring the opportunity of a having a real operation where students can interact with animals to learn where the food comes from. We want to education to be a part of it." 
Bellisimo Inc. developed Bucking Horse in such a way to inspire residents to live a more balanced and healthier lifestyle, two critical tenets of social sustainability. Some of its intentional building approaches include:
Deep front porches to encourage people to interact with neighbors  

Self-governing homeowners' association so all community members are heard

An expansive trail system accompanied with edible landscapes
"The idea is to build an entire community around living a healthy lifestyle," says Sorenson. "We find that the grassroots growth [to sustainability] is a lot more effective when owners do it themselves."
And this nudging perspective seems to be working at Agritopia too. "We are seeing residents install aftermarket solar panels and other efficient solutions to help decrease their annual costs," William Johnston of Agritopia explains.
The Need to Incorporate Economic Diversity
However, Sorensen cautions, "I think this [agrihood development] still has a long way to go. There is an undertone of affluence in the agrihood concept, and we don't like that. Everyone should have access to this lifestyle."
If agrihoods are to become a viable development model for the future, developers need to continue to create profitable solutions to incorporate economic diversity and conservation in their neighborhoods, similar to Bucking Horse and Agritopia. And even though new homeowners are voting for community supported agriculture when deciding to live in agrihoods, it is difficult to tell if these agrihoods are helping residents decrease their carbon footprints beyond just paying to have their food grown right down the road.
If they're able to build in economic diversity and rigorous conservation standards, agrihoods can potentially serve as a new model for sustainable living, integrating agriculture and suburban development, and meeting a social and environmental sustainability goals.