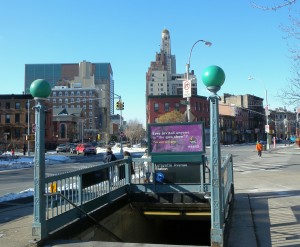 When New York City was incorporated into the five boroughs in 1898, Manhattan was the heart and business and economic center of the metropolis.
As mass transit and other infrastructure was built, all roads and subway lines led to midtown, often at the expense of better connecting neighborhoods within the outer boroughs and better connecting the outer boroughs to one another.
New York has always prided itself on its mass transit, but any New Yorker will bemoan the pitfalls of daily commuting: overcrowding, delays, litter and more. Despite a population that continues to grow, the city and state resist the New York City Metropolitan Transit Authority's requests for more funding, and commutes become longer and less bearable.
In a city with expanding population and business centers, it's important for the government to create new transportation routes to keep up with the rapidly changing economy.
How we used to get around
A hundred years ago, New Yorkers got around by bike, streetcar, ferry, and, in some places, by subway. The subway revolutionized transit in New York and ultimately expanded to each borough. By the 1950s bus lines replaced streetcar lines, cars took over the streets and cycling, as a mode of commuting, was deemed unsafe.
The rent is too damn high! Soon only the oligarchs and billionaires will be able to live in Manhattan. Increasingly, the people that make the city great are living outside of Manhattan and even moving beyond the furthest reaches of the city limits.
With industries and smaller businesses no longer able to afford Manhattan rents, business centers and hubs of innovation are now located in Sunset Park, Brooklyn, Long Island City, Queens and the South Bronx.
Unfortunately, mass transit options have not kept up with the changing city. It makes good business sense to capitalize on connecting us to one another without adding additional cars, or buses, to our already congested roads.
Transportation alternatives
Bike lanes are a low cost way to allow people who do not live near mass transit to get from point a to point b. It has been shown that bike lanes calm traffic and that bike parking and bike share appeal to local businesses because they enable additional customer access and sales.
As a city of islands, it makes sense to utilize our blue highway in further moving our residents around. The City has an ambitious plan to begin East River ferry service to the South Bronx, Astoria, Queens, Roosevelt Island, Red Hook, Brooklyn, Rockaway and elsewhere by 2017. The program will complement existing ferry routes and restore ferry service to the Hallets Cove Area of Astoria, Queens, which ironically lost its ferry in 1936 when the Triborough Bridge opened. The ferry will cost the same as a ride on the subway and will serve communities that already have dense populations, are far from the subway and slated for large population increases because of proposed residential development.
Delays on the Second Avenue subway and the exorbitant cost of building additional subway lines show that the idea of expanding the subway network in New York is a pipe dream. Adding tracks at street level may be a cheaper and better way to go. The idea for a new light rail would utilize tracks embedded on existing streets the same way streetcars used to move people around. There is a proposal to add a light rail line connecting Sunset Park in Brooklyn to Astoria in Queens.
To keep up with a rapidly changing city economy and population, the relative low cost of expanded ferry service, bike lanes and a light rail network is a smart investment. These new networks would shorten commute times and fill the need of locals and how New Yorkers move around now; where they work, play and spend their money.
Image credit: Pixabay
Katie Ellman is an MBA '17 candidate in Bard College's MBA in Sustainability program.