By Eban Goodstein republished from TriplePundit.com
The big question about business sustainability has always been: Can it scale?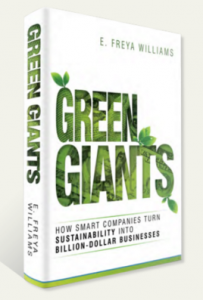 In her highly readable and well argued new book, "Green Giants," Freya Williams answers with a definitive yes. The book is subtitled: "How Smart Companies Turn Sustainability Into Billion-Dollar Businesses." Williams looks at nine billion-dollar brands that have been built on a sustainability mission, and identifies the factors that got them to this scale.
The list includes five companies: Chipotle, Unilever, Whole Foods, Natura and Tesla. In addition there are four product lines or business units: Ikea's sustainable home products, GE Ecomagination, Nike FlyKnit and Toyota Prius.
Williams provides an elegant framework for analyzing the success of these brands. At the core of course is the sustainability mission, or what Williams calls purpose. She provides an excellent overview of the rise and dominance of Milton Friedman's shareholder value maximization credo, and details specifically how firms guided instead by purpose are now succeeding at scale in the marketplace. Other chapters focus in interesting ways on more familiar terrain: iconoclastic leadership, disruptive business models, and a "built-in, not bolted on" approach to mission.
Williams is CEO, North America, at the marketing and strategy firm Futerra. She brings her own research background to the particularly valuable chapter on mainstream appeal. Billion-dollar brands can only be built on a "middle green" customer base — the 66 percent of Americans for whom sustainable attributes are nice-to-have, but not must-have. To reach the mainstream, green products need to be personalized, normalized, modernized, priced competitively and sometimes, as Tesla has shown, testosterone-injected.
Bookending the idea of purpose is a final chapter on "behaving your way to billions." Companies that aspire to succeed on the basis of mission cannot afford to violate the implicit behavioral contract they establish with customers, employers and other stakeholders. Williams highlights Uber as a company that seemed to launch itself around a social purpose, but lost its way in terms of maintaining its behavioral contract with consumers, workers and communities.
Along with Andrew Winston's "Big Pivot," Williams is the best book on business sustainability of the last two years. While Winston explores the frontier, Williams shows how sustainability as core business strategy has quickly gone to scale over the last few years. Williams notes that "Green Giants" could not have been written as recently as two years ago, and also offers predictions on the next billion-dollar brands, including Airbnb, Warby Parker and Honest Co. I would add Clif Bar to her list.
The book is particularly useful for introductory courses in business sustainability in that it covers all the key dimensions of a purpose-driven business strategy: mission, leadership, integration, innovation, customer appeal and culture. It also offers through a wealth of examples successful tactics for pursuing each of the strategies.
"Green Giants" does not answer the meta question of whether the Toyota Prius or the Tesla represent fast enough progress on the road to truly sustainable transportation. Nor does the book grapple with the immense challenge of fully engaging gigantic organizations with a top-down social purpose — a key issue, for example, faced by Unilever CEO Paul Polman. But the successful change in direction from the destructive, narrow pursuit of shareholder value that Williams sketches out is inspiring. And her examples show that mission-driven business, and the solutions they innovate, can scale rapidly. On this critical dimension, big has become beautiful. Or as they might say in Paris… "Jolie Green Giant."
Eban Goodstein is an economist and is Director of the MBA in Sustainability and the Center for Environmental Policy at Bard College in Annandale-on-Hudson, NY.