Five decades ago, Baldev Duggal arrived in America with only two things, $200 in his pocket and a passion for photography. Today, his photo imaging company, Duggal Visual Solutions, employs over 300 people and is renowned for its fine quality print and digital graphics displays.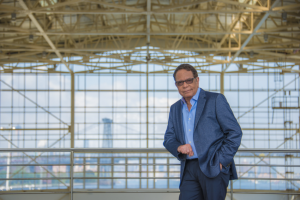 In recent years, he's turned his sights from the static world of photography to the interactive realm of sustainable design and technology. His LEED-certified buildings at the Brooklyn Navy Yard house an exclusive event venue as well as the manufacturing facility for the Lumi Solair solar-powered street lighting system, for which Duggal recently won an EPA Environmental Quality Award.
Rather than looking forward to retirement, he plans to continue expanding his creative vision with new projects that will improve people's lives around the globe.
This Q&A is an edited excerpt from a Sustainable Business Fridays conversation held May 1 by the Bard MBA in Sustainability program, based in New York City. This twice-monthly dial-in conversation features sustainability leaders from across the globe.
Bard MBA: Baldev, your story is a true American success story. But rather than seeking the riches of a Wall Street IPO, your path seems to be inspired more by art and humanity. Would you please tell us about your early days, what brought you to America and how you built your business here?
Baldev Duggal: I came from India and it all started when my grandfather promised me a Kodak brownie camera if I ranked first in my high school class (valedictorian). Well, he did keep his promise — he gave me the brownie camera, but he failed to give me a roll of film. I asked him, "What am I possibly going to do with this brownie camera if I don't have a roll of film?" And he said, "What did I promise you, Baldev?" and I replied, "A camera," and he said, "Well now you have the camera, the rest is your problem." I think that was what really started me off. I realized then, that you can't just have a dream; you have to make it come true.
I started Duggal Visual Solutions in my bathtub, where I would wash and develop all of my prints. It took off from there and eventually became the company that I have today.
Bard MBA: Let's talk about Brooklyn a little bit. You could have chosen to retire early from this business to a warm climate and enjoy your life, and instead in 2011 you invested $5 million to transform a derelict building in the Brooklyn Navy Yard into a model of sustainable design, in a dazzling stone and glass greenhouse. And more recently, you've taken over more space in the Navy Yard, refurbishing another old building to LEED gold standards.
Baldev: I began working on the Duggal Greenhouse after watching the movie "An Inconvenient Truth" by Al Gore. The film had a profound impact on me. The next day, I said to my team, "We're doing great work which has made us very successful today, but I want to take up a bigger challenge." With all the successes I had, I needed to focus on my passion, which is in sustainability.
Bard MBA: You recently won an EPA environmental award for another venture — the Lumi Solair street lamps that are designed and made right in NYC in the Brooklyn Navy Yard. Can you tell us a little bit about Lumi Solair and the risks that this type of technology addresses?
Baldev: With Lumi Solair, we wanted to make a light that requires a minimum amount of maintenance, a light designed for a global village. My passion is not constrained to simply the United States — it also extends to the rest of the world. I believe that we need to light up the entire planet, even if it has to be one Lumi Solair at a time.
My only concern is this: In third world countries, everything that moves or has any value, even infinitesimal, is bound to get stolen. So as we go about solving the world's problems, we must ensure not to create new ones. Even though I watched the Al Gore movie in 2008, it took me a good six years to come up with something that not only do I absolutely believe in, but a solution that works and improves upon its predecessors.
The main problem with any kind of off the grid or on the grid lighting is that in the event of a flood, the first thing the water hits is the base of the light, which invariably is the place where the electronics are installed. What we did is, instead of putting the electronics in the base, we figured out a way to put the electronics on top while still maintaining the integrity of the aesthetic for the lamp. I think someone has to be pretty crazy to take a 25-foot ladder and go up there to steal something they barely understand. I just don't see that happening.
Currently, I'm working on the next part of it, the Lumi Lantern. If you look at the Lumi Lantern you would never imagine it to be a solar lantern. It is portable and stands about 10 feet high. Lumi Solair, on the other hand, is 25 feet high so one could consider the Lumi Lantern its portable offspring. The smaller size is what makes the lantern so special. You can take it where you go. Suppose that you are having a party at the beach. With the Lumi Lantern, you no longer need any wires, you can party all night long and you have a constant source of light.
Bard MBA: For the listeners in this conversation, many of them are just getting started on a career path or they're mid-career or they're like me and want to continue on a path of building and supporting sustainable businesses and projects. What advice do you have in terms of putting one foot in front of the other and taking those risks? How do we get from here to there?
Baldev: First and foremost, we have to start looking at the fact that not only are we Americans, but also we are global citizens. If China sneezes, America is bound to catch a cold. So, I think we must all work together as a global community towards mutual goals, starting with sustainability, which affects all human beings, regardless of where they are in the world. Once we start to see things in a more expansive way, the next step is to begin solving problems. And one must be creative in his or her problem solving. Let me share with you my five commandments for problem solving:
Identify the problem. This can be hard since some problems are slightly more abstract in nature. What's more important is to fathom what is the worst that can happen if the whole thing goes wrong.
Learn to use the words yes or no, and eliminate the word "maybe."
Give yourself and the problem a time frame, and when you do, do not leave it open-ended. For example, tell yourself that you will accomplish something, say by your birthday or Memorial Day. Give it a time. Of course you would not reprimand yourself if you fail to accomplish your goals in the given time frame, but make sure that anything open-ended doesn't stay open-ended.
Open up your heart. Never be afraid to let your instinct and your intellect work together.
Take a deep breath. When you're looking closely at the problem, you can get overwhelmed. Allow yourself to step back, take a breath, and keep going until you can see the problem as a whole. Once you identify all the players and chances, you may already have a solution, and if you don't, you are at least seeing the situation clearly.
With each new morning arises a new challenge. For the past 50 years these five commandments have helped me face every obstacle that has ever come my way. Only by conquering the unknown can one rise above the known.