We have had a busy summer here at the Bard MBA in Sustainability and are happy to bring you our latest updates in our quarterly newsletter. Enclosed you'll find news on our big move, public lecture series, bimonthly podcast, NYCLab clients, and how the Bard MBA community is making waves.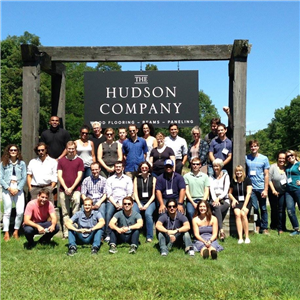 The Bard MBA in Sustainability welcomed "Cohort 4" on August 21st at the Bard College campus in the Hudson Valley. While Bard MBA classes mostly take place in NYC, we hold our introductory Residency away from the city, creating a retreat-like environment. The annual kick-off party at Director Goodstein's home has become a tradition our students and faculty look forward to each year. With 2015 set to be the hottest year on record, the students' return is a reminder of the urgency of all of our work.
---
Bard MBA is Moving to Impact Hub NYC!
Bard MBA in Sustainability and Impact Hub NYC have entered into an exciting partnership that leverages both of our networks of mission-driven entrepreneurs and intrapreneurs to create a larger community.
All NYC Residency weekends will take place at Impact Hub NYC, downtown on Broadway off Canal, during the 2015-16 school year. Let us know if you want to stop by and sit in on a class, or meet the students and faculty.
---
Public Event: Thought Leaders in Sustainable Business
Bard MBA and Impact Hub NYC are also partnering to produce a monthly, Friday night Sustainable Business Series. This fall, the talks and networking events are open to the public and will generally feature authors of recent books on business sustainability. Join us for our first talk on September 18th at 6pm, with Benjamin Bingham, author of Making Money Matter and founder/CEO of 3Sisters Sustainable Management. Later in the year, we will be joined by Freya Williams, David Bach, Rev. Fletcher Harper, Michael H. Shuman. Please register and look forward to seeing you there!
---
Dial-in Sustainable Business Fridays Podcast Continues
Our 2015-16 Sustainable Business Fridays live noon-time podcast series kicked off this past Friday with Cohort 3 student Amy Kalafa interviewing Manoj Fenelonof PepsiCo. This was a conversation not to be missed so check out the recording here and look out for the transcript in our Sustainable MBA column in GreenBiz. We convene on the first and fourth Fridays of the month so check out our event calendar and join us.
---
NYCLab Clients Revealed Soon
A cornerstone of the Bard MBA program is our NYCLab consulting course where students work in teams on real-world sustainability challenges for clients. We've been fortunate to work with a top-notch group of clients the past three years and are excited to announce the 2015-16 clients soon. We received our highest application numbers yet and a great pool to choose from- just wish we could take on more clients. Many thanks to those who applied. We were impressed and appreciate the great work you're doing for business and society.
---
Students, Alumni & Faculty Making Waves
Bard MBA is proud of are our incredible students, faculty, and alumni. They are out doing big things in the world. Here are a few highlights.
Bard MBA & EDF Climate Corps
Two of our second-year MBA students, Mariana Souza and Brooke Forde wrapped up their summer EDF Climate Corps fellowships at Baxter International and Goddard Riverside Community Center.
Bard MBAs in the Press
Jessica King '15, Executive Director of ASSETS Lancaster, provides keen insights in It's going to take all of us to alleviate poverty here.
Libby Murphy Zemaitis '14 is leading the way to make housing more affordable in the Hudson Valley with her startup Up Homes. The Hudson Valley community thinks she's awesome too. You can read more in the Poughkeepsie Journal.
Miles Crettien '15 has been hard at work on his Brooklyn startup Verticulture and was recently featured in Forbes.
Bernell Grier '15, CEO of Neighborhood Housing Services of New York City, advocates for NYC's homeowners and her work is featured in Mortgageorb.
Rochelle March '15 has been doing impressive work at the consulting firm SustainAbility with her report Model Behavior II: Strategies to Rewire Business and a piece in Guardian sustainable business. She also presented on creating sustainable business models at Sustainable Brands: Buenos Aires.
And Our Faculty Are Impressive Too…
Bard MBA Finance Lecturer Kathy Hipple, Sustainable Management Professor Hunter Lovins, and Juzer Rangoonwala '15 teamed up to write an article in The Journal of Environmental Investing – Really? Teaching Chevron at Bard's MBA in Sustainability. It provides some great insights into how Bard MBA approaches our curriculum.
Laura Gitman, Vice President at BSR and Bard MBA NYCLab and Strategy professor, spearheaded research on What Does It Take to Be a Resilient Business Leader? GreenBiz also showcased this work.
JD Capuano, Bard MBA faculty for Implementing Sustainability and how to handle data, was featured with this company Closed Loop Advisors in Ten socially responsible startups that are changing the way New York does business.
---
Working Together + Staying in Touch
Don't hesitate to reach out to us if you want to learn more about our MBA program, partner on a project, or hire our students. We would love to hear from you.