Jeffrey Amoscato is vice president of supply chain and menu innovation at Shake Shack, which describes itself as a modern day roadside burger stand company, known for selling fresh, locally sourced food in sustainably operated kitchens.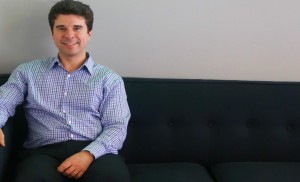 Seven years after Amoscato opened the second Shake Shack in New York City, the company boasts operations across the United States and in six countries. How do you run an international operation but source from local farmers and artisan bakers?
Amoscato said one answer is that Shake Shack keeps the menu small so that the company's sourcing team can be engaged with artisanal and local suppliers. Its menu uses a core ingredient list of 55 to 60 items as staples and then regularly considers 300 or so specialty items.
"In order to be a part of each community, we commit to supporting local makers," he said.
Since 2012, Amoscato has been director of supply chain responsible for all purchasing, culinary and quality assurance functions of Shake Shack. This year he became vice president of supply chain and menu innovation.
This Q&A with Amoscato is an edited excerpt from a "Sustainable Business Fridays" conversation March 27 by the Bard MBA in Sustainability program, a graduate program at Bard College in New York. This twice-monthly dial-in conversation features sustainability leaders from across the globe.
Bard MBA: Tell us about how you moved from the fine-dining side of Union Square Hospitality Group to purchasing for Shake Shack.
Jeff Amoscato: A year and a half into making the Museum of Modern Art restaurants' purchasing better and more efficient, I began to wonder, "What's my next step? I think we can do something more as a company." We had all these restaurants that were buying from similar suppliers. How could we harness all that spend together and get a better price, get a better deal and be at the top of the list for quality suppliers?
I eventually came down to the corporate office with those ideas to do group purchasing for all of Union Square Hospitality Group. Through that, I began getting really involved with Shake Shack. There were so many opportunities to use our buying power with all of the restaurants, but Shake Shack was a very different challenge. In fine dining, when prices go up on one item, the chef can maneuver the menu mix to keep the menu mix pricing steady. Shake Shack has a set menu. When beef goes up, it's not easy to just move to a fish, chicken or pork item. We needed a very different outlook and strategy.
We were planning our first international opening in Dubai. We went from really not knowing a whole lot about our specs in our foods to a crash course. We needed to learn everything about our food in order to understand what we could really manage on an international scale. It was a lot of fun, but very time-consuming — time-consuming enough that I was offered one of the first positions as a corporate employee with Shake Shack. Prior to establishing the Shake Shack team, we were integrated with the USHG (Union Square Hospitality Group) home office. Fast-forward to now: I oversee our domestic and international supply chain, our culinary team and our quality assurance.
The fun thing now is coming up with the new menu items, sourcing new ingredients and watching over the whole process from sourcing, safety, distribution, pricing and costs. And with all of that, we get to figure out how to integrate the new item into the hands of training and operations in order to roll it out to all of our locations.
Bard MBA: One reason Shake Shack has been so successful and has resonated with so many people is this heritage of fine dining. How does that background inform the way Shake Shack does business?
Amoscato: There are a number of us in the company who came from fine dining. When we think about how we open new locations and how we operate on a daily basis, we have a history and a mindset that we are working from that is not traditional of a multi-unit chain.
Bard MBA: What have been the challenges and benefits of having a small menu from a sourcing and supply chain perspective?
Amoscato: The menu is deceptively small! We have so many artisanal and local suppliers that we work with from our custard calendar flavors to our holiday specials. Outside of that core ingredient list of about 55-60 items, we are now looking at 300-400 additional specialty items. In New York, we work with bakers, chocolatiers, beverage makers and sausage makers.
The menu doesn't look big, but in order to be a part of each community we commit to supporting local makers and integrating those high-quality flavors.
Bard MBA: People love Shake Shack because of those local products, but you also know that you need to have a lot of potato buns and high quality beef and dairy. How do you go about procuring large quantities of beef in particular, and how has that market changed and grown over the history of Shake Shack?
Amoscato: Beef is a good example to use. At the beginning we had one location in New York City with relatively low volume. At that time, we worked very closely with Pat LaFrieda Meats to help identify the right Shake Shack blend of meat. Over the last six years, we have really dug in to understand where our beef is coming from. I get to travel to the different parts of the U.S. to see the ranches, the feedlots and ultimately the harvesting facility where the raw material comes from. As we have grown, we have continued to build relationships with these companies and farmers.
I've driven around Kansas in this guy's pick-up, going from farm to farm learning how he chooses cattle from a particular farmer. We let them know how important their decisions are to us because it dictates what ends up on our griddles. We want humanely raised beef coming from people who are doing the right thing for their farms, their land and their animals. The farmers feel great about where their beef is going when we let them know how passionate we are about having the best product.
For all of our suppliers, we prefer to go meet them face-to-face. We want to shake hands with the people making our food. I love going on factory tours — it's so cool to see the food system in the U.S. and learn how to make it better.
Working closely with our potato bun supplier has gotten us to the point where we have non-GMO buns. I have no idea if they were going to do that without us asking and pushing. We had to do this for the international market and realized there was no reason to not also roll out non-GMO buns for the domestic market. It took time, but we are so proud to offer non-GMO buns across all our markets.
Bard MBA: It's great you can meet so many of the farmers. Does Shake Shack have set guidelines and criteria for all of your suppliers?
Amoscato:  Right now it's more of a one-on-one in-person relationship. You can send out a scorecard, but unless you get on the phone or sit down at a table with someone and share a Shack Burger, it's not going to carry the same weight.
That said, we are getting to the point where we want to have a more documented system. We are getting into these really hard questions about,  "What does this mean for us?" and are developing the criteria we want for our suppliers and ourselves.
Bard MBA: Who is at that table talking about those criteria for aligning sustainability and quality?
Amoscato:  It's an internal conversation and an external conversation. We recently spoke to a meat supplier to get the producer input about how to shape and guide the policy we are putting together. We have our own internal markers and often look to our mission to Stand For Something Good as a baseline for all our decisions.
Bard MBA: As the average American becomes more interested in food that is not grown in a conventional, commodity-driven market, are you sensing shifts in your supplier space?
Amoscato: There are several companies out there, including Shake Shack, that are pushing for a better source of food. That pressure is going to help us, and the whole supply chain. It's going to take more than one company or one person and all boats will rise with the tide. As other companies ask for better production, handling and animal care methods, the market will drive the industry towards a system we want.
If there are enough of us that want it, the industry will supply it. It is a gradual increase that requires us to keep working with and speaking with our supply base to let them know how we plan to grow, what we want them to provide and how we want them to grow and improve with us. If you build those relationships correctly from the beginning, you will get there.
Bard MBA: How can people with MBAs in sustainability add value to a company such as Shake Shack?
Amoscato: I've worked with a number of MBAs. One in particular stands out who brought a really great sustainability lens to us — he is now the CEO of the Natural Gourmet Institute. Anthony Fassio is from an egg-farming family and brought an agricultural perspective to the team. He brought a true passion for food, experience and vision and I still think about conversations we had that impact the way I make business decisions.
Bard MBA: As director of menu innovation, if you could add any item to the Shake Shack menu what would it be?
Amoscato: If anyone from my culinary team is listening right now, they know the answer. I love a good fried pickle. It's really simple and so good.