By Amy Davila-Sanchez MBA '15 BardMBA in NYC.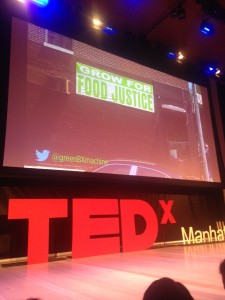 March marks the start of spring– the season when visions of fresh greens, rhubarb and spring berries excite locavores across the nation. Over the past five years, March has also marked the celebration of TEDx Manhattan, a privately organized TED event meant to effect change in the way we eat. TEDx Manhattan brings together legions of good food aficionados with an appetite and passion for sustainable food systems. A day for FOOD-SPIRATION- including talks, spoken word, and lyrical styling of vegan hip-hop artists. Every session inspires and motivates action. Here are some highlights from this year's event:
Stefanie Saks:  Author of "What The Fork Are You Eating" and mother of two boys. Saks feels constant pressure to bring sugary foods into her home. Thus, she has decided to actively involve her boys in the kitchen to change their eating habits with cooking fun, healthy options of their food favorites. Perhaps Saks made the most compelling statement of TEDx Manhattan when she compared children to a luxury car: " We place the highest quality super premium gasoline in a Mercedes, yet we fuel our children – our most precious assets – with processed foods full of sugar and empty calories." According to Saks, we can drive change through small adjustments in our diet, implemented little by little, that add up to make a big difference in the long run.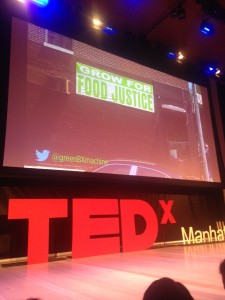 Stephen Ritz: A South Bronx teacher like no other and a firm believer in the transformative power an urban agriculture curriculum can have on school-age children.  Ritz founded the Green Bronx Machine, a non-profit organization on a mission to improve the eating habits of children, stating that kids, who learn to grow, eat and love vegetables perform to higher academic standards. At TEDx Manhattan, Ritz unveiled Green Bronx Machine's plan to launch PS 55's National Health, Wellness and Biodiversity Center, a state of the art facility with year-round commercial vertical farming, food processing and a training kitchen which runs on net positive food and energy.
Michele Merkel:  Co-Director of the Food and Water Justice Project–  an organization that seeks to leverage the judiciary system as a vehicle for positive change in our food system.  Through the Food and Water Justice Project, Merkel pushes for factory farming transparency, pursues accountability of the meat industry, and defends local fracking bans. As a former employee of the EPA, Merkel quit the agency when she felt she could no longer effectively do her job. Today she sues the EPA when it comes to unregulated Confined Animal Feeding Operations  (CAFOs).  At TEDx Manhattan, Merkel drew a parallel between the civil rights movement and the current food movement: "As consumers, we need to stand up to the imbalance of power that currently exists between corporate interests and individual well being. We need to build political power when it comes to food. Eating is a moral act. If you eat, you have a stake in the current food system."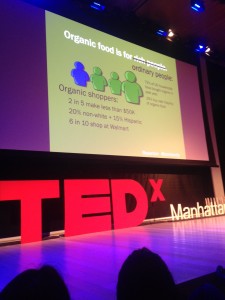 Robert Graham– MD, MPH, ABIHM, FACP. Board Certified in Internal Medicine and Integrative and Holistic Medicine. Graham currently serves as both the Director of Integrative Health and Director of Resident Research at Lenox Hill Hospital.  According to Graham, food is simultaneously the root cause and solution to obesity and many other health ailments that plague society. Graham is known to prescribe his patients a regime of "Yoga and Meditation" paired with a 365-day plant-based diet.  According to Graham, there needs to be a tighter connection between food and medicine. To achieve this, Graham has been training doctors to cook plant-based recipes along with establishing a rooftop garden at Lenox Hill Hospital.
Nikiko Masumoto – Farmer and artist who operates her family's 80-acre farm in Del Rey, CA – Masumoto Family Farm. Masumoto reminded the TEDx Manhattan audience of the shortage of farmers our country will face as almost 50% of farmers will retire within the next decade. In response to this, farming needs significant acts of radical resilience. Masumoto brought the TEDx Manhattan crowd to its feet with a spoken word piece of her authorship that transported audience members to an alternate reality ruled by foodies who worship the NFL – National Farmers League. In this reality, the best and brightest are dedicated to working the land.  Men and women behind the harvest of bounty are revered as heroes. This alternate reality of Masumoto's imagination could be ours for the taking if we choose to change the way we eat.
Amy Davila Sanchez is a marketing and sales strategist for Greyston Bakery, a benefit corporation based in Yonkers, NY, that bakes the best brownies in the world. She holds over a decade of experience in marketing analysis, marketing strategy and brand development in the food industry working for companies like General Mills, Red Bull and Nestle Purina Pet Care.
Amy can be found here on Twitter.
Amy currently pursues an MBA in Sustainability from Bard College.