Written by Simon Fischweicher BardMBA '16
If we want to create a more sustainable economy, disruptive change is needed across all business sectors. When imagining how to disrupt traditional business practices one simple but very useful tool to start with is The Three R's: Reduce, Reuse and Recycle. At their root, radical initiatives like Patagonia's Worn Wear program or the passive house are based on these three R's.
Last week, a team of Bard MBA students visited the Brooklyn Navy Yard to see how two businesses, IceStone and Ecologic Solutions, have developed their business models around the Three R's. Before our site visits we walked around the Brooklyn Navy Yard. The home to these two businesses is a success story of reuse in itself. After nearly 150 years of use as a shipyard, the Brooklyn Navy Yard was closed in 1966. However, the existing infrastructure did not go to waste. The City of New York has transformed the space into a story of successful urban revitalization by collaborating with the Brooklyn Navy Yard Development Corporation (BNYDC). According to BNYDC, currently the navy yard has over 330 industrial tenants that employ over 6,400 people, and is home to a growing green industry.
IceStone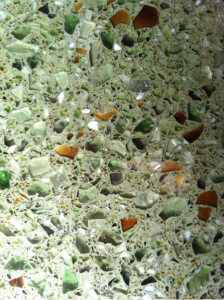 Our first stop was IceStone, a B Corporation driven by their mission to transform waste glass into beautiful countertops.  IceStone's entire manufacturing process is housed in the Brooklyn Navy Yard. It is where they experiment with different color glass samples, test for toxins and create their unique countertop slabs like Gotham Grey or Forest Fern from a mixture of glass chips, finely ground glass and cement. All of IceStone's countertops are made from recycled glass, and do not contain any toxic pigments or hazardous polymer or petroleum-based binders. Their product is durable and keeps waste out of landfills and toxic fumes away from their workers and customers.
IceStone also incorporates the Three R's and social responsibility throughout its business. The plant at the Brooklyn Navy Yard utilizes an operating water recycling system and electric-powered forklifts. Furthermore, IceStone recognizes that as a mission-driven company they need to engage their employees. For this reason, IceStone is 10% employee owned—with a goal of 20% in the future. IceStone also provides its employees with an important voice through the company's management council where an employee representative occupies one of three seats.
As a founding B Corp, IceStone is a company that is changing the way businesses interact with the planet. However, as a mission-driven company they do face a number of financial challenges. Their commitment to non-toxic materials and resource preservation make their final product more expensive than traditional granite countertops. However, these commitments also make IceStone a more resilient company. By using non-toxic materials and sourcing recycled glass only, IceStone has minimized their risk from lawsuits and scandal regarding working conditions both in their factory and from their suppliers. Finally, as IceStone's Director of Marketing Sarah Corey explained to us, IceStone's sustainable countertops tell a story. And, it is a story that big-name customers like YouTube, Jet Blue, Martha Stewart, MTV Real World and the Bill and Melinda Gates Foundation are buying.
EcoLogic Solutions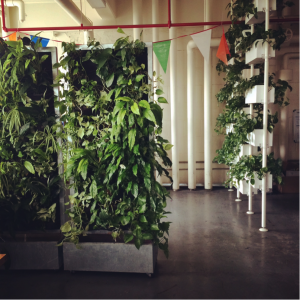 The second stop was EcoLogic Solutions, another B Corporation. EcoLogic Solutions manufactures and distributes environmentally friendly cleaning products and technologies.
Right when you walk into EcoLogic Solutions' office you can tell it is not your normal enterprise. The wide-open office is covered in plants, there's a bike rack next to the reception desk and the conference room is an old shipping container. However, the main attraction is by the sink, where EcoLogic's revolutionary Electro Chemical Activation (ECA) system is on display. The system is an on-site cleaning product generator. As one of the founders, and our tour guide for the afternoon, stated, "it can replace your chemical storage closet!" Following the initial installation, the only required inputs are water, electricity and salt. In the return, the salt water system creates a lye-like cleaner and a natural disinfectant agent. EcoLogic Solutions used biomimicry when creating the disinfectant. Its properties are based on the human bodies solutions to infection. The solution kills agents that are dangerous to humans, but nothing else.
The on-site generator not only produces a safer cleaning product, it also saves customers money and helps reduce waste. After installation, customers never need to buy a cleaning product again. This means more savings and less plastic containers produced and disposed, a triple win! Furthermore, the system can flow directly into dishwashers and soap dispensers. It is also possible to use this product as a misting system, as exemplified by Amtrak, which uses a misting system to clean and disinfect train cars. Other businesses like Whole Foods have made the investment as well.
EcoLogic Solutions' on-site cleaning product generator has the potential to seriously disrupt the cleaning supply industry. Their generator is a good investment, especially for institutions with big cleaning bills like restaurants, hotels, train stations, airports and universities. However, these big cleaning supply companies should be even more nervous because EcoLogic's next goal is to develop a smaller, cheaper unit for residential use.
Looking Forward
Companies like IceStone and EcoLogic Solutions are shaking up their industries. You can hear the pride and excitement in the voices of their staff. IceStone and Ecologic Solutions both have innovative products and working with a Development Corporation like the BNYDC has also played an important role for these companies. It has provided marketing opportunities and a platform for collaboration. From rooftop gardens to recycled countertops, there's a lot to be excited about at the Brooklyn Navy Yard.