These days, heroines and heroes are just a phone call away.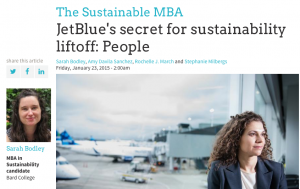 Amy Davila Sanchez '15 and Sarah Bodley '15 are the latest Bard MBA students to host a sustainable business leader on Bard's Sustainable Business Fridays program. On this twice-monthly call-in show, open to folks across the country, students invite the people doing some of the most interesting work in the world onto the phone for an hour-long conversation.
The calls are live to a dial-in audience, and also available online after the call as podcasts. Excerpts from the SBF conversations run in a regular column on GreenBiz.com—starting out above the fold on the site—providing our students with international exposure as emerging thought-leaders.
Davila Sanchez, and Bodley talked with Sophia Mendelsohn, Sustainability Director for Jet Blue. The call was wide-ranging, but with a central focus on driving sustainability to improve people's lives. Mendelsohn got started in the business when she was working in China, and found herself talking "with children who had never seen a sunset because there was so much coal and soot in the air." While at Jet Blue, she has been working on initiatives to save fuel, bring composting to airports, and a recycling effort connecting more than 50 airports and 800 flights a day.
Commenting on the experience of organizing and leading the interview, Davila Sanchez explained: "Sustainable Business Fridays has given me direct access to leaders at the forefront of business and sustainability. It feels great to lead the conversation and share it with the Bard community."
Sustainable Business Fridays launched along with the Bard MBA program in the fall of 2012. Over the last three years, Bard graduate students have interviewed over two dozen leaders in sustainable business, including at GM, Cambell's Soup, Pfizer, Hess Corporation, Unilever, and Green Mountain Energy. Students have also talked with Joel Salatin, sustainable agriculture pioneer, Derek Handley who was tapped by Richard Branson to run The B-Team, and Tamra Ryan, the founder and CEO of the Women's Bean Project in Colorado.
Sustainable Business Fridays has created some engaging long-term opportunities. Through SBF, Nancy Acevedo '15 interviewed Bill Thomas, head of sustainability at HSBC, about their Sustainable Leadership Program, a unique initiative that has put hundreds of top HSBC management through a multi-day leadership intensive on climate change and sustainability. She followed up with a longer conversation that led to an invitation for Nancy to head to the UK to participate in the training herself. She is now working on her capstone project further analyzing the effectiveness of the HSBC approach for driving organizational change.
"Sustainable Business Friday has given me the opportunity to connect with business leaders who are influencing change and driving the conversation about integrating sustainability in business," said Acevedo. "As a student, it was an empowering experience to lead a dialogue addressing some of today's complex business sustainability challenges."
The overarching purpose behind Sustainable Business Fridays is to teach our students to aim high. In our tightly networked world, why not talk with your heroine directly? Maybe she or he will offer you a job changing the future.