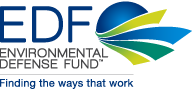 What Skills Do You Need to Work in Sustainability? 
Written by and posted on behalf of Rochelle March (Master's in Environmental Policy and MBA in Sustainability Candidate 2015)
I remember visiting a college friend in Switzerland after my first year of undergraduate school, where we mutually declared, "I just want more skills!" At the time, I still had three more years of undergrad left, a couple years of work experience ahead of me, plus three more years of pursuing two masters' degrees to acquire all these untold skills I felt sure I needed. Well, looking back, I think my friend and I had the right idea.
This summer, I am an Environmental Defense Fund Climate Corps fellow working at the donut headquarters of Dunkin' Brands, where I call upon a lot of skills, and some of which I didn't think would ever come in handy. 
First of all, the application for EDF Climate Corps called for all kinds of skills. Not only were former test scores, syllabi and technical writing samples required, but also long and short answer questions to gauge the intent of candidates. I employed my writing and grammar skills, honed through long nights of paper writing and grammar-policing relatives, to write sound pieces of why I wanted to be an EDF Climate Corps fellow.
The interview with EDF was over Skype and consisted of an array of scenario-based questions, interpreting charts and graphs, answering technical business questions, and a detailed walkthrough of my resume. Tough. However, I had done so many presentations in graduate school, answering questions on the spot came easily. Also, going through art critiques in my studio classes in undergraduate where I pursued an individualized degree in landscape architecture, conditioned me for scrutiny and creative responding. I got the job.
The EDF Climate Corps training week, this year in Chicago, was a great experience where I met other fellows and listened to lectures from energy efficiency experts. There also was a pitch competition on the last day, where participants had one minute to pitch an innovative technology idea to the group at large. One of my favorite classes in college was an advanced poetry workshop. I wrote a limerick poem for the competition about demand response. I won.
While at Dunkin' Brands, I am helping to roll out a new green building codes project that requires a ton of different skills, and I love it. When I'm not crunching numbers and researching energy efficient construction, I am creating content for their communications platform or developing an employee engagement sustainability strategy.
I work with a team, collectively replete with skills, but it sure does help to have a variety of my own or, at least, have enough to understand where my team members are coming from. Tackling the technical and business aspects of the project is very satisfying, but perhaps even more fulfilling, is realizing there is a place for all these other skills I've developed over the years—like graphic design, psychology, learning other languages and, dare I say it, poetry.
Acquiring a variety of other skillsets only helps as I try to solve the often multi-faceted and interdisciplinary challenges inherent in sustainability issues. If I were to tell a newcomer to the sustainability field what skills they should have, I'd say as many as you can! There is a basis of business, scientific and technical knowledge every sustainability professional should probably know, but the field is growing into so many diverse and applicable subsets, there is a place for everyone to play to their individual strengths.