One might expect a paper company to be resistant to evaluating their environmental impact and to welcoming criticisms from  environmental NGOs. A paper company's job is to cut down forests and act in direct opposition to environmental interests, right? Well, not at Domtar. Domtar is leading the pulp paper industry in proactive sustainability, and Lewis Fix, VP of Pulp Sales, joined us for a Sustainable Business Fridays conversation to tell us how. In his previous role, Fix helped implement new sustainability standards and initiatives in the pulp and paper segment, so he was able walk us through Domtar's journey towards sustainability.
Domtar, a $5.5 billion corporation that employs over 9,000 people, began their sustainability journey in the mid 90s. This journey was catalyzed by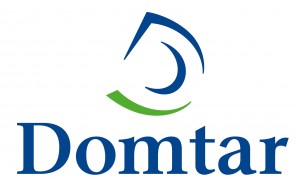 a protest by Green Peace at one of their plants. Instead of pressing back against the NGOs who were questioning their environmental practices, Domtar invited the NGOs in and gave them a seat at the table. Domtar saw the opportunity that the NGOs were giving them. Domtar could benefit from the NGOs' knowledge and endorsements as they moved towards more environmentally responsible practices.
The first order of action was the trees. In the late 90s and early 2000s, Domtar made a commitment for Forest Stewardship Council (FSC) certification for all of its wood products. From there, Domtar moved on to add four more key focus areas to their sustainability initiatives: mill performance, products, people, and communities. Within their 5 key areas, Domtar has 35 key performance indicators. It's obvious that they have scaled up their sustainability initiatives quickly and taken ownership the environmental impacts of their actions. Fix shared numerous initiatives that I can't cover here for the sake of space, but I would encourage anyone to take a look at the sustainability report on their website.
One of the most notable and innovative initiatives is what Domtar calls the "Domtar Paper Trail". This is an online web tool that takes people on a journey from the tree to the market. It's remarkable the amount of dedication and resources that Domtar puts into not only making the lifecycle of their products more sustainable but also increasing the transparency of their operations.
Listen to the audio from this conversation here.
Join us for our next Sustainable Business Fridays conversation on Februrary 28th. We're talking with Toby Usnik of Christie's, a fine art auction house, who will be speaking about launching inaugural CSR campaigns within one of the world's oldest companies.