This article was originally posted on GreenBiz.com on February 17th, 2014 by, Eban Goodstein and Sue Hall
Beyond the launch of carbon trading in California, the last couple of years have been rather quiet for the carbon market. But behind the scenes, there has been some interesting work underway that is supported by Chevrolet.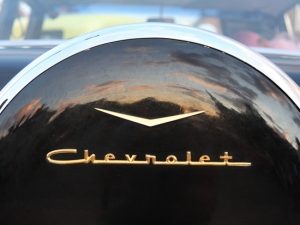 In 2010, Chevrolet made a commitment to invest in carbon dioxide reducing projects across America, targeting up to 8 million tons of CO2 reductions by 2014. Support for projects to date has resulted in commitments set to reduce close to 7 million tons CO2, spanning a series of clean energy sectors ranging from community-based wind and residential energy efficiency projects to heat recovery projects at compressor stations along natural gas pipelines. To date, all investments have been made through purchasing reductions certified as carbon credits from projects that represent a beyond business-as-usual commitment.
Along the way, and with input from an advisory board (including us), Chevrolet looked beyond the kind of projects already available in the carbon market. Instead it threw its support behind the development of several new verified "performance" methodologies to incentivize new forms of carbon reduction. Why?
During its pursuit of carbon credits, Chevrolet found that some of the highest performing actors in terms of voluntary emission reductions were not able to access carbon market dollars to help them perform even better. These included colleges and universities pushing towards carbon neutrality under the American College and University President's Climate Commitment (ACUPCC), as well as LEED green builders. Could we enable these actors to tap carbon dollars to support even higher performance?
The advisory team, led by Sue Hall of the Climate Neutral Business Network, set about solving this problem, developing a methodology with two modules dedicated to energy-based carbon reductions on U.S. campuses and in their LEED buildings. Based upon extensive consultations with stakeholders in the college/energy arena, the methodology has been approved by Verified Carbon Standard (VCS).
Higher education enters the carbon market
Here's how the new approach works for colleges. First, it sets a benchmark performance based upon the top 15 percent of all 600-plus ACUPCC schools, for example, in terms of Scope 1 stationary combustion emissions reduction. This turns out to be an annual emission reduction of about 5 percent per year. Schools that fall into this category, and also annually have reduced their combined stationary combustion and Scope 2 electricity-based emissions, are eligible to sell credits associated with any incremental emission reduction initiatives.
Investments by institutions this aggressive already are, almost by definition, additional. These schools have a demonstrated track record of pushing well beyond business as usual, so incremental projects supported by the universities represent net carbon reductions below any reasonable baseline.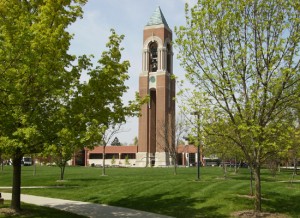 Ball State University in Indiana was the first college to partner with Chevrolet under the new methodology. The school's investment in a campuswide geothermal system is one of the largest systems a college has yet installed in the country, earning the university Scope 1 annual reductions of 6 percent or more. Without such third-party financing of this type, most colleges and universities would not be able to capitalize on the more significant investments needed to bring down their carbon load on the atmosphere.
"The financing made available through Chevrolet can seed the creation of green revolving loan funds at colleges and universities," said Professor Robert Koester. "With such initial capitalization, colleges and universities can continue to pay forward the impact of current efficiency yields toward additional conservation and energy use reductions. This is a virtuous circle that empowers campuses to pursue deep systems-thinking efficiencies. It's a great way to find new roads to travel together towards a clean energy future."
Campuses also recognize that such funding can help them accelerate their progress along this virtuous circle by creating new green revolving loan funds dedicated to pursuing further clean energy GHG reductions. Valencia College, another Chevrolet pilot project, is seeking to pioneer just such an innovation with its carbon funding.
"With the Chevy carbon funding we are hoping to do more by way of articulation of return on investment for planned projects and tracking of savings," said Deborah Green, Valencia College sustainability director. "Although our administration has not yet approved establishment of a green revolving loan fund, this influx of funding has opened a dialogue on that possibility."

Opportunities for high performance buildings
The idea of exceeding LEED average performance underpins the second module. Eligibility here includes any U.S.-based building on college or school campuses that is LEED certified under "new construction" or "existing building," and that has achieved at least LEED average performance outcomes. This corresponds to a performance in the top 14 percent of buildings nationwide. If a building is in that pool, then carbon credits can be marketed for:
• New construction: energy efficiency improvements over code provided beyond LEED average achievements.
• Existing buildings: Either a 20 percent energy efficiency improvement in a single year (consistent with LEED's new Credit 67), or an Energy Star performance level of ES 86 (the LEED average) or above.
For new construction, and depending on the carbon price, carbon revenues can finance 5 to 25 percent of incremental capital expenditure, based on LEED's $3 per square foot estimate of the further capital needed to reach LEED certifiable performance levels.
Discussions are underway with several campuses to use carbon revenues to drive existing LEED building performance to capture emissions reductions beyond already aggressive LEED operating standards.
"This carbon methodology approach was an eye opener," said Bahar Armaghani, LEED faculty and adjunct assistant professor at the College of Design, Construction and Planning at the University of Florida. "We had no idea our LEED buildings were leaving so many energy and carbon savings out in the cold. So going forward, we're going to be monitoring all our LEED building performances. Now the opportunity to explore how U.S. campuses could use carbon credit revenues to maximize their energy performances represents an important new road to help buildings such as ours deliver on their full potential. This goes a long way beyond what's required for LEED, but it is what's needed for many LEED buildings to optimize their performance and sustain their leadership."

Innovation in carbon markets
Why are these "performance" approaches to certification so different? In contrast to technology-based credits, performance methodologies don't micromanage what it takes to deliver aggressive emissions reductions, which can vary by region and context. Rather, it leaves it to the geniuses on campus and in the building community (who are legion) to figure out that part of the equation.
To determine additionality, these methodologies set a benchmark to define an outstanding level of performance, based on the most demanding peer historical performance data. Those that deliver beyond this very demanding level merit carbon funding to support and deepen leading-edge emission reduction investments. These methodologies leverage the "intel" and insights from leading colleges, builders and operations managers, incentivizing a race to the top and providing a beacon for others in their community to follow suit.
Chevrolet is open to purchasing such reductions achieved during the 2012-2014 window. Campuses, once certified, could sell credits for up to 10 years through the broader carbon market. Most campuses have been interested in earning carbon revenues for a limited period of time so that once they are no longer selling their reductions, they can going forward count them against their own long-term reduction goals.
As one campus sustainability leader put it: "Historically, campuses have looked to the carbon market to spend their money to purchase offset reductions located elsewhere. Now, for the first time, these new campus methodologies could help colleges earn carbon revenues to deliver demanding GHG reductions right here at home on our own campuses. That's where the long-term benefits lie for our community."
Chevrolet emblem image by njene via Shutterstock.