For the November Sustainable Business Series, the Bard MBA in Sustainability partnered with Sustainability Practice Network for a panel discussion titled, New York City's Road to Resiliency. Moderated by Eban Goodstein, director of the Bard College Graduate Programs in Sustainability, the panelists shared with us measures that the city is taking to increase its resiliency in the face of increasingly strong storms like Super Storm Sandy


The first speaker was Leah Cohen, Deputy Director for Federal Policy at the NYC Mayor's Office. Working within the Office of Long Term Planning, Cohen played a lead role in quickly developing the Special Initiative for Rebuilding and Resiliency (SIRR) after Sandy hit the city. The SIRR addressed three main questions. What happened during Sandy and why? What are the risks to NYC in the face of climate change, and what should we do with the infrastructure of the city? The final SIRR report is 450 pages long and includes 257 initiatives that span every sector. It is evident from the comprehensive nature of the report, along with strong reporting and accountability measures, that the SIRR is a real step forward for increased resiliency for NYC. The SIRR outlines four principles of sustainability:
Be ambitious, but seek achievability
Acknowledge resource limits, but seek to stretch resources
Create multiple defense layers (reduce impacts, while allowing faster recovery)
In impacted areas, do not abandon the waterfront (rebuild, and where possible, improve)
One of the most important aspects of the SIRR approach is the emphasis on multiple layers of resiliency. Not only do we need to deal with the physical aspects of resiliency, we also need to address social and economic resiliency. According to Cohen, this means focusing on neighborhood enhancements, affordable flood insurance, and economic development.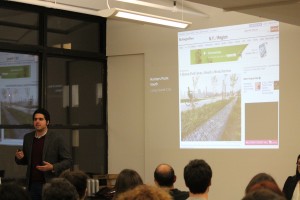 The second panelist, Adam Friedberg, Senior Sustainability Consultant at ARUP, focused more specifically on the physical aspect of resiliency. According to Friedberg, there is significant evidence that flooding events, heat waves, and wind events will all become more frequent in the coming years. This creates real exposures and vulnerabilities, especially in cities like NYC with aging infrastructure, high density and population, and a lack of preparedness. Friedberg outlined many projects that he has worked on at ARUP to address these vulnerabilities in the face of increased hazards. One of these projects was the Toolkit for Resilient Cities, which consists of recommendations for governments and decision makers such as grid updates that will improve resiliency and ultimately save money.


The last panelist, Courtney Worrall, focused on what resiliency means for the waterfront. Worrall is the Chief Operating Officer at Metropolitan Waterfront Alliance (MWA). According to her, the people of NYC often fail to think of it as a waterfront city, but in fact, NYC has 520 miles of waterfront, 750 miles if you include northern New Jersey. The mission of the MWA is to change this perception while encouraging equitable use of the waterfront. They are focused on creating a waterfront that is both accessible and resilient, which motivates initiatives that encourage both a working and living waterfront.
All three panelists spoke to the need to address resiliency at every level, from the waterfront to physical infrastructure and from businesses to local communities. It was uplifting to see that so much is being done in the wake of Sandy to improve resiliency for similar storms in the future, not only within government, but within NGOs and businesses as well. Thanks to Sustainability Partners Network for partnering with us on this event.
By, Christina Wildt MS/MBA '16