The Bard MBA in Sustainability program hosted Cary Krosinsky and Stephen Viederman of the Network for Sustainable Markets in New York City last night for a conversation titled, "Getting Investors Engaged in Sustainability". Krosinsky is the Executive Director of NSFM and teaches Sustainability & Investing at Columbia University's Earth Institute. He co-authored the book Sustainable Investing: The Art of Long Term Performance with Nick Robbins, HSBC's Head of Climate Change. Viederman is a Director at NSFM and on the board of the Christopher Reynolds Foundation.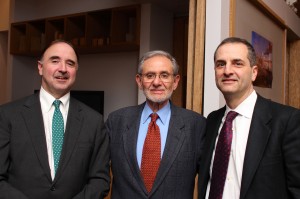 Dr. Eban Goodstein, Director of the Bard MBA in Sustainability, introduced the pair and spoke about the opportunities and tests investors face in helping to decide the direction and future of sustainable businesses.
"It's a big challenge. We are living in truly extraordinary times. That's why we started the MBA in Sustainability last fall. It didn't exist twenty years ago. How do you build a new organization that profits financially in an environmental way?" said Goodstein.
Krosinsky discusses these topics in his most recent book which examines 15 case studies and aims to lead investors to create positive approaches to sustainability opposed to finger-pointing approaches.
"We need to be honest about where we are in the field [of sustainability]. We have a long way to go," said Krosinsky.
The total value of global equity, according to a recent article written by Krosinsky and Viederman, is $65 trillion dollars. Only $400 billion dollars, however, is being used into positive social and environmental approaches.
Krosinsky defines a positive approach as investing in companies that are going to have the best chance of solving these problems in the future. A negative approach is simply not investing in certain sectors because of how those particular investments could impact society in a non-sustainable way.
"I don't think it's useful to point fingers. I think it is useful to be positive. Helping to define an approach that is positive can help lead us out of the status quo. We are trying to build a bridge for the next generation. How do we get from here to there? This field [of sustainability] has been about trying to define what is possible," said Krosinsky.
Viederman's tactic in engaging investors differed slightly from his partner's. He argues that having a strong definition of financial analysis is a necessity in planning and embracing future risk factors such as climate change, resource scarcity and obesity and that investors should adjust their funds accordingly.
"Climate is an issue. How do we see it as a risk and a set of opportunities?" said Viederman, "Why aren't investors getting it? As investors, we talk amongst ourselves. We are not talking to people who can illuminate issues such as this."
This is why, as both Krosinsky and Viederman point out, the work of future business leaders, such as the ones being trained in the Bard MBA in Sustainability program, is crucial to the success of sustainability.
"Sustainability needs to be fully integrated [into businesses]. There is a growing concern and resource constraint warnings and there are questions about what we are going to do," said Krosinsky, "Match your values to your investments."
Viederman suggests that looking forward and investing in future generations is critical for the success of sustainability.
"You can invest in a green portfolio," said Viederman, "Most investing is backward looking. We can't prove the future, but these issues are going to change the investment future.  The corporations that think about these issues will do better in the long run."
Both Krosinsky and Viederman pointed out that it is difficult to fully divest from any sectors, but bringing important social and environmental issues to light and developing forward looking conversations will help investors in the long run.
"Put money into the future. Invest your money into the next generation. It's hard to divest into any sector. Oil companies could be a part of the future [of sustainability]," said Viederman, "I want to leave a sustainable world for my grandchildren."