Reposted from Triple Pundit
On election night, while his fellow Republican, Karl Rove, was arguing about the election results in Ohio, former economic speechwriter for President George W. Bush, David Frum, tweeted: "Horrible possibility: if the geeks are right about Ohio, might they also be right about climate?"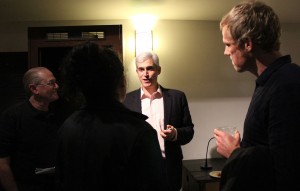 Many people were intrigued by the notion behind this semi-humorous, semi-serious statement, wondering if this was another step in a shift we have been witnessing in the last couple of weeks in the attitude towards climate change. But is this really a brave new world where the Nate Silvers take the place of the Karl Roves or just a mirage?
Among the people asking these sorts of questions was Andrew Winston, one of the prominent figures in the field of sustainable business who spoke at Green Spaces NY as part of the Fall 2012 Bard MBA Sustainable Business Series (SBS). Winston, the co-author of Green to Gold and the author of Green Recovery, who also advises some of the world's biggest companies on environmental strategy, offered a very clear picture of the present and future challenges that every company should consider, no matter if it is in the Silver camp or the Rove camp.
One of the first points Winston made in his conversation with Bard MBA director, Eban Goodstein, was that the forces companies face aren't going anywhere and, if anything, they're only going to become more forceful. Take, for example, resource constraints – resources are becoming scarcer and, as a result, more expensive. It's is not a scientific debate, Winston explained, it's just happening, and it's a paradigm shift companies have to deal with as we move toward a 9-billion people world.
We got used to believing for a long time in the myth that green is hurting the economy, Winston said, and this state of mind was one of the reasons why progress has been so slow. Even eco-efficiency, which is a strategy that seems to make so much sense on every level wasn't able to avoid this sort of green vs. economy struggle, and only in the last couple of years have companies finally accepted the idea that this is a win-win strategy.
The problem is that we don't have time, he added. Winston quoted two studies, the first from PwC, estimating that "the required improvement in global carbon intensity to meet a 2ºC warming target has risen to 5.1 percent a year, from now to 2050," and the second from McKinsey, which estimated that we need to increase carbon productivity tenfold by 2050, or otherwise "the consequences will be stark."
Yet, companies don't seem even close to meeting these goals with an average improvement of about one percent in annual carbon emissions reductions. Why is that? Winston made the point that the short-termism kills us, explaining that we need more CEOs like Paul Polman who stopped providing earnings guidance and quarterly profit updates to investors when he took over the company and said he would be focusing on real value creation.
I asked Winston afterwards if he thinks climate math can win over short-termism as long as Wall-Street and regulation support the latter rather than the former. He told me that he certainly hopes so. "The reality is that math, physics, and nature will eventually trump all. The problem is that a part of the investment community – not all investors by any means – are entirely focused on short-term results. Some very high percentage of shares trade hands within a day now.  That's obviously not the 'value' investor style," he said.
While it's clear why companies need to be on board (who will buy shampoo if you don't have water?), there's still the question if we can have the next wave of sustainability without some support from consumers, which we seem to lack today. I asked him what he thought about it and he replied that he wasn't sure.
"Broadly speaking, there are three legs to our society, government, business, and people/citizens.  All three will need to change and re-think how we do things. But I don't think we can count on too much leadership from consumers. We've had 42 years of Earth Days to raise awareness, and the percentage of people buying green (and paying more for it at times) is still limited.  People will buy greener products when they are better, safer, cheaper, etc, etc. So I think your phrase 'some support' is the critical phrase…some support, yes, but not leading the charge," Winston said.
Going back to companies, he said that business needs to start talking about green as the way to prosperity, evaluate how to reach zero impact all over the value chain and stop the constant pursuit of the business case for sustainability, which he finds pointless, especially given the many parts of in business that don't necessarily have a clear "business case" like R&D, yet no one asks them time and again to provide it.
Would this sort of rational approach help win the heart and mind of business? It's hard to tell, but from Winston's talk it's very clear that the question is more about "when" rather than "if." For our sake, hopefully it will be sooner rather than later.
[Image credit: Bard MBA in Sustainability]
Raz Godelnik is the co-founder of Eco-Libris and an adjunct faculty at the University of Delaware's Business School, CUNY SPS and the New School, teaching courses in green business, sustainable design and new product development. You can follow Raz on Twitter.