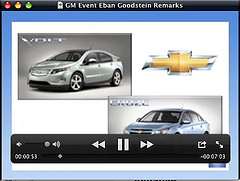 Video at: http://www.bard.edu/cep/blog/?paged=13
Bard MBA and CEP Director Eban Goodstein participated in a press conference announcing a major new green initiative by General Motors. Chevy's $40 million project aims to reduce 8 million metric tons of carbon over the next few years through energy efficiency and renewable energy projects in communities across the country.
Below are a few links to the earliest reporting on the announcement.
• Transportation: GM Goes Green, Gets Green Posted by Bryan Walsh
• GM Watch: Chevy to Invest $40 Million in Clean Energy By Andrea Tse GM earmarks $40 million for community clean energy projects By Heather Clancy
• On Heels of IPO, GM Makes Bold Offset Investment By GreenBiz Staff at Greener World Media
• GM Celebrates IPO with $40 Million Investment in Clean Energy by Timothy B. Hurst
Bard's Press Release Download: Goodstein_GM_Final.doc