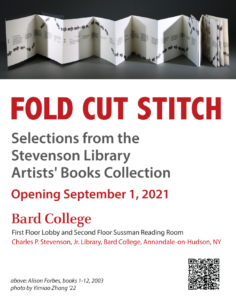 Come check out the new library exhibit:  "Fold Cut Stitch: Selections from the Stevenson Library Artists' Books Collection"
So what IS an artist's book? Artists' books are works of art that utilize the form of the book. They are often published in small editions, though they are sometimes produced as one-of-a-kind objects.
Don't miss having a look at these examples in the Stevenson Library on the first floor lobby and second floor Sussman Reading Room.  Many binding styles are on display, from accordion books, to concertina bindings, and even panorama panel books. Scan the QR code for a great glossary of binding and book arts terms!