Art & Education
September 23, 2022
MA in Art History
Hunter College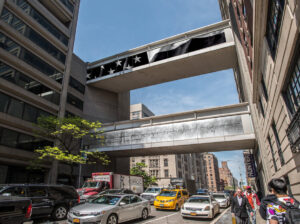 Robert Longo, American Bridge Project, 2017. Installation view, Hunter College. Courtesy of the Hunter College Art Galleries. Photo: Daniel Pérez.
Spring semester deadline: October 1
Fall semester deadline: February 1
Hunter College Art & Art History Department
Main Campus
695 Park Avenue 11th Floor North Building
New York, NY 10065
USA
hunter.cuny.edu
Hunter College is now accepting applications for the MA in Art History. The Master's Program in Art History at Hunter College provides rigorous training in the history and theory of art.  Located on the Upper East Side, Hunter is an easy walk to the Metropolitan Museum of Art, the Museum of Modern Art, the Asia Society, and the Frick Collection.  The program is the largest and most comprehensive in the City University of New York system, with an internationally recognized faculty whose dynamic classes take full advantage of the extraordinary resources and research opportunities the city provides. Hunter prides itself as New York City's public university for the arts, and is committed to maintaining tuition affordability and offering a flexible schedule for working professionals. Find our program description here.
At Hunter, MA students have the opportunity to pursue advanced research in a wide range of art historical periods and cultures, as Hunter's Art History faculty publish and teach in fields spanning from the ancient Mediterranean, East Asia and the Islamic world, to the Modern and Contemporary Art of Europe, the Americas, and the African Diaspora.  Significant concentrations include Medieval and Early Modern Europe, the Global 18th Century, and Postcolonial Latin American Art, as well as 20th and 21st Century art, both worldwide and locally—faculty share a strong engagement with New York's art world, its institutions, and its histories. Explore our faculty pages.
Hunter's Art Historians are committed to curatorial practice as an important facet of scholarly art historical research, and regularly offer classes in conjunction with the exhibition program at the Hunter College Art Galleries.  Students in the MA program may elect to pursue the Advanced Certificate in Curatorial Studies, which offers both a theoretical and historical grounding in curatorial practices and practical experience in exhibition research, organization, and installation.  Recent Curatorial Certificate exhibitions include Acts of Art and Rebuttal in 1971, Framing Community: Magnum Photographs, 1947-Present, and Night Shades and Phantoms: An Exhibition of Works by Robert Rauschenberg, researched in collaboration with the Robert Rauschenberg Foundation, and installed in its building downtown. Find details here and here.
Many Hunter MA students work in New York's art world: in museums, galleries, art organizations, and publishing houses. All our courses are scheduled the late afternoon or in the evening, enabling students to continue to work or hold internships while earning their degrees.  Hunter's Art History network is strong, and the program's alumni hold prominent positions in arts institutions and foundations in the city, nationally, and internationally.  Hunter MA graduates who have chosen to continue their academic careers in pursuit of the PhD have also been successful, and are working in or have completed doctoral programs nationwide.
Thanks to our supporters in New York's arts community, we are able to offer scholarship support to strong students in all fields, especially in Latin American Art and the art of the African Diaspora, and, through the new Renate, Hans, and Maria Hofmann Trust scholarships, to incoming students intending to research and write on modernism and 20th-century painting in New York.
Join us for a prospective student information session on Zoom:
September 28, October 26, or November 30, 6–7pm EST. Sign up here.
Tuition affordability: In 2022-23, the cost of the complete degree (30cr) is 14,500 USD for in-state students and 26,000 USD for out of state.
Application deadlines: October 1, 2022 and February 1, 2022. Qualified applicants may be considered past the application deadline.