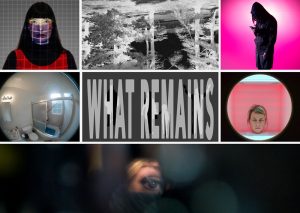 We're Watching is a performance exhibition about surveillance, and the second edition of the Live Arts Bard Biennial.  We refer to the biennial as a "performance exhibition" because it borrows elements from the infrastructures of art exhibitions and performance festivals.  This experimental, hybrid format provides an extraordinary context in which to encounter the work of leading contemporary artists.
We launched the LAB Biennial in 2014 with The House is Open, a performance exhibition that explored the dynamic relationship between the worlds of the performing and visual arts.  Frank Gehry's magnificent building usually functions as a classical performance venue with designated areas for spectators and performers, but The House is Open offered a very different relational structure, transforming the theatre into a temporary museum. The public was invited to roam through spaces in the building that are usually off limits, and to engage with art projects installed in temporary "galleries" made from backstage areas, wings, storage rooms, hidden corridors, and lobbies, as well as more conventional performance venues.  The constant flow of spectators and site-specific projects created new public spaces in unexpected corners, and the whole Fisher Center became a welcoming and inclusive site for art.  The experience taught us a great deal about the building, and inspired us to  imagine new environments in which to experience and reflect on contemporary art and performance.  This was how the LAB Biennial was born.
Each edition of the Biennial will take as its subject a question or challenge for the twenty-first century.  LAB will invite a group of artists from across disciplines to consider the question from multiple perspectives and forms, creating a complex, and sometimes contradictory matrix of ideas.  The performance exhibition is the culmination of a two-year cycle of artist research and development, which also includes undergraduate courses at Bard, conferences and colloquia, artist residencies, and experiments.  We see the Biennial as a kind of brain trust, in which artists, scholars, students, and the public come together to reflect on a matter of great significance to our world.
The subject of the 2017 Biennial We're Watching is the systems and technologies of surveillance, and their impact on our contemporary lives.  The exhibition includes seven new performances and installations—several of them commissioned by LAB—by artists working across the disciplines of theater, dance, performance, visual art, film and video, sound, and virtual reality.
Surveillance is not a new subject for the art world.  From Andy Warhol's Outer and Inner Space to Trevor Paglen's photographic documentation of the NSA and Jill Magid's performances for CCTV, artists have long grappled with the visible and invisible infrastructures of the surveillance state.  Theater, too, has studied the interplay of spectator and spectated since the invention of drama; the very word "theater" derived from the Greek for "the watching place."  In the The Empty Space Peter Brook famously reminds us that an act of surveillance is inherent to all performance:
"A man walks across this empty space whilst someone else is watching him, and this is all that is needed for an act of theatre to be engaged."
The technologies and systems of surveillance are, however, expanding at an unprecedented rate in the 21st century, and are changing and challenging the way we relate to government, law enforcement, corporations, and each other.  The artists of We're Watching are interrogating the new realities of our age, from social media and chatrooms to biometrics, WikiLeaks, drone warfare, corporate spying, and state interference in elections.
Performance is a profoundly human medium, and We're Watching will explore the human impact of life in a state of surveillance.  We invite you to join us as we collectively consider questions that shape our networked lives: How does surveillance affect our bodies, our minds, our relationships, our sense of ourselves as citizens?  Who is watching us, and whom are we watching?  In an age of increasing activism and resistance, can watching be a political act?  Does privacy still matter? We're Watching will not provide answers, but offers a space for complex thought, reflection, and fantasy—so vital to the sustenance of our democracy.
We look forward to welcoming you to the Fisher Center for four remarkable days this April.
—Gideon Lester, Artistic Director, Theater & Dance